Back to school in Bend!
700 N.W. Bond Street
Bend, OR 97703
Local: (541) 382-5174
Elsewhere: (877) 661-4228
Contact Us
Special Limited-Edition Beer Flight
Friday, February 10, 2012
11 a.m. 'til beers are gone |
Limited-edition taster trays are $5 |
21 & over for sampling
About Special Limited-Edition Beer Flight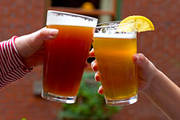 3 uniquely conditioned beers have been paired together on one sample tray for $5. The beers are as follows:
Hammer Strike: Using Hammerhead as the base, this keg was aged in a barrel for 6 months to gather wood and sour characteristics. "Hammer Strike" was then cold conditioned in steel for another 2 years after that. A complex sour developed that features green apple and pear flavors and a pleasing dry finish. The 2 years of conditioning definitely mellowed out the overall tartness or pucker of the drink.
Whiskey Brown: Sleepy Hollow Nut Brown aged in a Hogshead Whiskey barrel for 3 months and then cold conditioned for another month. Featuring big aromas of whiskey and wood which meld with a solid malt flavor in the middle. Sweet whiskey stays with you, yet "Whiskey Brown" finishes with an oak and dry finish.

Blind Ambition IPA (dry-hopped): This is a take on our IPA here at OSF but conditioned with an extra handful or two of hops thrown into the keg. The dry hops adds some extra oomph and effervescence to the standard hop flavor and aroma.
A special slider appetizer has been paired especially for Friday's ale flight, which will include an elk slider and duck-sausage slider. (Note: The sliders are not included with the $5.00 beer tray.)
Map & Directions
Tags for this Event:
Property > Old St. Francis School
Related content (tags):