& Lola's Room
1332 W. Burnside
Portland, OR 97209
(503) 225-0047
crystal@mcmenamins.com
McMenamins and OPBmusic present
Wild Flag
The Thermals
EMA
8 p.m. doors, 9 p.m. show |
$15 advance, $18 day of show |
All ages welcome
Buy Tickets
Tickets on sale now!
This event was moved to this date from Friday, April 27, due to a scheduling conflict. Tickets for the April 27 event WILL be honored at this show!
This show sponsored by opbmusic
About Wild Flag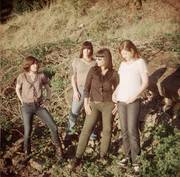 Wild Flag is a Portland, Oregon- and Washington, DC-based quartet consisting of Carrie Brownstein, Rebecca Cole, Mary Timony, and Janet Weiss. The members of Wild Flag have played in numerous and notable bands including Sleater-Kinney, Helium, Quasi, The Minders, Stephen Malkmus and the Jicks, and others.
The four musicians who make up Wild Flag have known one another for well over a decade. Brownstein and Weiss were in Sleater-Kinney and toured with Timony's band Helium on numerous occasions. Brownstein and Timony played in a side project called The Spells. Rebecca Cole's Portland-based band The Minders was a frequent opener for Sleater-Kinney. Weiss and Cole play together in the 1960's garage-rock cover band The Shadow Mortons.
Wild Flag - Short Version from stuart groves on Vimeo.
If someone drew a visual representation illustrating the ways in which all indie bands are interconnected, Brownstein, Cole, Timony, and Weiss would be in the same tiny sphere, so playing together felt almost inevitable. After collaborating on a score for a documentary, the ease with which they worked together proved infectious and promising. Future practices were scheduled, songs were written, Wild Flag was formed.
Yet even after the members of Wild Flag became intentional about playing together -- and Mary was flying from DC to practice in Portland -- the band was hesitant about naming this endeavor. Yes, they knew how to be in bands, but not in this band. Wild Flag wanted to figure out dynamics, hear how the songs breathed in a live context, build cohesion and unity, and emerge as a singular force prior to putting those sounds onto tape. Wild Flag always intended to grow organically, never wanting to take for granted that an audience existed based on previous endeavors. So, instead of recording an album and then playing shows, they went on various tours, playing tiny club shows in the US and building up a fervent audience of their own.
In April of 2011, they went to Sacramento, California, where they recorded their self-titled album with engineer Chris Woodhouse at the Hangar. All tracks were recorded live except for the vocals.
MySpace page:




Facebook page:




Website:




Twitter page:
About The Thermals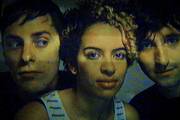 Hutch Harris - vocals, guitar
Kathy Foster - bass, vocals
Westin Glass - drums, vocals
Over the course of seven years and four LP's, The Thermals have tackled a variety of subjects with no small amount of passion and fervor. Religion, politics, death, these are some heavy themes! Yet The Thermals have irreverently run roughshod over these topics with excesses of moxie and gusto, the likes of which the post/punk/pop/power/etc. community had never before seen! Now, for their fifth LP, The Thermals have battled (and perhaps even conquered!) the deepest and darkest of all popular art themes- love.
Not that The Thermals haven't sung/spoken/screamed about love before. Every Thermals LP has at least two or three songs that provide a short respite from whatever paranoid chaos is going on to deal with love, and the wide range of emotions it produces and abuses. But never before have The Thermals devoted an entire LP to love, loss, and... lies! That's right, you can't have a little love without a lot of loss and lies. More than an album strictly about love, Personal Life is about relationships. It's about the concept of a connection between two people - making it, breaking it, and faking it.
The first three songs on Personal Life speak to the listener using the exact language of love and lust. "I'm Gonna Change Your Life", "I Don't Believe You", "Never Listen To Me" - these are (for better or worse) all phrases lovers have said to each other ever since Adam and Eve realized there was more to do in Eden than just eat fruit all day. These songs set up the "story" (for lack of better a term - Personal Life is as much a concept record as the last two Thermals LP's were, which is to say it's not much of one, but it kind of is). The record may begin optimistically, almost arrogantly, but by the second song problems have already arisen. The drama begins, and as all of us who have loved know, once the drama starts there ain't no stopping it.
The next three songs explore the similarities between politics and emotions. Power wielded on an international level is really not so different than power wielded in a relationship. Someone always has to be on top. If you're on the bottom, you're asking yourself, "How can I get on top?" If you're on top, it's hard not to constantly question your worth and longevity. "How did I get here, and how do I stay here? Do I deserve this? Am I satisfied?" Sometimes getting what you wished for isn't all it's cracked up to be. Power Lies!
In the last third of Personal Life, the titles and lyrics again take a direct approach with the listener. "Only For You", "Your Love Is So Strong" and "You Changed My Life" are again phrases pulled straight from real-life situations, although these versions may contain more dark sarcasm than usual. All in all, Personal Life amounts to the indie-rock equivalent of a brilliant but ultimately doomed love affair. A beautiful, turbulent experience that will hopefully leave you wiser in the ways of love and life.
website:




MySpace page:
About EMA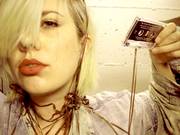 Erika M. Anderson grew up in the dive bars and rotten graveyards of South Dakota. She is a direct descendent of Erik Blood-Axe, the ruthless Viking warrior. All the boys ask her why she is so tough. She is 6 feet tall. She loves the jukebox.
Map & Directions
Tags for this Event:
Music > Alternative/Indie
Property > Crystal Hotel
Related content (tags):