Saloon & Hotel
836 N. Russell St.
Portland, OR 97227
Saloon: (503) 282-6810
Hotel: (503) 335-8900
Contact Us
"Unfiltered" Showcase!
The Wishermen
The Magic Beets
Nick Sweet
Wednesday, March 21, 2012
8:30 p.m. |
Free |
21 and over
Like rock-n-roll? You're in good company. Every Third Wednesday of the month the White Eagle's Unfiltered Showcase highlights the region's most promising "bands to watch" in the coming year.
The White Eagle, with its expanded (and heated) deck is an ideal venue to experience some of the best music in town -- intimate, but with great acoustics.
There's no cover on this evening, so mark your calendar for the third Wednesday of the month and treat yourself to something special.
About The Wishermen
The Wishermen is a local Portland band playing all original compositions. Taking cues from hip-hop, alternative, swing, funk, and numerous other genres, their writing has a feeling of originality and a contemporary sound that is hard to come by. Comprised predominantly of college students from around the Portland area, this quintet includes drums, electric bass, guitar, alto saxophone and trumpet. Audiences of all musical backgrounds and tastes can be sure to enjoy this group, as is evident in their varied performance venues. Playing shows at venues such as Lewis and Clark College, The Camellia Lounge, The Globe, and Jimmy Mak's, The Wishermen cater to all audiences.
Website:
About The Magic Beets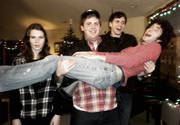 The Magic Beets are a Portland, OR based band consisting of Jon Huteson-Johnson (drums), Jon Lakey (bass, keyboard), Adam Brock (guitar, vocals) and Nicole Glover (tenor saxophone, keyboard). They really like playing music together, and they smile and laugh quite a bit when they are rehearsing and performing. The songs they play are well crafted and bursting with imaginative narratives of doomed robbers, pirates, and inter-species rivalries.
About Nick Sweet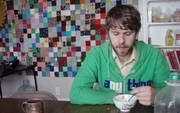 Nick Sweet is a Portland-native, multi-instrumentalist who will perform original work and is inspired by Joanna Newsom, Bjork, and others. He has performed in many venues in jazz and experimental veins. Along with being a member in the Portland brass band, Rocketstove Workshop, he has recently toured extensively with the March Fourth Marching Band.
Map & Directions
Tags for this Event:
Property > White Eagle
Related content (tags):