4045 N.W. Cornelius Pass Rd.
Hillsboro, OR 97124
(503) 640-6174
Contact Us
Limited-Edition Beer Tasting presents...
Double IPA Invitational
Wednesday, February 29, 2012
6 p.m. 'til 9 p.m. |
Free admission; Limited-edition beer at happy hour pricing all night |
21 and over
About Double IPA Invitational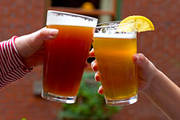 Join us for our first-ever Roadhouse Beer Release Invitational! Like your ales hoppy? Double IPA's are big (over 7% ABV), hoppy behemoths that show off the muscle of our NW hops. Along with our own brew, we'll feature three guest Double IPAs from other McMenamins brewers - we'll compare the four choices, talk with the guest brewers and hand out a People's Choice Award for the best brew of the night!
Sun Hammer Double IPA · From Brady Romtvedt and Chris Oslin (Cornelius Pass Brewery)
Mad Hatter Double IPA · From Mark Goodwin (Old Church Brewery, Wilsonville, Ore.)
Iron Fist Double IPA · From Tony Balzola (Oak Hills Brewery, Portland, Ore.)
Detention Blues Double IPA · From Matt Carter (Concordia Brewery, Portland, Ore.)
*** ABOUT THE ALES ***
Iron Fist IPA
Brewery: Oak Hills
Brewer: Anthony Balzola
O.G.: 1.072
T.G.: 1.013
ABV: 7.61%
Malt: Pale ale, Cara Vienne, Carapils
Hops: Citra, Chinook, Brewers Gold, Amarillo
This is a full flavored and full bodied ipa. orange, lemon, grapefruit, and pine flavors are all present. tons of hop flavor and aroma, but not overly bitter.
Mad Hatter Imperial IPA
Brewery: Wilsonville
Brewer: Mark Goodwin
O.G.: 1.080
T.G.: 1.010
ABV: 9.1%
Malt: 2-row, Pale ale, Crystal, Carastan, Flaked Barley
Hops: Amarillo, Cascade, Citra, Simcoe
This beer has two things unique to the Wilsonville McMenamins: a special house made hop tea to give it that strong floral zest and an extended boil time to deliver a stronger caramel undertone and alcohol percentage. I hope you find it to be floral on the nose, not too bitter but just bitter enough and that it ends with a clean finish.
Sun Hammer Double IPA
Brewery: CPR
Brewers: Brady Romtvedt, Chris Oslin
O.G: 1.074
T.G: 1.014
ABV: 7.74%
Malt: 2-row, Crystal, Oat Malt
Hops: Centennial, Simcoe
Sun Hammer Double IPA is the result of the genesis and obliteration of two stars, the rise of our sun and its life-giving-mutation-spurring love from which sprang forth barley, oats, hops, yeast, the Professor and myself. We combine to nourish you with a bold brew of barley and oats orbited by resinous clouds of hop ether. Imbibe. Smile. Count our lucky stars.
Detention Blues Double IPA
Brewery: Concordia
Brewers: Matt Carter, Kevin Lee
OG: 1.075
TG: 1.012
ABV: 8.13%
Malts: Superior Pilsner & Rolled Oats
Hops: Chinook & Simcoe
Detention Blues Double IPA has a deceiving, pale gold color. (You might even think you were mistakenly poured a pilsner!) But, as you lift your glass, and take a sip, you'll experience an IPA like no other! The Pale color is the result of using pilsner malt, which is very light in color, and makes for a very crisp and highly drinkable IPA. Oatmeal was added for extra body and head retention. Hop flavors and aromas explode! Citrus and pine notes are immediately present, followed by hints of tropical fruit, and a pleasant lingering bitterness. The final product is refreshingly different take on the Double IPA.
Map & Directions
Tags for this Event:
Events > Beer, Wine, and Spirits
Property > Cornelius Pass Roadhouse
Related content (tags):