& Lola's Room
1332 W. Burnside
Portland, OR 97209
(503) 225-0047
crystal@mcmenamins.com
Let's Dance for Harper, a Night of Music & Merriment
Keegan Smith & the Fam, featuring Acoustic Minds
Ken Hanson Band
Max Ribner Band
The Druthers
Wednesday, March 14, 2012
6:30 p.m doors, 7 p.m. show |
$25 advance, $25 day of show |
21 and over
Buy Tickets
Tickets on sale now!
Portland is invited to come out and "Dance for Harper" during this special night of music benefiting Harper's Playground, a not-for-profit dedicated to creating safe playgrounds where children and adults of all abilities can play safely. Some of Portland's top musical talent will be joined by volunteer coordinators Teri Briggs, Ruben Garcia and Harper's Playground founder Cody Goldberg as hosts for the evenings of live music, dancing, silent auction and other.
Harper's Playground needs to raise $350,000 to make its mission a reality, and has raised almost 75% of its goal, $260,000, to date.
"We are thrilled with the community support that our vision of an inclusive playground has received," said Cody Goldberg, Harper's father and Harper's Playground founder. "We are especially thankful to Teri & Ruben for organizing these wonderful musical benefits on our behalf, and we hope that a lot of people out there are in the mood for some great music and dancing."
Harper Rose Kligman Goldberg is a beautiful six year old resident of the Arbor Lodge Neighborhood in North Portland. Doctors said to expect that she would never walk nor talk, but she proved them wrong by taking her first independent steps at the age of 5. She still uses as walker most of the time, and loves to be included in the fun of playgrounds.
ABOUT HARPER'S PLAYGROUND
Harper's Playground is a not-for-profit organization founded by Cody and April Goldberg in honor of their daughter, Harper. Harper's Playground is committed to building community by providing an inclusive playground at Arbor Lodge Park where children and adults of all abilities can play together. Harper's Playground's goal is to raise $350,000 to provide equipment, maintenance and personnel support needed to turn Arbor Lodge Park into a playground safely accessible to individuals of all abilities. Harper's Playground pursues the mission with the approval and partnership of the Portland Bureau of Parks and Recreation and the Arbor Lodge Neighborhood Association. Harper's Playground can be followed on Facebook, or visit the website: www.harpersplayground.org. For additional information, contact info@harpersplayground.org
About Keegan Smith & the Fam, featuring Acoustic Minds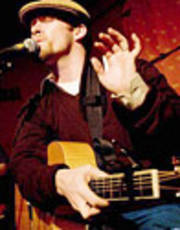 Portland, Oregon native Keegan Smith has been a staple of the Pacific Northwest music scene for the last 5 years. He recently won landslide victories for Male Artist of the Year and Best Live Performance at the 2009 Portland Music Awards. In 2009 Keegan released his fourth studio album entitled Special Delivery.
Keegan has developed a thriving east- and west-coast following since first hitting the stage in 1999. His grassroots approach has brought him from playing solo acoustic around campfires in the Pocono Mountains of Pennsylvania to main-stage, festival performances backed by a 12-piece band in his hometown of Portland.
He released his third studio album and collaborative effort, Hybrid, in 2008 to a sold out room at McMenamins Mission Theatre. His band, "The Fam" is an eclectic mix of musical heavyweights, producers, and bandleaders from the Northwest's thriving music scene. Together they create an energetic and entertaining sound that mixes pop, reggae, funk, and soul that has captivated audiences of every age. Portland's Willamette Week reviews the Fam saying, "[their] stuff is like musical summer" and "life's a little sunnier when listening to them."
About Ken Hanson Band
About Max Ribner Band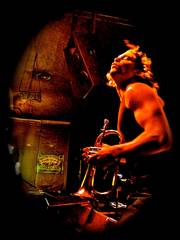 acoustic funk groove hawaii jazz peace soul blues brass dance latin nature spiritual trumpet Portland
Check it out here.
About The Druthers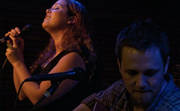 The Druthers make heart-sweeping folk/pop with his and hers harmony. This magnetic Portland, OR six-piece is defined by the unmistakable voices of their two lead singers-the open, weathered rasp that is his (Kirk Duncan) and the whisper-to-wail force that is hers (Erin Adkisson). The pair is accented by a song-serving flurry of trumpet, piano, organ, guitars, drums and bass that evokes the likes of Swell Season and the Civil Wars, and lives somewhere between Ben Harper and Ray Lamontagne. Unmerciful, heartbreaking, uplifting and full of grace, The Druthers make moving music. They are now touring in support of their new self-produced CD, Everyday Ghost
Map & Directions
Tags for this Event:
Property > Crystal Hotel
Related content (tags):