IPA Invasion IV
Saturday, September 29, 2012
11 a.m. 'til late |
Free admission |
All ages welcome; 21 & over to drink the ales
About IPA Invasion IV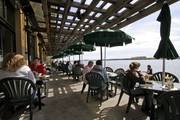 All hail, Mighty Columbia! We raise a pint (or four or five) to thee!
Set on the banks of the lovely river at the McMenamins on the Columbia pub, this beer gathering pays homage to IPAs – that's India Pale Ales, hopped to the gill and sometimes quite high in alcohol content. Mmmm.... First brewed in England in the 18th century, IPA is a popular style of beer among American craft brewers, most notably here in the Pacific Northwest where our hops are abundant.
So settle in at one of the pub's outdoor tables (or indoors if it's a bit gloomy out), set yourself up with a selection of freshly brewed McMenamins IPAs handcrafted specifically for the occasion and just let the world float on by you...
• • •
McMenamins on the Columbia
(Vancouver, Wa.)
Hop Toddy IPA
Brewer: Matt Freeland
Malts: Golden Promise, Optic Pearl, Honey Malt, Caramel Vienna
Hops: Zeus, Cascade, Citra
Feeling under the weather? We have the cure. A blend of honey malt and citrus hops create a healing tonic. Balanced by golden promise and optic pearl malts, the hop profile will make anyone feel the joy of a new day. Hop Toddy is good for what ales you.
OG: 1.063 TG: 1.012 ABV: 6.58 IBU: 86 SRM: 9

Brown Ryed Girl
Brewer: Matt Freeland
Malts: Golden Promise, Maris Otter, CaraPils, Rye, Roasted Rye
Hops: Brewer's Gold, Chinook, Santium, Willamette
This hybrid of brown ale and RyePA is going to be Blowin' Your Mind. This IPA (or "IBA") is sweet as the girl next door. While enjoying bouquet of floral notes from the Chinook and Santium hops, catch light hints of chocolate and rye from her complex blend of malts. Don't let her appearance fool you, she stands with the big boys. At 7.67% and 102 IBU, she will give you a nice kiss and then punch you in the face. So whether your "laughin and a jumpin" or "skippin and a runnin" this is gonna make your "hearts a thumpin."
OG: 1.069 TG: 1.010 ABV: 7.67 IBU: 102 SRM: 35
McMenamins East Vancouver
(Vancouver, Wa.)
Georgian Invasion IPA
Brewer: Tega Chijavadze
Malts: Premium Two-Row, Pale Malt, Organic Munich, Two-Row Caramel, Honey Malt, Rolled Oats
Hops: Chinook, Galena, Centennial, Crystal
Almost 3000 years ago, Greek Argonauts came to steal the Golden Fleece from the land of Colchis, on the shores of the Black Sea, south of Caucasian mountains. Because of its fertile land and natural beauty, they named the country "Georgia," after their goddess of Mother Earth, Gaea. We call it Sakartvelo, meaning "land for Georgians." Today we invade with peace, to bring you this well-rounded bitter-sweet beer, to raise your spirits and to make you smile. Gaumarjos!
OG: 1.065 TG: 1.009 ABV: 7.4 IBU: 125 SRM: 8
McMenamins Queen Anne
(Seattle, Wa.)
Stagger Lee Imperial IPA
Brewer: Brian Lawrence
Malts: Premium Two-Row, Vienna, Crystal 30/37, Rolled Oats
Hops: Chinook, Amarillo, Centennial, Galena, Nugget
Stagger Lee is a nice, big IPA with a massive amount of Chinook and Amarillo hops. Rolled Oats were added to give a nice silkiness to contrast the bitterness. Enjoy!
OG: 1.075 TG: 1.016 ABV: 7.61 IBU: 77 SRM: 7
McMenamins Mill Creek
(Mill Creek, Wa.)
Hill Top IPA
Brewer: Kyle Jungck
Malts: Pilsner, Munich, Crystal
Hops: Nuggets, Chinooks, Centennials
This light and easy IPA was born on Capitol Hill in Seattle from the mind of Seattle Utility Brewer Kyle Jungck. Normally brewed at Six Arms, this was brewed at the Mill Creek brewery north of Seattle while Kyle was filling in for another brewer. A different approach was used with this batch to make it unique to the wonderful McMenamins Mill Creek. Instead of all two row base malt, all Pilsner malt was used as the base with just a dash of munich and c-40. The Pilsen gives the beer a full bready backbone that compliments the hops and delights the senses. The hop bill in this IPA is mellow but not short of full hop deliciousness. Nugget hops were used to add a strong slightly herbal bitterness and Chinook hops were added as the flavor hop for some tasty hints of grapefruit and mellow spice. The wonderful flower/citrusy aroma are from a brewer's favorite, centennial hops. Enjoy!
OG: 1.055 TG: 1.011 SRM: 5 IBU: 96 ABV: ~5.75%
McMenamins Edgefield
(Troutdale, Ore.)
Walker Troutdale Stranger's IPA
Brewers: Bruce Loux, Nathan Whitney, Matt Bergfield, Drew Phillips, David Kosanke, Thomas Buttles
Malts: Premium Two-Row, Vienna, Wheat Malt
Hops: Centennial, Amarillo, Simcoe
The beer geeks tell us that the hop-headiness of recent years is on the wane. That must make us strangers out here in Troutdale. We give our patrons what they want, an IPA that begins and ends with the massive – 120 pounds – amount of hops used in its recipe. Citrus prevails, with tangerine in the nose and grapefruit on the tongue. We know what the locals like: lots of hops, and a session strength to keep the conversation flowing late into those Troutdale nights, in those Troutdale hills.
OG: 1.057 TG: 1.015 ABV: 5.42% IBU: 213 SRM: 5
GUEST BREWERIES
Double Mountain Brewery
(Hood River, Ore.)
Hop Lava IPA
Brewed with Gambrinus Pilsner and Munich Malt, Centennial and Cascade hops.
This big, glowing, powerful IPA is packed with assertive Northwest hops that are floral, citrusy and resinous. A healthy dose of Munich malt helps to provide backbone and balance against the hoppy attack. The result? Explosive!
ABV: 7.0% IBU: 75
Hopworks Urban Brewery (HUB)
(Portland, Ore.)
Organic IPA
Our namesake IPA is a Northwest classic. Generous additions of Ahtanum, Centennial and Cascade hops find their way into the kettle, hop-back and dry-hop. This judicious use of the "brewer's spice" creates rich and resinous flavors of citrus fruit and pine. The finest organic Canadian pilsner malt and organic Munich and Caramel malts then bring balance to your new favorite beer.
OG: 1.060 ABV: 6.6% IBU: 75
Boneyard Beer
(Bend, Ore.)
RPM IPA
RPM should break the hop tachometer! Pale in color with pineapple and citrus notes exploding from the glass. Boiled and dry-hopped using four Northwest hop varieties. Prepare yourself for a wild ride…. Rev it up with RPM IPA today!
IBU: 75 ABV: 7.5%
• • •
Map & Directions
Tags for this Event:
Events:
Beer, Wine, and Spirits
McMenamins Celebrations
Property > Vancouver on the Columbia
Related content (tags):