4045 N.W. Cornelius Pass Rd.
Hillsboro, OR 97124
(503) 640-6174
Contact Us
11th Annual Roadhouse Brewfest
2 p.m. 'til late; music begins at 4 p.m. |
Free admission |
All ages welcome; 21 & over to drink the ales
About 11th Annual Roadhouse Brewfest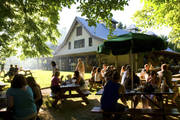 It's the height of summer and no one wants to be indoors - we all want to be outside, drinking beer and dancing and singing the night away in honor of Oregon Craft Beer Month, right? Yeah! So come on out for the hugely popular and massively fun Roadhouse Brewfest.
This noncompetitive celebration of beer "puts the brewer back in brewfest," featuring knowledgeable and idiosyncratic McMenamins brewers ready to answer queries throughout the entire event. Meet, mingle and chat with our brewers, enjoy food from Imbrie Hall's summertime menu, let the kids run around all crazy-like and beyond. It has become a summertime tradition for loads of Pacific Northwest beer lovers.
Past brews have included an American pale ale called Picasso Moon from John Barleycorns Brewery; Obama-Nation, a domestic Schwarz bier from the Crystal Brewery; a Belgian abbey ale called Blind Abbot from the Cornelius Pass Brewery and many, many others.
Music is always a special highlight at this brewfest. We host live bands throughout the day - all of it free, all of it all-ages-welcome!
** MUSIC SCHEDULE **
4 p.m. · VIVID CURVE · Didgeridoo groove
7 p.m. · FREAK MOUNTAIN RAMBLERS · Hilltop rock
** THE BEERS **
Hillsdale Brewery (Portland, Ore.)
Brewer: Robert Mason
Beer: Bright Eyes Gold Ale
Style: Golden Ale
Malt: Maris Otter, Munich, White Wheat, Vienna
Hops: Centennial, Santiam, Sterling
Bright Eyes Gold Ale is for the lighter beer fans. This beer is golden in color with light hop aroma and bitterness, then balanced out with the mild malty backbone. Perfect for a warm summer afternoon.
OG: 1.051 TG: 1.007 ABV: 5.68 IBU: 28.6 SRM: 6
Crystal Brewery (Portland, Ore.)
Brewers: Jeff Cooley and Alex McGaw
Beer: Heavenly Helles Lager
Style: Helles Lager
Malts: Pils, Vienna, Rolled Oats
Hops: Santiam, Crystal, Sorachi Ace
Adjuncts: Munich-ized water
Yeast: Wyeast 2124 Bohemian Lager Yeast
Our popular Helles is back! Originally called Brauhaus Helles Lager, we've changed the name in accordance with the response we got when people heard it was back. Trying to force a change of season, your Crystal brewers have unleashed the power of Heavenly Helles. Unlike pilsner, Helles Lager is a malt-forward beer that is not overly sweet, but focuses your attention on malt flavor with a subtle supporting role of hop bitterness. Its radiant gold color is the perfect substitute for the sun until those winter clouds part and, like a beacon, it may inspire the clouds to do just that. So grab a pint, close your eyes, take a sip, and let our Helles transport you to a warm summer day in Munich. Helles, yeah!
OG: 1.049 TG: 1.009 ABV: 5.16% IBU: 22 SRM: 3
Thompson House Brewery (Salem, Ore.)
Brewer: Jen Kent
Beer: ISA
Style: India Session Ale
Malts: GWM Pale
Hops: Galena and Cascade
Summertime brew consumption leads us to the lighter side of the ale world. This ISA is a lighter bodied ale with a great hop profile that won't put you under the table after a couple of pints. Grab a friend, get out in the garden, or just grab the lawnmower and make sure you have one of these close by for quenching your summertime thirst. If summer ever shows up in Oregon...
OG: 1.045 TG: 1.008 ABV: 4.77 IBU: 52 SRM: 12
Oak Hills Brewery (Portland, Ore.)
Brewer: Tony Balzola
Beer: What's Goin' Down Dark
Style: German Dark Ale
Malts: Pale malt, Carapils, Chocolate
Hops: Amarillo, Willamette
Brewed as an alternative to porter, this beer was designed to mimic the great dark lagers of Germany. A German ale yeast, fermented at lager temperatures, creates a malty and flavorful beer that finishes crisp and refreshing. Chocolate flavors are in the forefront, while a generous amount of Willamette hops add a slight spiciness. Joe the policeman will tell you that this beer is "What's Goin' Down."
OG: 1.051 TG: 1.013 ABV: 4.90 IBU: 37 SRM: 23
Fulton Brewery (Portland, Ore.)
Brewer: Ryan Mott
Beer: Murmuration Abbey
Style: Belgium Abbey Ale
Malts: Gambrinus Pilsner Malt, Wheat, Bonlander Munich, Cara-Munch 120L, Chocolate Malt, Candy Sugar
Hops: Brewers Gold, Santiam, Sterling, Crystal
Complex layers of caramel, candy sugar and flowery Belgian yeast ester flavors move gracefully and purposefully over the palate in startling unison in this Belgian abbey-style ale. The color is a deep garnet topped by an inviting white foam head. This ale is very complex yet surprisingly smooth.
OG: 1.075 TG: 1.011 ABV: 8.26 IBU: 41 SRM: 18
Cornelius Pass Roadhouse Brewery (Hillsboro, Ore.)
Brewers: Brady Romtvedt and Chris Oslin
Beer: Sun Hammer Double IPA
Style: Imperial IPA
Malts: 2-Row, Halcyon Pale, Crystal 15, Flaked Barley
Hops: Centennial to bitter, Centennial and Simcoe blend for flavor and aroma
Sun Hammer Double IPA is the result of the genesis and obliteration of two stars, the rise of our sun and its life-giving-mutation-spurring love from which sprang forth barley, hops, yeast, the Professor and myself. We combine to nourish you with a bold brew of barley orbited by resinous clouds of hop ether. Imbibe. Smile. Count our lucky stars.
OG: 1.076 TG: 1.014 ABV: 8.00 IBU: 100 SRM: 8
John Barleycorn Brewery (Tigard, Ore.)
Brewer: Tim Proctor
Beer: Choctaw IRA
Style: India Red Ale
Malts: Marris Otter Pale, Wheat, Bonlander Munich, Crystal C75, Midnight Wheat
Hops: Simcoe, Chinook, Cascade
Named in honor of my mighty heritage, this Indian red ale's deep, rich, amber color come from caramel and roasted barley. Slightly sweet malt flavors are perfectly matched and balanced with layers of hop bitterness and floral citrus aromas. Raise a pint in honor of all Native Americans.
OG: 1.072 TG: 1.014 ABV: 7.48 IBU: 60 SRM: 16
Lighthouse Brewery (Lincoln City, Ore.)
Brewer: Doug Ashley
Beer: Black Pearl Imperial Stout
Style: Russian Imperial Stout
Malts: 2-row, Pale, CaramelMunich, Chocolate, Black, Roast
Hops: Chinook, US Golding
A full-flavored stout with mild chocolate and roasted malt flavors. Although Black Pearl is truly a robust imperial stout, it can still be enjoyed during the warm summer months. Cheers!
OG: 1.071 TG: 1.015 ABV: 7.22% IBU: 18 SRM: 50
Map & Directions
Tags for this Event:
Events:
Beer, Wine, and Spirits
McMenamins Celebrations
Property > Cornelius Pass Roadhouse
Related content (tags):