Come have fun in school... for once...
5736 N.E. 33rd Ave.
Portland, OR 97211
Local: (503) 249-3983
Elsewhere: (888) 249-3983
Contact Us
Annual J.R.R. Tolkien Birthday Bash
Garcia Birthday Band
Saturday, January 14, 2012
11 a.m. 'til late |
Free admission; please bring a canned good for OR Food Bank |
All ages welcome except late movie
About Annual J.R.R. Tolkien Birthday Bash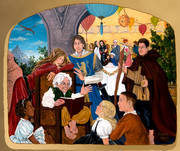 [Watch the slideshow from previous years.]
Elves, wizards, ents, orcs and all others are welcome to join us for this celebration of one of the 20th century's most influential authors. We'll have kids' fun, live music, performances by Willamette Radio Workshop, the entire "Lord of the Rings" trilogy in the Theater, Hobbit-inspired food specials and more! Come in costume to compete for prizes. All events are free; please bring canned goods for the OR Food Bank!

11 a.m. · "Fellowship of the Ring" · Theater
2 p.m. & 4 p.m. · Willamette Radio Workshop presenting "Hobbit's Greatest Hits" · Gym
3 p.m. · "Two Towers" · Theater
7 p.m. · "The Return of the King" (extended version) &middot no minors &middot Theater
7 p.m. · Garcia Birthday Band · Gym
Food Specials
Beorn's Honey Cakes $5.50
Sweet honey cakes with dried fruit and nuts
Mrs. Maggot's Cottage Pie $9
Beef and vegetables topped with mashed potatoes
Soup of the Day
Po-tay-to and onion
Mushrooms a la Gandolph $10.50
Sautéed mushrooms with herbs and crostini
King Burger $10.50
Bacon cheeseburger with BBQ sauce and topped with onion rings
The One Ring Onion Rings $8.25
With chipotle dipping sauce
Cracks of Doom Lava Cake $6
With caramel-ale sauce
Drink Specials
Death Defeater $8
St. Germain, orange and honey served hot in a snifter
Vitality Drink $7.25
Chambord, McMenamins Coffee Liqueur and White Dog over ice
Tom Bombadil's Cider $6.25
Captain Morgan's Rum, Triple Sec and hot cider served with lemon and a cinnamon stick
Prancing Pony Porter
To honor J.R.R Tolkien and his life's work, Concordia Brewery has crafted Prancing Pony Porter. Chocolate malt and roasted barley adds delightful mocha-like qualities to this rich, robust beer. Golding's hops were used sparingly, to accentuate (not overwhelm!) the malt flavor. So, knock back a pint, and celebrate like the Hobbits do!
Malts: 2-Row, Dark Munich, Victory, Flaked Barley, 120L Crystal, Brown, Roast & Chocolate
Hops: Brewers Gold & US Golding's
OG: 1.059
TG: 1.014
ABV: 5.81%
About Garcia Birthday Band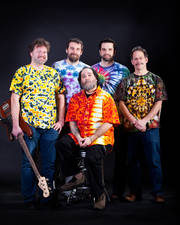 Garcia Birthday Band (GBB), based in Portland, Oregon, is a group of veteran musicians interpreting and celebrating the vast repertoire of the late Jerry Garcia and The Grateful Dead.
But this isn't a "tribute band!" Drawing on years of individual and shared experience, these players are able to craft and transform these tunes into something fresh and original. Solid chops, tight arrangements and fine harmonies all contribute to the band's musical travels and explorations of possibly the greatest and most diverse songbooks of all time.
Always sure to raise the roof and keep the dance floor rocking, hoppin' and shakin', the band's quickly growing fan base finds the community spirit and kind vibes contagious.
Music-lovers with a wide variety of tastes enjoy this band's extensive playlist which includes classics from Bob Dylan, Smokey Robinson, The Beatles, Johnny Cash, Chuck Berry, Jimmy Cliff, Traffic, Dr. John, Merle Haggard, The Meters, Neville Brothers, Buddy Holly, Otis Redding, Warren Zevon, Rev. Gary Davis, Bruce Cockburn, and Peter Tosh, to name a few. If your musical tastes range from rock-and-roll, country, R&B, blues, bluegrass, folk, or Americana, you will dig this band. No need to be a Deadhead.
With musicians hailing from the likes of New Riders of the Purple Sage (NRPS), David Nelson Band, Kingfish, Cubensis, Buds of May, Ike Willis Band, Brothers Jam and LOOS3, this band is certain to provide high musical adventure!
Band Members:
Arthur Steinhorn - Drums
Scott Gillan - Bass & Vocals
Travers Kiley - Keyboard & Vocals
Justin Pacuska - Guitar & Vocals
Jon Sokol - Guitar & Vocals
website:




facebook:
Map & Directions
Tags for this Event:
Events:
Beer, Wine, and Spirits
Family
History
Holidays
McMenamins Celebrations
Music:
Groove/Jam
Rock
Property > Kennedy School
Related content (tags):