Night of The Bluebird: Bukowski's Birthday
Barfly (R, 1987)
8:30 p.m. doors; 9 p.m. readings; 9:30 p.m. film |
$5 per person |
21 and over
About Night of The Bluebird: Bukowski's Birthday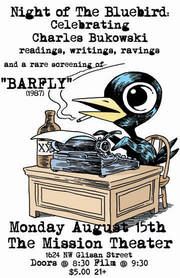 Hard Living, Big Talking,Womanizing, Alcoholic...
The Legend of Bukowski/Chinanski often out shined the reason he became famous in the first place.
His Writing.
Known as "The Laureate of the American Lowlife" Bukowski drew from his personal experience. His thousands of poems and hundreds of stories call on a unique lexicon of lower class life to capture stories of love, life and dead end jobs - all punctuated with broken bottles and broken hearts.

August 16th would have been Buk's 91st birthday. On August 15th The First Rule of Book Club celebrates with a night of ribald revelry at McMenamin's Mission Theater.

The night will play host to readings and writings by local luminaries, rare Bukowski footage and a one night only screening of "Barfly" (based on his early stories) starring Mickey Rourke and Faye Duniway.
* Night of The Bluebird is in reference to the poem "Bluebird" where Bukowski grapples with his image vs. his nature – read it here – watch it here.
The First Rule of Book Club is Portland's only book club to combine lit life, nightlife and movies.
Our mission: To put books in hands more accustomed to cocktails.
Visit us online @ mischiefmayhemsoap.com
About Barfly (R, 1987)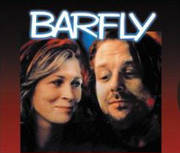 Henry Chinaski never cared for the American dream, the thought of needing to become 'something' and fit into the system disgusts him. He believes that life is free and yours to live like you see fit, and if that in some cases involves copious amounts of whiskey then so be it. Henry spends his days drinking and listening to the radio, and he spends his nights drinking and fighting against Eddy who he thinks personifies shallowness and shameless self promoting. Sometimes in the middle of this he finds the time to jot down a few lines of poetry or a short story. After fighting Eddy and winning for a change Henry is thrown out of his regular bar where Eddy is a bartender. This leads him to seek another watering hole where he happens to find Wanda who is a barfly, in her own words "if another man came along with a fifth of whiskey, I'd go with him". Henry is not fazed by this thou and moves in with her...
Map & Directions
Tags for this Event:
Property > Mission Theater
Related content (tags):