3702 S.E. Hawthorne Blvd.
Portland, OR 97214
Pub: (503) 467-7521
Movie Line: (503) 249-7474 x1
Contact Us
Cort and Fatboy Live show and Late night Movie
Die Hard (R–1988)
8:30 p.m. doors; 9 p.m. event; 11 p.m. film |
$3 per person |
21 and over
The 2nd annual cortandfatboy holiday celebration, What Could Possibly Go Wrong? featuring a 35mm screening of what many consider to be the best Christmas film of all time, the story of a grumpy cop who forgot his shoes when a bunch of Germans showed up to steal Christmas in Los Angeles: 1988?s action masterpiece Die Hard.
Should you wish to partake in the pre-film proceedings, there will be a smorgasbord of mediocrity available: a live taping of cortandfatboy, featuring most of their regular guests, including Oregonian film-critic and Sabertooth Vampire creator Mike Russell, Digital Trends editor/columnist Ryan Fleming, filmmaker/author/genial misanthrope David Walker, stand-up comedian Big Jim Willig, gossip columnist Byron Beck, and other special guests.
Following the live podcast taping will be a screening of filmmaker Joni DeRouchie's documentary short Welcome to That Whole Thing, focusing on the strange path cortandfatboy has taken from radio show, to podcast, to getting fired (freed) from terrestrial radio, then experiencing exponential growth at the recently-purchased cascadia.fm.
And setting the stage for Die Hard will be the David Walker/Matt Haley collaboration Blackstar Warrior, a re-envisioning of the Star Wars saga as blaxploitation, starring Leonard Roberts as our favorite blue-caped swindler, Lando Calrissian.
You don't have to attend the pre-show festivities to enjoy Die Hard, but either way, once in the theater: Don't be Ellis. The Midnight Movie series is NOT a place for amateur comedians and wanna-be Joel Hodgson's to get their stand-up on from the seats, bubby.
What Could Possibly Go Wrong? Come out to the Bagdad, we'll get together, have a few laughs.
About Die Hard (R–1988)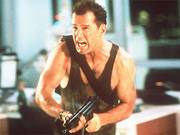 New York City Detective John McClane has just arrived in Los Angeles to spend Christmas with his wife. Unfortunatly, it is not going to be a Merry Christmas for everyone. A group of terrorists, led by Hans Gruber is holding everyone in the Nakatomi Plaza building hostage. With no way of anyone getting in or out, it's up to McClane to stop them all. All 12!
Map & Directions
Tags for this Event:
Property > Bagdad
Related content (tags):