& Lola's Room
1332 W. Burnside
Portland, OR 97209
(503) 225-0047
crystal@mcmenamins.com
Second show added!!
Deftones
Dillinger Escape Plan
Funeral Party
7 p.m. doors, 8 p.m. show |
$32.50 in advance, $32.50 day of show |
All ages welcome
Buy Tickets
Tickets on sale now!
Deftones will be performing Around the Fur and Diamond Eyes in their entirety on this evening!
About Deftones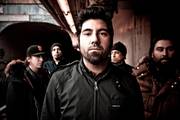 Deftones were one of the first groups to alternate heavy riffs and screamed vocals with more ethereal music and hushed singing -- spawning a fair amount of imitators in their wake. The group first formed in Sacramento, CA during 1988, when then high-school students Stephen Carpenter (guitar), Abe Cunningham (drums), and Chino Moreno (vocals) first began to jam together. They chose the name Deftones and began playing out locally shortly thereafter, going through several different bass players before finding a permanent bassist in the form of Chi Cheng.
Check out Deftones' official music video for "Diamond Eyes" from their album of the same name.
Although the group was more heavy metal-based early on, the early '90s saw Deftones expand their sound even further, inspired by such groundbreakers as Tool, Rage Against the Machine, and Faith No More. A strong four-song demo was completed soon after, and it landed the group a recording contract with Madonna's label, Maverick. Enlisting the services of Soundgarden and Pantera producer Terry Date (who would eventually become a regular producer for the group), the quartet's debut full-length, Adrenaline, was issued in October of 1995. While the album wasn't an instant success, Deftones built a dedicated fan base the old-fashioned way -- by touring relentlessly (both on their own and opening for such more established acts as Ozzy Osbourne, L7, and Korn). With sales of Adrenaline topping 200,000 copies , expectations were high for their sophomore release, Around the Fur. Issued in October of 1997, it more than delivered, catapulting the band to the top of the alt-metal mountain on the strength of such MTV/radio faves as "My Own Summer (Shove It)" and "Be Quiet and Drive (Far Away)." Sometime after the album's release, turntablist/keyboardist Frank Delgado (who had helped out on the first two albums) formally joined up and expanded the group's lineup to a five-piece.
A seven-track import EP, 1999's Live, was issued as a stopgap release as Deftones began work on their third studio effort (Cheng also issued a spoken word release, The Bamboo Parachute, around this time as well). White Pony was eventually released in June of 2000 and proved to be one of the most eagerly anticipated heavy rock releases of the year. The album was another success (debuting at number three on the album charts), and it showed the quintet unafraid to experiment with its sound, as Moreno let such '80s modern rock influences as the Cure and the Smiths seep into Deftones' sound. (After touring wrapped up for the album, Moreno formed Team Sleep and began recording an eponymous album, which was delayed numerous times but finally saw release in 2005.) Soon Deftones reunited to work on new ideas, and enlisted Date again to helm their new album. Eagerly anticipated by both fans and critics alike, Deftones dropped in May 2003 and spawned the single "Minerva." The quintet then embarked on the Summer Sanitarium tour with Metallica and Linkin Park. Deftones ended up peaking at number two on the Billboard 200, and the band took a well-deserved break for rest and side projects. In October 2005, Deftones issued a two-disc set of B-sides and rarities before returning with a new studio full-length, Saturday Night Wrist, a year later.
In 2007, the band began working on Eros, which was set to be their sixth album. The album was delayed indefinitely when bassist Chi Cheng was involved in a serious car accident that left him in a coma. Cheng was replaced by Quicksand bassist Sergio Vega in 2009, and the band got back to touring and recording. Though Eros was still shelved, in 2010 the band released a new album, Diamond Eyes.
Chi Cheng's story
New doctors, Dr. DeFina, Chief Scientific Officer and founder of International Brain Research Foundation (IBRF) along with Dr. Jonathan Fellus, director of Brain Injury Services at the Kessler Institute, have been brought onboard to aid in Chi Cheng's recovery. They have an 84% success rate in waking people from coma, vegetative and minimally conscious states. Typically the national average for patients emerging from these states is 3 - 7%.
Chi is on the beginning phases of their groundbreaking protocol and has already been showing great progress. He will remain under the direct care of the doctors at IBRF. A new goal of $500,000 has been set in order to cover the cost of staying at the facility for 3-6 months or longer as well as transportation to get Chi to the facility. Chi is slowly making progress with the help of Dr. DeFina's new protocol and funds raised will make sure he is able to continue to do so.
On June 9, the New Jersey team came out again to run a series of tests and check Chi's progress. One of the tests done determines his level of consciousness. It is based on a scale from 1-100 and anything over 90 is considered conscious or "awake". Chi was ranging between 97-98 meaning that his brain is well over the minimum of 90. The next step is to be able to transfer him to a rehab facility for patients with brain injury. Either here or on the east coast, the stay is approximately $2,000. per day and insurance will not cover it.
website:




One Love For Chi site:
About Dillinger Escape Plan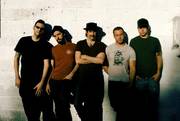 At first glance, Option Paralysis seems like a highly inappropriate title to describe the constantly evolving output of THE DILLINGER ESCAPE PLAN. But once you're faced with the cumulative power and vision of guitarist Ben Weinman, vocalist Greg Puciato, bassist Liam Wilson, guitarist Jeff Tuttle and new drummer Billy Rymer, you'll wonder-right after you pick yourself up off the floor-why more bands don't achieve similar force-of-nature status.
"The title Option Paralysis represents being in a situation where you have so many choices you can't decide, and end up being frozen," says founding member Weinman about the mindset permeating the band's fourth full-length album. "Back in the early days when I started to discover music, go to shows and find out about new bands, there were 'filters' from various circumstances --geography, economic status, etc-- which deeply affected how a band sounded and what they stood for. Now, everyone is going through the same filter --namely computers and the internet-- and everyone has the same circumstances: Everybody's seeing the same thing for the first time at the very same time, simultaneously all over the world. That very system is negatively affecting art and has created a situation where everything is influencing itself and art is not based on struggle, personal scarcity or unique and personal inspiration. This cultural revolution is a big part of what determines our mission. We're not listening to any of the bands around us for some kind of input as to what we should sound like. At this point, we're using our own accomplishments as a measurement of what we need to do next."
From their early days in the late-'90s as short-haired Rutgers, New Jersey, college students delivering hyper-complex thrash to audiences of boorish long-haired surly metalheads, to performing with NINE INCH NAILS on the pioneering electronic band's farewell shows, the DILLINGER ESCAPE PLAN have merely one prerogative: to go forward in ALL directions simultaneously. Their groundbreaking 1999 debut full-length, Calculating Infinity, is inarguably the essential technical-metal talisman for the 21st century, melding hardcore's blinding rage with a musical vision that made most progressive-rock bands sound positively lazy by comparison. Irony Is A Dead Scene, the band's 2002 collaboration with Mike Patton, maintained their patented extremity while exploring electronic textures. The 2004 follow-up, Miss Machine, (the first record to showcase frontman Puciato) was a distillation of the band's work thus far, while including jaw-dropping flirtations with mainstream metal ("Unretrofied") that further enforced DILLINGER's desire-and ability-to take their music wherever the hell they wanted. 2007's Ire Works had the band finding inspiration from underground glitch and breakcore electronica, as well as indigenous music genres, in a world seemingly overrun with metalcore bores and screamo trend-hoppers. THE DILLINGER ESCAPE PLAN's unerring sweat equity has consistently found resonance with listeners on both sides of the stages the band trod upon.
Option Paralysis marks the beginning of another trajectory in the DEP mythology. After aligning themselves with the renowned Relapse label for most of their career, the band entered into a deal with the French label SEASON OF MIST to put out Option Paralysis, tagging their new PARTY SMASHER INC label. "We signed a pretty traditional record deal with them for one record," explains Weinman. "What's exciting is that Michael [Berberian, SOM label founder] is a really big music fan and has a great understanding of how we operate. He was totally aware of the possibilities and limitations of working with a band like us-he's not expecting pop hits-and he's been extremely enthusiastic to dive right in and make it work for everyone."
Produced by Steve Evetts, Dillinger's new music is positively abundant with possibilities. Drummer Billy Rymer, whom Weinman describes as "young and hungry," now occupies the engine room that powers the band. Puciato has always had a knack with a bellow that could make reciting a grocery list seem like an exhortation to open the mouth of Hell. But feeling some of the lyrics on Option Paralysis, you can't positively determine if the singer is handing down indictments ("Farewell, Mona Lisa") or feeling emotionally wounded. "This record is concept-driven but there is still a very emotional and personal aspect to his lyrics," says Weinman soberly. "He's going through transitional stages in his life right now." Nothing so eloquently supports that statement than the six and-a-half-minute "Widower," where the band is joined by veteran David Bowie keyboardist Mike Garson for an aural excursion that incorporates piano-trio jazz, tender balladry and anthemic power. While there's no shortage of DEP plasma-balls on Option Paralysis ("Room Full Of Eyes", "Good Neighbor"), the band keeps things fresh with the math-rock/free-jazz convergence of "I Wouldn't If You Didn't," the electro-tweaked "Chinese Whispers" and the closing "Parasitic Twins". The latter track sports lead vocals courtesy of guitarist Tuttle, as well as Beach Boys-styled harmonies and a major-key Weinman solo that's more Clapton (ca. Derek and the Dominos) than calculus crush. Clearly, this is not your older brother's DILLINGER ESCAPE PLAN. "We're just trying to make music we can be stimulated by," says Weinman about the assorted directions and sonic vistas on Option Paralysis. "We consider ourselves songwriters, which is kind of odd when you consider the kind of band most would consider us."
About Funeral Party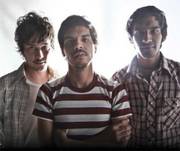 Funeral Party is a five-piece band that formed late one night in a park. Hardcore bands and metal bands dominated the local music scene at the time in Whittier, California, an East Los Angeles suburb comprised of mostly working-class enclaves. In the East Los Angeles neighborhoods adjacent to Whittier however, a post-punk dance-craze revival was emerging and Funeral Party began gigging every weekend.
The band quickly developed a following and a D.I.Y. ethos that encapsulated East Los Angeles' rich musical history. Initially, the band didn't even own equipment and had to borrow it from bands they played with at East Los Angeles backyard parties and warehouses. Funeral Party quickly achieved a mythic stature in the Los Angeles underground. Lars Stalfors, engineer for Mars Volta, invited the band to record in Volta's studio in East L.A. The sessions yielded "Chalice", which immediately became East L.A.'s theme song and could be heard bumping on iPods throughout Southern California. What is unique about Funeral Party is the band's universal appeal; there exist numerous infusions in their music. This band is crucially important as they have created a visceral music that encapsulates the experiences of contemporary youth.
Map & Directions
Tags for this Event:
Music:
Alternative/Indie
Rock
Property > Crystal Hotel
Related content (tags):