Ezra Weiss Quartet
Film footage during break: Charles Lloyd Quartet - Germany, 1998
hosted by Ben Darwish
(ticketed through Cascade Tickets)
8 p.m. doors, 8:30 p.m. show |
$5 in advance, $5 day of show |
21 and over
Ezra Weiss Quartet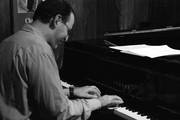 "Ezra Weiss is a fine, fine jazz pianist, an American original...He can take a jazz motif and bring out all of its lovely hues and shades. His playing approach is straight-ahead, and his melody phrasing is excellent..."--Lee Prosser, jazzreview.com
Ezra has composed and/or arranged music for Billy Hart, Thara Memory, Rob Scheps Big Band, Leon Lee Dorsey, Stan Bock, and Renato Caranto, among others. He has performed with Billy Hart, Greg Bandy, Michael Philip Mossman, Antonio Hart, Thara Memory, Rob Scheps, Renato Caranto, and Dennis Rowland, and co-led the Courtney Bryan/Ezra Weiss Jazz Orchestra. He has led bands in many of the country's greatest clubs including Dizzys Club Coca-Cola, Smalls, and Tonic in NYC; Ryles in Boston; Nighttown in Cleveland; Chris' Jazz Cafe in Philadelphia; The Triple Door in Seattle; Jimmy Maks in Portland; and Catalinas in Los Angeles

Ezra also has composed music and lyrics to two children's musicals: Alice in Wonderland: a Jazz Musical (2009) and Don't Let the Pigeon Drive the Bus! (2010). Both musicals were designed to expose young children to jazz. The soundtrack to Alice... was named one of the top 10 cast recordings of 2009 by TalkinBroadway.com.

Ezra has won the ASCAP Young Jazz Composer Award three times. He holds a Bachelors in Jazz Composition from the Oberlin Conservatory of Music and a Masters in Jazz Piano Performance from Queens College. His teachers have included Wendell Logan, Neal Creque, and Bruce Barth. He currently lives in Portland, Oregon, where he teaches at Portland State University.
Lineup for the Ezra Weiss Quartet
Ezra Weiss, piano
Renato Caranto, saxophones
Patrick Harry, bass
Chaz Mortimer, drums
Website:
(ticketed through Cascade Tickets)
McMenamins is switching ticket companies! Tickets for all ticketed McMenamins events put on sale on or after December 16, 2010, are available through Cascade Tickets, not Ticketmaster. Shows that went on sale before December 16 will remain on Ticketmaster all the way to the day of show.
Cascade Tickets offers tickets through their website, (855) CAS-TIXX and McMenamins ticket outlets (Crystal Ballroom, Bagdad Theater, Edgefield Gift Shop and East 19th Street Cafe in Eugene, Ore.).
For more information about this ticketing transition, please visit our FAQ page.