Dirty Martini
Michael Jodell & Matt Brown
(ticketed through Cascade Tickets)
Saturday, February 12, 2011
8 p.m. doors, 9 p.m. show |
$10 advance, $12 day of show |
21 and over
Buy Tickets
Tickets on sale now!
About Dirty Martini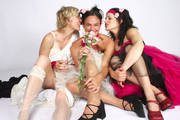 Dirty Martini sounds like a band formed by the three weirdest girls in your high school English class while everyone else was at the prom. You can imagine them in a basement writing their spooky songs about shanghaied sailors, sudden floods, boozy float parade princesses, blinding lust, and other disasters while the other kids slow-danced under tin foil stars. Of course, Lara Michell, Stephanie Schneiderman, and McKinley are not high school girls, but there's something about their odd stories and dark harmonies that makes you feel like you're intruding into the private world of best friends. The big choruses and catchy melodies they write, though, let you know that you're welcome. They were steaming ahead with their solo music careers when they met and began to write and perform together. These shows were so satisfying for them and their combined audience that the momentum pushed Lara, Stephanie, and McKinley into recording a live CD in 2004 followed by a studio CD entitled Tea and Revenge. Tea and Revenge is damp with Portland rain, smells like old accordion, and is packed with secrets and a little venom. There is enough sweet guitar and simple melody to get your guard down, but watch for the punch in the stomach.
Check out Dirty Martini performing "Easy Kill" at the Crystal Ballroom...
website:
About Michael Jodell & Matt Brown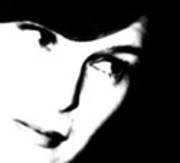 "Possessing one of the dozen or so most amazing human voices this reviewer has ever heard in action, this gal is, as they say, going places." --Willamette Week, September, 2003. What sets Michael Jodell apart is a combination of uniquely crafted songs and a voice that has garnered much acclaim. Influenced by such greats as George Harrison, Brian Wilson and Ella Fitzgerald, Michael's songs span many genres. "Jodell possesses a resonant voice full of torch and smoke. She leans towards country, but infuses her music with mature chords and subtle vocal shadings." -The Oregonian, August, 2003.
About (ticketed through Cascade Tickets)
McMenamins is switching ticket companies! Tickets for all ticketed McMenamins events put on sale on or after December 16, 2010, are available through Cascade Tickets, not Ticketmaster. Shows that went on sale before December 16 will remain on Ticketmaster all the way to the day of show.
Cascade Tickets offers tickets through their website, (855) CAS-TIXX and McMenamins ticket outlets (Crystal Ballroom, Bagdad Theater, Edgefield Gift Shop and East 19th Street Cafe in Eugene, Ore.).
For more information about this ticketing transition, please visit our FAQ page.
Map & Directions
Tags for this Event:
Property > Mission Theater
Related content (tags):