Relax in style amid the legends
112 N. Tower Ave.
Centralia, WA 98531
Local: (360) 736-5164
Elsewhere: (866) 736-5164
Contact Us
Great Northwest Music Tour
Paleface
7 p.m. |
Free |
All ages welcome
Every month the Great Northwest Music Tour blazes a fresh musical trail, bringing an ever-changing lineup of talent to McMenamins Historic Properties. There is no admission charge to the festivities, and our unique hotels offer food, handcrafted beverages and a cozy place to bed down after the last note is played. Bring your friends and family and jam to a different artist every month.
About Paleface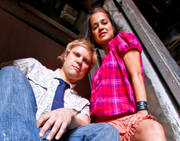 After releasing his Ramseur Records debut The Show Is On The Road just over a year ago, Paleface and girlfriend drummer Monica "Mo" Samalot are back with their Ramseur Records follow-up One Big Party. The high-energy Indie-folk band just celebrated the release this Fall with a special guest-performance alongside friends The Avett Brothers at Radio City Music Hall, followed by an ongoing US tour, and a European tour (late Spring 2011).
Schooled personally by Daniel Johnston, Paleface was discovered at an NYC open mic in 1990 by Danny Fields (The Stooges, The Ramones, MC5). He soon became the first Antifolk (Neofolk/Modern Folk) artist signed to major labels (Sire Records, Polydor Records), followed by college radio hits and national tours with the likes of Billy Bragg and The Breeders. While hanging around the Lower East Side with his then close pal Beck, Paleface became a major influence on Beck's early work.... "We used to go to all the open mikes together. He taught me Daniel Johnston songs on the sidewalk and let me sleep on his couch. He was a great songwriter, a generous friend, and a big influence on my early stuff." Beck on Paleface (American Music-Annie Leibovitz).
After touring with The Breeders, PF collapsed and nearly died from alcohol. Following long recovery & cleansing PF returned to NYC's Antifolk scene and befriended a new breed of artists (The Moldy Peaches/Kimya Dawson, Regina Spektor, and Langhorne Slim among others). Paleface became a major source of influence and inspiration to many of them. After finishing a record with his band Just About To Burn which featured drummer Monica "Mo" Samalot, PF met The Avett Brothers...who fell in love with it 'My favorite all-time record by a friend' (Seth Avett, June '07). They developed a strong bond based on respect and admiration for each others' work. Paleface often shares the stage with The Avetts, and his songwriting, vocals and instrumentation are featured on two of their records.
Check out Paste magazine's short documentary on Paleface "Paleface --The Making Of One Big Party" which features interview with Scott Avett of The Avett Brothers:
"Paleface conveys a strong message of the value of hearty, uncomplicated songs by using light-hearted melodies which transcend today's valueless radio hits and synthesized voices. Songs like "She's So" demonstrate this message; where the gritty guitar piece can be felt all the way down to the core of your soul and hard vocals make you feel like you are in the room during an eclectic rock jam session. Paleface's new album One Big Party is a great album that will have you humming tunes for days on end...a fun bash that will truly resonate with all listeners." --The Badger Herald, University Of Wisconsin
"From the moment you plug into One Big Party you want to clap your hands and tap your toes" --YES! Weekly
"From the outset Paleface's new album, One Big Party, makes no amends for the raucous, boot-stomping experience in store...A mix of folky guitar riffs and percussion with a smattering of horns and harmonica, organ, and even a little banjo, the album remains varied and sonically interesting through to the end. It seems to be at its best in the rich harmonies created by two voices that have their own strange sort of fusion, like cigarettes and strawberry soda" --East Nashville Blog
"Paleface...A neo-folk icon" The Flagpole, Athens, GA
"Overdue for recognition" The Scene, Nashville, TN
Map & Directions
Tags for this Event:
Property > Olympic Club
Related content (tags):