featuring Douglas Detrick's AnyWhen Ensemble, with guest Ben Darwish
Film footage during break: Jan Garbarek Group, Leverkusen Germany, Nov 2009
hosted by Ben Darwish
(ticketed through Cascade Tickets)
8 p.m. doors, 8:30 p.m. show |
$5 in advance, $5 day of show |
21 and over
featuring Douglas Detrick's AnyWhen Ensemble, with guest Ben Darwish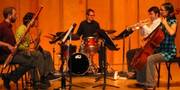 Douglas Detrick's AnyWhen Ensemble is a part of a small but exciting group of ensembles fusing the jazz and classical traditions together into a new and vibrant music that respects and builds upon its sources.
The ensemble draws its influence from musical genres ranging from classical and new chamber music, traditional and contemporary jazz, and free improvised music, as well as rock, electronica and folk music. The music is intimate and personal, blending the spontaneity of improvised music with the balance and form of chamber music.
The AnyWhen Ensemble will be appearing with Wayne Horvitz at the Is That Jazz Festival in Seattle, WA in January of 2011 and releasing their second album, Rivers Music on the Origin Classical label.
Read an in-depth description of this group's conceptual basis in the bio section of their MySpace page.
Douglas Detrick
"Douglas Detrick is one of the brightest young talents to emerge in Oregon jazz lately." - Brett Campbell, Willamette Week
Douglas Detrick, 27, is a composer and trumpet player who resides in the Bronx, NY and was raised in Portland, Oregon. Equally at home as a performer and a composer, he is a versatile and eclectic musician establishing his reputation as an innovative composer and performer who creates unique music in the worlds of jazz, chamber music, electronic music and improvised music.
MySpace page:




website:
(ticketed through Cascade Tickets)
McMenamins is switching ticket companies! Tickets for all ticketed McMenamins events put on sale on or after December 16, 2010, are available through Cascade Tickets, not Ticketmaster. Shows that went on sale before December 16 will remain on Ticketmaster all the way to the day of show.
Cascade Tickets offers tickets through their website, (855) CAS-TIXX and McMenamins ticket outlets (Crystal Ballroom, Bagdad Theater, Edgefield Gift Shop and East 19th Street Cafe in Eugene, Ore.).
For more information about this ticketing transition, please visit our FAQ page.