& Lola's Room
1332 W. Burnside
Portland, OR 97209
(503) 225-0047
crystal@mcmenamins.com
Crystal Ballroom's 97th Birthday Free-For-All
Sallie Ford & the Sound Outside
The Parson Red Heads
Elizabeth Cook
Pancake Breakfast
Pagan Jug Band
Celilo
Tango Alpha Tango
The Lord's Own Choir
History tours, tastings of McMenamins ales, liquors, wines & coffee
and much more!
1 p.m. 'til late |
Free |
All ages welcome
About Crystal Ballroom's 97th Birthday Free-For-All
Come one, come all to the Crystal Ballroom's 97th Birthday Free-For-All! – it's an all-day, no-cover event open to guests of all ages. Enjoy live music by Sallie Ford & The Sound Outside, Parson Red Heads, Elizabeth Cook, Pagan Jug Band, Underskore Orchestra and many others!

The party starts in the afternoon and will parade long into the night…
Tastings schedule:
Coffee tasting - Ringlers Annex - 2 p.m.–5 p.m.
Ales tasting - Crystal Brewery (second floor) - 5 p.m.–7 p.m.
Wine and liquor tasting - Ringlers Annex - 5 p.m.–8 p.m.
Music schedule:
In the ballroom:
2 p.m. - Marysville Marimba / Japanese Drums
3:30 p.m. - Irish Dancers
4 p.m. - Underskore Orchestra / Rose City Vaudeville
6 p.m. - Pagan Jug Band
7 p.m. - Elizabeth Cook
8 p.m. - Parson Red Heads
9 p.m. - Sallie Ford and the Sound Outside
Lola's Room (21 and over only):
4 p.m. - Lord's Own Choir
5 p.m. - Tango Alpha Tango
6 p.m. - Celilo
7 p.m. - Pancake Breakfast
Tours of the Crystal, Ringlers Annex, and Crystal Hotel take place at 1 p.m. and 3 p.m.; please gather at the rear of the ballroom on the third floor.
About Sallie Ford & the Sound Outside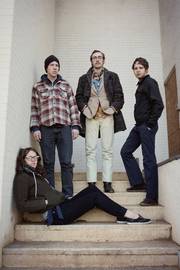 Sallie Ford hails from Asheville, North Carolina, just east of the Blue Ridge Mountains. Enjoying a musical upbringing surrounded by performers, she grew up playing the guitar and the violin in addition to singing. On a whim, Ford pulled up her Carolina roots and moved across the country to Portland, Oregon, where she has been writing songs since 2006. Sallie met drummer Ford Tennis and bassist Tyler Tornfelt in 2008, and then a year later met lead guitarist Jeff Munger while he was performing on the streets.
Though inspired by the vocal stylings of old jazz, blues and soul singers like Billie Holiday, Bessie Smith and Etta James, Sallie and her three-piece band, "The Sound Outside," also seek a contemporary sound to throw into the mix. Continuing to enjoy the musical community in Portland, Sallie Ford and The Sound Outside self-released their EP "Not An Animal" in May 2009. Their first full-length album is forthcoming, and has a release date planned in Fall 2010.
website:




MySpace page:
About The Parson Red Heads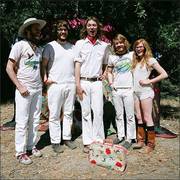 Since moving to Los Angeles from Oregon in the summer of 2005, The Parson Red Heads have worked themselves up to be one of the east side's most prominent live acts with a trio of residencies at Silver Lake Lounge, The Echo and Spaceland. In 2007, their debut full length, King Giraffe found its way on to the airwaves of KCRW where the band performed on the legendary "Morning Becomes Eclectic" as well as other prominent college stations (CMJ Top 200 for 9 weeks). Last year's Owl & Timber EP helped the band get out of California, helping them secure tours with the likes of Blitzen Trapper, Earlimart and Everest behind that release's buzz. Not letting momentum stop, the band is happy to announce their first release on vinyl with the 7" Orangufang.
Centralized around the songwriting of Evan Way (vocals, guitar), The Parson Red Heads are rounded out by his wife Brette Marie Way (drums, vocals), Sam Fowles (guitar, vocals), Aaron Ballard (guitar, vocals) and Andy Creighton (bass, vocals). Orangufang was recorded at Red Rockets Glare (Broken West, Ferraby Lionheart) in Los Angeles and was produced and engineered by sometime Parson, Raymond Richards. The 7" will feature the songs "Raymond" (named after Richards) and recent live favorite "You Can Leave It" as well as a download card so you can get those two tracks and bonus song "Knew A Young Girl" onto your iPod.
"Raymond" and "You Can Leave It" features the bright guitars and layered vocal harmonies that the group is so known for, while "Knew A Young Girl" takes them back to the more acoustic based work they did on 2006's Field Mouse Carnival EP. Special guests include Richards on Pedal Steel and former bass player David Swensen with bass on "You Can Leave It" and trombone on "Raymond". With a tour of California already in place for May, Orangufang will be sure to tide over their fans as the band works on their next full length record.
website:
About Elizabeth Cook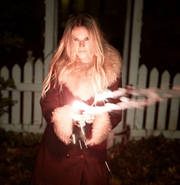 Equal parts alt.country and Grand Ol' Opry, Elizabeth Cook's new album Welder features Dwight Yoakum, Rodney Crowell and the Opry's Tim Atwood, among others.
weld 1 [weld]
- verb (used with object)
1. to unite or fuse (as pieces of metal) by hammering, compressing, or the like, esp. after rendering soft or pasty by heat, and sometimes with the addition of fusible material like or unlike the pieces to be united.
I'm not a welder, at least not in the typical sense of the trade. But my daddy is, by way of 2,300 hours of training that certified him, courtesy of the Atlanta Federal penitentiary.
I myself couldn't put a rod in the thingamajig. And heavy equipment makes me nervous. But I do tend to fuse things, confuse things, sometimes with sparks, sometimes like a lava melt, sometimes backed by a tank of compressed air ready to blow, sometimes quiet as a slow leak.
The beauty of writing, recording, gigging and the like to me is, when it's right, it comes together and makes a glow in my soul, so intense it pierces a hot afternoon like a hissing firecracker. "Don't look at it directly...it'll burn your eyes!" mama used to yell. I stood barefooted hanging on the inside of the screen door of our Florida patio. I loved watching the electron-beam of our family business, Cook's Welding, at work in our tiny dirt yard. It was so hard not to look. Couldn't help but look. And the rawness of my new album Welder is case in point. Apparently, I still can't help but look.
One day, Daddy had the fortuitous idea to put his welding machine on the back of his truck making him, in effect, a "mobile" welding unit. He was the only one in central Florida, the part of the Sunshine State that was then chock full of tomato, cantaloupe, strawberry and watermelon fields. Turns out this stroke of temporary genius made our little family a bustling business due to the age-old battle between man and nature - the blistering Florida sun vs. the lifeline of irrigation pipes that permeated the fields. A farmer could lose a crop in a matter of hours in that heat, less Cook's Welding could save the day. Daddy would eventually build many cattle guards and gates for the wealthy horse ranchers of Marion County. And in the early '80 s, all the city of Wildwood's industrial green dumpsters were custom-made right there in our front yard. Heatin' and hammerin' away...
I'll never forget going back home there for a class reunion. Because of poor timing, I had the surreal experience of receiving my first major label recording contract via the fax machine at none other than the Wildwood Ace Hardware. It was bizarre. The man behind the counter looked down his glasses at me, completely oblivious to the famous letterhead detailing big dreams and dollars in his hands. He said "You tell your daddy we ain't had a welder to beat him since he left." God, I can only hope to get that good. Thankfully, seems my chances are still coming.
In the way my career has come together so far in unforeseen ways, via things like my satellite radio show "Apron Strings" on Sirius' Outlaw Country, the Grand Ole Opry, great places to play and people to play them with, accomplishments in songwriting, acting gigs, my team of Tigers, this kind of mish-mash continues. The story melts and bends.
Once he quit drinking, Daddy used the overflow of our economy to fund the beginnings of my music career...he bought yards of fringe for cowgirl suits, red boots from The Loretta Lynn gift shop, a public announcement system, including a Peavey mic and two speakers from a music store in Orlando. One time he tried to bribe the house band at Nashville's Opryland amusement park to let me up on stage to sing a song by flashing a cool twenty. He scuffled away rejected in his white dress shoes. Today I humbly state I've logged over 300 appearances on the Opry's sacred stage...that's up the sidewalk a ways, in the big house.
Mama certainly did her part writing songs, teaching me lyrics she wrote out on poster board, sitting on the bed singing "One Day At A Time Sweet Jesus" after she got the cooler packed and rollers in my hair. A lot has changed. And nothing has gone like we thought it would. But somehow it feels alright.
For my fifth all grown up studio album, I'm enjoying the journey more and I see how welding continues to shape my life. This record was really tough to make in some ways and really easy in others. It was a cool breeze and a real high to work with Don Was. Like Rodney Crowell before him, he helps me continue to break out of jail. So I bought him a nice key chain.
The eclectic cast of pickers on Welder, not only pros, but friends, united to record at last. We all hung out and worked oblivious to the red light pressure. I barely noticed the days of rain while we recorded. Just a week long party with nice carpet and tiny lights, wires knobs and buttons, a stocked fridge, love and luck all around me, plus one really good coffee pot. I drew in, and struck like lightning.
From a material standpoint, I've never had more to write about...didn't have to dig too deep at all. For instance, I never thought I'd be singing about my Mama's funeral. Just never thought I'd write, much less sing, about that. But here it is on Welder...alongside other tales of the harshness and delicacies of romantic and familial love ("Not California," "Heroin Addict Sister," "Girlfriend Tonight"), occasionally indulging in the rush of being inappropriate ("El Camino," "Snake In The Bed," "Yes To Booty"). As wild a ride as it is, this is the hand the last three years since release of the Balls album has dealt me. Welder is my way of bringing it all together. And it's just the truth.
Though emotional whiplash is a serious condition, as an artist, I'm grateful for experiences that have grown me up a little bit, even if it hurts like hell. And although I didn't really want to, the fact that I "couldn't help but look" is what made Welder possible. It's my damnation and my salvation. And it's my job. I have to look.
I hope the musical journey on Welder brings the condolences that come with sharing, through commiserating about life, in laughter and in tears, for the old fans, the newly added, and the all around music loving public, to whom I'm so grateful, each and every one. Thanks for looking.--Elizabeth Cook
Credits:
Elizabeth Cook - acoustic guitar, background vocals
Tim Carroll - electric guitar, slide, banjo, harmonica, background vocals
Marco Giovino (Robert Plant, Patty Griffin) - drums
Bones Hillman (Midnight Oil) - bass
Tony Paoletta (Dixie Chicks) - steel
Matt Combs - fiddle, mandolin, one man string section
Tim Atwood (Grand Ole Opry) - keys
The Carol Lee Singers (Grand Ole Opry) - background vocals on "Girlfriend Tonight" and "I'm Beginning To Forget"
Buddy Miller background vocals on "All The Time"
Rodney Crowell background vocals on "Not California" and "I'm Beginning To Forget"
Dwight Yoakam background vocals on "I'll Never Know
Gary Maurer (Hem) - acoustic guitars on "Not California"
website:
About Pancake Breakfast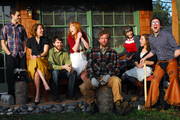 Portland's Pancake Breakfast is a foot-stomping 9-member roots act that really puts on a show! Big sing-along choruses, tall tales, and old-time vaudeville antics define their audience-inclusive approach to making music.
This folk outfit was born under some Ponderosa pines in the Cascade Mountains. What started as a barn recording-project has quickly grown into a live circus of song featuring Mike Midlo and The Pancake Breakfast Singers choir. This band is like watching an old episode of Hee-Haw on your grandma's VHS deck ... or inviting Lawrence Welk and Woody Guthrie over for a Sunday supper sing-along.
Pancake Breakfast's earliest fans recall the Kimball Swinger 400, a 1977 console organ with a library of canned beats and rhythms that originally launched Midlo from his barn in the mountains to the bubbling musicland of Portland, Oregon. Since then, a choir of musicians, dancers and hand-clappers has joined in that at times includes Pete Bosack, Sarah Fox, Julie Gliniany, William Joersz, Steph Lawson, Christa Mrgan, and John Whaley.
Since October 2007, Pancake Breakfast has released three EPs, played dozens of shows, been invited to Pickathon and Sisters Folk Festival, and even opened for the legendary Leon Redbone at Portland's Aladdin Theatre.
About Pagan Jug Band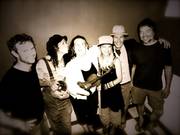 Longtime Portland folk troubadours Chris "Zydeco Skeeter" Miskow and Pat Buckley have revived the band they originally founded back in 1993. The Pagan Jug Band's current incarnation features an all-acoustic lineup of banjo, dobro, accordion, fiddle, guitar, upright bass and percussion, deftly mixing straight-ahead bluegrass, folk and country blues, and Louisiana Zydeco. The material is drawn from a variety of classic country, folk and roots sources, along with a large body of original songs.
"Their songs are packed with drunkenness and sex and the wages of sin, the musicians have the look of men once involved in bloodsport, but they have rather little to do with any organized religion. Organization itself, they have something of a problem with... they perform most every type of music, from bluegrass to Celtic to old-time funk and beyond, with an infectious vigor and memorable form... More bands should be like this." - Willamette Week
website:
About Celilo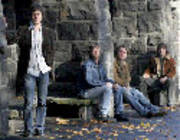 Celilo is a five piece Indie/Americana band from Portland, Oregon. Their late 2009 full length release Bending Mirrors continues to receive high praise from critics across the United States and Europe. On this record, the band deftly straddles Americana roots, crunchy indie rock, and haunting, spare ballads, evoking favorable comparisons to Dark Side-era Pink Floyd, '70s Neil Young, and Seattle's Fleet Foxes. Celilo conjures up their own unique vision of the electrified Western sound-scape, with pedal steel hovering above smoldering electric guitars, serpentine acoustic riffs and unexpected rhythmic twists, set to Sloan Martin's contemplative lyrics and burnt-molasses vocal delivery.
Mike Coykendall (She & Him, Blitzen Trapper, M. Ward) co-produced several of the cuts on Bending Mirrors, helping to tease out the nuance in Martin's moody compositions. Like the best poetry, the songs on this album are full of ambiguity and contradiction, and they do not give up their secrets easily.
Bending Mirrors spent Sept/Oct '09 on the Euro Americana Album charts and was voted Best of 2009 on Dutch Radio program "Shake of Music." It was voted Fan Favorite of 2009 by local Portland NPR affiliate Oregon Public Broadcasting FM, and album of the week on LON radio Netherlands. Celilo has been invited to perform live on-air for OPB radio, KZME FM Radio Portland, and LON radio Netherlands.
Rave reviews in Maverick Magazine, Heaven, Folk World, and Uncut UK attest to the quality of Celilo's compositions and the skilled, nuanced performances of the musicians in the group. Most recently, Celilo has been signed to the UK's premier Americana Music Agency, BPA, to take their music across the pond with a tour of the UK this October/November.
Celilo has shared the stage with a host of excellent musicians including Alela Diane, Elvis Perkins, Horsefeathers, The Maldives, Sera Cahoone, Mimicking Birds, The Moondoggies, Phosporescent, Clem Snide, the Mynabirds, and many more.
They are currently in the studio with producer Gregg Williams (Blitzen Trapper, Dandy Warhols) working on a new full length follow-up. Go to www.myspace.comcelilo for information on their upcoming 2010 Fall Tour of the UK, being promoted by the venerable Bob Patterson.
Instrumentation
Sloan Martin - Lead Vocals, Guitar
Adam East - Vocals, Guitar, Bass
Matt Cadenelli - Vocals, Drums
Tucker Jackson - Percussion, Pedal Steel
Darin David Joye - keys, Guitar, Bass
MySpace:
About The Lord's Own Choir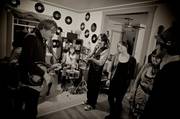 The Lord's Own Choir plays and infectious brand of neo-traditional, close-harmony country.
"The Colonel" J. Alex Wideman - Banjo/Vocals
Shelby Farrar - Vocals
"Emmy Sue" Randazzo - Vocals
Jacqueline Stuart - Drums/Vocals
Blake Roberts - Guitar/Vocals
Ben Stevens - Bass/Vocals
Kat "Little Bear" Johnston - Accordion/Vocals
MySpace page:
Map & Directions
Tags for this Event:
Events:
McMenamins Celebrations
Family
Music:
World Music
Americana
Rock
Alternative/Indie
Property > Crystal Hotel
Related content (tags):