Saloon & Hotel
836 N. Russell St.
Portland, OR 97227
Saloon: (503) 282-6810
Hotel: (503) 335-8900
Contact Us
Halloween at White Eagle
& 105th Birthday Bash
Run On Sentence
Fast Rattler
Costume contest
9 p.m. |
$10 |
21 and over
About Halloween at White Eagle
Some of our spots are said to be haunted, with guests claiming to have experienced paranormal activity. Or perhaps it's just the Hammerhead talking. You be the judge. Come in costume to celebrate the spookiest of holidays... we'll hand out prizes all night for best outfits!
About Run On Sentence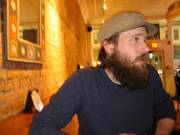 Based on the songs of Dustin Hamman, Run On Sentence involves a rotating cast of musicians and could easily be a one-man show or a 12-piece extravaganza.
Dustin's musical tastes span many genres but have always been rooted in folk. He had an early fascination with American Indian singing and early punk rock...later he explored the blues and the origins of country, eventually gaining interest in early jazz, swing, and big band. During a short life in Florida he also discovered Latin rhythms and became intrigued by Flamenco and classical guitar.
Although band members come and go, William Joersz (double bass) has been a regular member and major influence on the music. Other Portland artists such as John Vecchiarelli, Nick Jaina, Loch Lomond, Heroes and Villains and Shoeshine Blue have donated band members to the project and have been tremendously influential.
About Fast Rattler
Fast Rattler started when Brendan Phillips, Utah's son, picked up an old beat-to-shit-copy of Starlight on the Rails. This collection of Utah's old songs spurred him to assemble this group of players to learn these songs and, in some cases, even write music for ones that Utah had never performed. Utah himself has compared folk music to a river that is in constant flux, needing to be added to and taken from, but always with the intention of giving it back so that it can flow downstream to be picked up by others and used again. We have come to love these songs and we have added them to the narrative that is the folk tradition. We will be working to put out a real and official release as soon as possible. Until then, enjoy these very early incarnations of these songs and remember... RATTLE FAST!!
Press About Fast Rattler:
"...Phillips has clearly inherited his father's stature and stage presence, not to mention a book-worth of his forgotten songs." --Seattle Sound Magazine from an article entitled "Prince of the Rails"-
The article went on to quote Utah after having played with his son for the first time,
"'I had never heard Brendan sing at all. He was playing my 1935 Gibson [guitar] that I had loaned to him, and there he was with [a full band], doing these songs I had practically forgotten... I wasn't just a little impressed. I was knocked down at the time and attention he put into putting these songs together.'"
And More!
"Brendan, favoring a more upbeat folk melody similar to that of contemporary musicians like Will Oldham and Iron and Wine, blended his own musical tastes with the traditional ones of his father to give a fresh take on the songs. The group performed, sometimes with Utah, at a handful of well-received music festivals." --The Union, Nevada City, CA
And here is a link to an Interview we did with Utah in preparation for a show in Olympia at the Capitol Theater...
And here are some words about the GRAMMY-nominated Utah tribute album Singin' Through the Hard Times that we contributed a track to:
"There's no question that Utah Phillips' music and influence was felt by countless singer-songwriters, so it makes perfect sense that folks as influential as Pete Seeger, Ani DiFranco, Emmylou Harris, Rosalie Sorrels, Tom Paxton and others joined together to make this tribute record happen. But there are also a number of remarkable performances by artists most folks have never heard of. Phillips' son Brendan's band Fast Rattler delivers a nice performance of "Paddy Welcome Back"-Kim Ruehl writing for Folkmusic.com
Members:
Brendan Phillips--vocals, guitar, Banjo, saw
Russ Gores-mandolin, saw, slide, spoons, glock, bass
Ray Johnson-Drums, backup vox
Basho Parks-Fiddle
Jen Rawlings-Vox
Joeseph Andratti--dobro, pedal steel
With collaboration from:
Allegra Ziffle--violin, banjo, accordian
Kevin Anderson--Keys
Martinho Ribiero--Drums
Influences:
Utah Phillips, the entire Rose Tattoo, Al Grierson (RIP, I just learned 'bout "Old Coyote," one of the best songs ever written), Tom Waits, Wilbur Hall, Ani D., The Mammals, The Duhks, Crooked Still, Waylin Jenny's, Citizens Band, David Rovics, The Seattle Labor Chorus, Rebel Voices, The entire Chataqua featuring: The Flying Karamotov Brother, Tom Knotty the bubble man, Avner, Spoonman, and everyone else (you know who you are!), Jim Page, Mike Marker, Frank Zappa, Burt Wilson...and the list goes on and on...
myspace page:
Map & Directions
Tags for this Event:
Events:
Holidays
McMenamins Celebrations
Family
Property > White Eagle
Related content (tags):