3702 S.E. Hawthorne Blvd.
Portland, OR 97214
Pub: (503) 467-7521
Movie Line: (503) 249-7474 x1
Contact Us
Willamette River Keepers Presents:
Alexandra Cousteau: "Expedition Blue Planet"
Doors 6:30 p.m.; presentation 7:30 p.m.; Q&A 8:30 p.m. |
$3 per person |
Minor with parent or guardian
Alexandra Cousteau, a globally recognized advocate on water quality and policy, continues the work of her renowned grandfather Jacques-Yves and father Philippe Cousteau.  As founder of the non-profit Blue Legacy International, Alexandra aims to "tell the stories of our water planet, and inspire people to take action on critical water issues in meaningful ways." Alexandra is dedicated to advocating the importance of managing our water resources sustainably in order to preserve a healthy planet. Her global initiatives seek to inspire and empower individuals to protect not only the ocean and its inhabitants, but also the human communities that rely on the purity of freshwater resources.
For Expedition Blue Planet: North America, Alexandra and her award-winning Expedition Team will cover 14,500 miles in their "rolling Calypso," a 45-foot biodiesel bus, to film significant global water issues found across the US, Mexico and Canada. The tour will engage in an "interactive" expedition that incorporates the Cousteau tradition of expeditionary storytelling, designed to challenge audiences to connect with local watersheds and discover the interconnectivity of global water issues. Come, bring your friends and family, and contribute to this inspiring, interactive global dialogue.
About Alexandra Cousteau: "Expedition Blue Planet"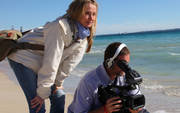 Blue Planet Expedition chronicles the interconnectivity of water. A key aspect of the project is its ability to show how individual stories are part of the larger, universal story of an interdependent, global water ecosystem. In this way, we create a new vision for what it means to live in a world where water is our most precious resource, and a plan for what we must do to protect it.
Map & Directions
Tags for this Event:
Events:
Family
History
Property > Bagdad
Related content (tags):