30340 SW Boones Ferry Rd
Wilsonville OR 97070
Phone: (503) 427-2500
Fax: (503) 427-2519
Contact Us
Sponsored by Wilsonville Library Foundation & Wilsonville-Boones Ferry Historical Society
"The Three Kichis: The First Japanese in the Pacific Northwest"
Wilsonville History Night
presented by
Gunnar Abramson
history instructor and historian
Tuesday, September 30, 2014
5 p.m. doors; 6:30 p.m. event |
Free |
All ages welcome
About "The Three Kichis: The First Japanese in the Pacific Northwest"
Learn the true story of three Japanese sailors who washed up on the coast of what is now Washington state in 1834 after their small trading vessel, crippled beyond repair by a sudden storm, had drifted for over a year across the Pacific. These men were the first known Japanese migrants in this region and later traveled far and wide. From meeting with John McLoughlin – the "Father of Oregon" – at Fort Vancouver, to later helping advance the penetration into their home country by Western trading powers – and the progression of Japan's modernization in turn – their story is one of resilience, exploration, cross-cultural discovery, and both personal disaster and triumph. Most applicable to our own time, their remarkable voyages and sojourns all over the world foreshadowed our globalized world of today... over one hundred and eighty years ago.
About the speaker
Gunnar Abramson is a local college history teacher and is currently writing a history of Japanese emigres to Oregon from 1880–1950, with particular emphasis on those who settled along the Columbia River. He is a volunteer for the Crown Point Country Historical Society in Corbett, Oregon.
About Wilsonville History Night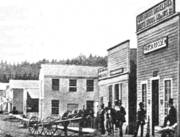 Join us for beer and history, Co-Sponsored by the Wilsonville Public Library and Wilsonville-Boones Ferry Historical Society, the Oregon Encyclopedia, and McMenamins, in which you'll hear lively local and regional history while you enjoy a frosty pint or two of handcrafted ale.
Wilsonville Public Library:




Oregon Encyclopedia Website:
Map & Directions
Tags for this Event:
Events > History
Property > Wilsonville Old Church & Pub
Related content (tags):