Back to school in Bend!
700 N.W. Bond Street
Bend, OR 97703
Local: (541) 382-5174
Elsewhere: (877) 661-4228
Contact Us
Moody Little Sister
Thursday, September 18, 2014
7 p.m. til 10 p.m. |
Free |
All ages welcome
About Moody Little Sister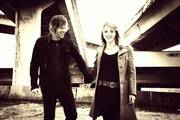 Naomi Hooley IS Moody Little Sister.
Some things are just meant to be. When Naomi Hooley moved 3000 miles, from a small town in Alaska, the chances meeting Rob Stroup, from a small town in Oregon, were pretty slim. But it happened... and from the moment they met it was clear they were destined to combine their abundant musical talents. Rob is the perfect producer, co-writer and band mate for Naomi's melodic, energetic and thoughtful keyboard driven power pop. Naomi is a prolific song writer with a unique style and vocal signature. The local press has called her voice "cool and powerful" and her songwriting "masterful".

Take the melodic sensibilities of the great folk writers of the 70's like Jim Croce, Gordon Lightfoot, and James Taylor - and combine that with vocal power of Adele or Annie Lennox, and you might begin to understand the talent of Naomi Hooley.
Rob's musical background brings a whole other set of sounds and influences. A founding member of Portland's beloved roots rock combo The Baseboard Heaters - Rob draws on 60's rock and classic country influences. Also informed by the "Oklahoma sound" of JJ Cale and the bluesy sides of Dylan. Together - they cover a lot of ground and meld together in a very cohesive and polished act.
Singing songs from Naomi's solo record "It was a Great October", songs from Rob's bands and former bands (Rob Stroup & The Blame, Imprints, Baseboard Heaters), and a good selection of songs from their new powerful Rock band "Moody Little Sister" - there is something for everyone.
And all of that delivered with a powerful piano and acoustic guitar combination and amazing harmonies, with a side of story telling. Naomi and Rob have taken this act all up and down the West Coast and continue to be very well received by a very diverse group of audiences.
https://www.facebook.com/MoodyLittleSister:
Map & Directions
Tags for this Event:
Property > Old St. Francis School
Related content (tags):