Back to school in Bend!
700 N.W. Bond Street
Bend, OR 97703
Local: (541) 382-5174
Elsewhere: (877) 661-4228
Contact Us
2nd Annual High Gravity Extravaganza
"Go Big or Go Home"
with live music by
Mark Ransom and the Mostest
Down North
and
Passport Stamp
Meet The Brewers
Saturday, January 17, 2015
1 p.m. 'til 10 p.m. | 1 p.m. 'til 5 p.m. Meet the Brewers | Music begins at 3 p.m. |
Free to attend, Taster punchcards available: $1.50 per punch/taste |
All ages welcome; 21 and over to drink
About 2nd Annual High Gravity Extravaganza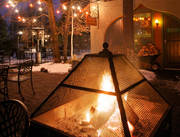 Come celebrate the uniqueness of the High Desert in January with an extravaganza of big & bold high-gravity beers. We'll be pouring beers from 10 McMenamins Breweries and 12 Central Oregon guest Breweries.
Huddle around the four blazing firepits while chat with the brewers and taste their samples. Meet the brewers from 1 p.m. 'til 5 p.m. Enjoy live music by Mark Ransom & The Mostest and Down North.
Get your Passport Brewfest stamp! The stamping starts at noon, and the first 50 Cosmic Tripsters get a free pint glass with purchase of punch card.
Music Schedule
3 p.m. 'til 6 p.m.
Mark Ransom & The Mostest • Rock & Jam
7 p.m. 'til 10 p.m.
Down North • Funk Band from Seattle
♦
Beer List
Snow Cave Winter Warmer
Crux Fermentation Project
Bend, Oregon
Style guidelines... what guidelines? Snow Cave gives a nod to all winter beer styles. Starting with a heavy dose of wheat malt and ending with a touch of chocolate, this high-gravity interpretation of a winter warmer will keep you cozy in the harshest of winters.
ABV: 10.0 IBU: 20
Shred Head Winter Ale
Sunriver Brewing Company
Sunriver, Oregon
A robust Northwest styled strong ale. This big beer's foundation is packed with the finest American and European malts, and fortified with the addition of dark brown sugar. A hearty helping of Northwest and British hops bring balance to this traditional winter warmer. It's the perfect brew after shredding the mountain or to warm you on a cold winter night.
Malts: 2-Row, Munich, Malted Wheat, Crystal 60L & 120L
Hops: Chinook, Northern Brewer, Willamette, East Kent Golding
OG: 1.074 ABV: 8.7 IBU: 60 SRM: 14
Winter Schnocker
Solstice Brewing Company
Prineville, Oregon
Brewed with six varieties of malt and a lot of personal pride, we've crafted this beer to build lasting winter memories. One sip will lead your mouth from flavors of dark fruit to the grain fields of the Midwest and on to a fine malty finish with a hint of dark cocoa. Will your winter warmer be a Schnocker?
ABV: 9.25 IBU: 59
Shadow of The Dark Belgian Strong
McMenamins Old St. Francis School
Bend, Oregon
Michael "Curly" White
The Shadow of the Dark is a complex and malty Belgian Strong Ale. The deep amber/ coppery hue starts you off with estery and fruity aromas. The malt complexity then drives you home with hints of plum and raisin. Low levels of hops allow the malt body to come out of the shadows and give your tongue something to shine about! A slight sweet finish keeps you smacking your lips and wondering how long you have to wait for another trip to this wonderful quaff. Come out of the shadows and let your tastebuds see the light!
Malts: Pilsen, Munich, Victory, Brown, Crystal 135/165
Hops: Chinook, Sterling, US Golding
OG: 1.080 TG: 1.016 ABV: 8.3 IBU: 25 SRM: 16
The Must Have
Deschutes Brewery
Bend, Oregon
We handpicked ripe Oregon Pinot Gris grapes from Goschie Farms in Silverton, and drove them over to our brewpub. There we juiced half the harvest and added it to the fermenter of our Belgian style Tripel, and then conditioned this beer on the must of the grapes. A big, elegant beer with an undeniable presence of wine grapes, and fruity esters from the Belgian yeast.
ABV: 9.2 IBU: 19
Red Riser IRA
McMenamins Thompson Brewery
Salem, Oregon
Jen Kent
Made from the finest malted barley, along with some rye malt, this red giant is generously hopped with a heavenly blend of aromatic hop varieties. The glorious garnet hue illuminates the way to a wonderfully complex blend of malt flavors. The citrusy floral hop notes hit the nose in a prophetic burst of awareness that something wonderful is to follow. And it does. So enjoy the season and warm up with a pint of Red Riser IRA while you can.
Malts: Pilsner Malt, Marris Otter Pale Malt, Crystal Rye, Caramel Munich 40, Melanoidin, Roast
Hops: Galena, Nugget, Centennial, Cascade
OG: 1.070 TG: 1.015 ABV: 7.10 IBU: 98 SRM: 14
Angry Reindeer IRA
McMenamins West Linn Brewery
West Linn, Oregon
Jacob Willson
He's back, but he's not happy about it. We've all heard the story of a certain reindeer and his red nose, right? But, do you know how his nose got red? Cause he was madder than a wet hen sittin' on a cold egg. That's right, and you would be, too, if you had to wait your turn for Kris Kringle to get out of the way. But, you don't have to worry, 'cause this beer is packed with Mosaic hops, for an out-of-season flavor. It's like using a palm tree for your Christmas tree. Along with a grain bill exclusively of Best Malz Red-X, this beer is a perfect mix of light, hoppy, red, and also, though a lil' late, it's quite festive. Festivus for the rest of us, I say. So, raise a pint for all those poor deer still stuck eatin' corn.
Malts: Best Red-X
Hops: Mosaic, Centennial
OG: 1.079 TG: 1.013 ABV: 8.51 IBU: 90 SRM: 13
Double Dragon DIPA
Edgefield Brewery
Troutdale, Oregon
Matt Bergfield, Bruce Loux, Nathan Whitney, Will Gaither, Jesse Grover
Long has the beast waited--coiling in the deep, gaining strength in the darkness of a rum barrel. A major threat to all your tastebuds can sense, this big, hoppy DIPA is packed with excellent hop character both in flavor and aromatics and rounded out with a hearty dose of rum, vanilla, oak, and even a little coconut. Where once there was thirst, nothing remains…now the dragon has been released.
Malts: 2-Row, Munich, Rolled Oats
Hops: Nugget, Simcoe, Cascade, Golding, Meridian, Falconers Flight
OG: 1.080 TG: 1.006 ABV: 9.55 IBU: 75 SRM: 5
Comatose Imperial IPA
GoodLife Brewing Company
Bend, Oregon
Mother Nature's seasons are amazing, where all her creations flux between an existence in winter's comatose state, spring's colorful fling, summer's hot dance, and fall's laid back swing. The creative juices of musicians jump from an unconscious, winter mindset--spurring you to think concerts, road trips and campsites. One sip of this beer will get your blood flowing as you jam to your favorite tunes! Disclaimer: We don't recommend hanging upside down in a tree, you're not Eddie... It seems fitting to chill in a hammock while listening to great music and sipping a triple-dry hopped, Imperial IPA -- Music for the taste buds!
Malts: High Color Pale, Bonlander, Munich, Carafoam
Hops: Bravo, Zythos, Zeus, Chinook, Cascade, Summit
OG: 19.5 ABV: 9.5 IBU: 95
Wade's Choice Oak Aged
McMenamins Monroe Brewery
Corvallis, Oregon
Gary Nance
This is a so-called Double IPA that has been first wort hopped with Nugget hops, flavored with Sterling and finished with three additions of Chinooks. It has also been dry hopped with Centennial pellets and aged with oak spirals soaked in Hogshead Whiskey. This is a beer for serious hopheads. Needless to say our fearless leader picked this beer style. Hope that you enjoy several pints. Prost!
Malts: 2-row, Pilsner, Midnight Wheat Crystal 120L
Hops: Nugget, Sterling, Chinook
OG: 1.084 TG: 1.015 ABV: 8.75 IBU: 99 SRM: 8
Notorious
Boneyard Brewing Company
Bend, Oregon
This triple IPA pours a clear amber with a light white head. Huge grapefruit and pine aroma lead to flavors of citrus, tropical fruits and honey. Hops are abundant and explode from the glass while balancing amazingly well with the malts, so balanced in fact, it's dangerous!
ABV: 11.5 IBU: 80
Day Tripper Double IPA
McMenamins High Street Brewery
Eugene, Oregon
Hanns Anderson
Using a "Double Mash" we were able to cram over 850 lbs. of the finest Pilsen, Pearl, and Crystal malts into this beast of a beer, making this the biggest beer to come out of the dungeon in recent history. Copious amounts of the tried and true combination of Chinook and Centennial hops were then added for a nice spicy, floral character and nice bitter profile.
Malts: Pilsen, Pearl, 40L Crystal
Hops: Chinook, Centennial
OG: 1.090 TG: 1.015 ABV: 9.68 IBU: 100+ SRM: 10
Right Said Red
Riverbend Brewing Company
Bend, Oregon
Daniel Olsen
This very drinkable little troublemaker tipped the brewhouse scales! She's easily the fattest malt charge put to our system to date at Riverbend Brewing. Deep, crimson red in color; full-fisted additions of Northern Brewer, Simcoe, Belma, Columbus, Cascade and Galena hops; a clean and dry finish for a beer weighing in at 10% ABV.
OG: 1.096 ABV: 10.0 IBU: 100+
XR7 Triple IPA
Wild Ride Brewing Company
Redmond, Oregon
A hopped-up Imperial IPA that is geared to deliver a supercharged beer experience! To create an exhilarating ride, we use three times the raw materials than what is in a standard IPA. Premium malts make up the grain bill to create a high original gravity that allows our yeast to fuel this imperial machine. A wide variety of hops were then added during the boil, and after receiving the checkered flag it seemed appropriate to spin out and show additional hop power in the whirlpool. Ultimately, it takes a lot of fine tuning to balance the amount of malt and hops in a beer of this magnitude, but a victorious Triple IPA experience was achieved.
OG: 23.5 P ABV: 11.0 IBU: 100+
Hibernator Doppelbock
McMenamins Concordia Brewery
Portland, Oregon
Matt Carter, Dave Kosanke
Just in time for cold weather and rainy days, here is our newest release: Hibernator. Massive malt flavor and aroma shine throughout this winter lager. We used a German lager yeast and treated our water to capture the essence of Munich. Prost!
Malts: Light Munich, Munich, Pilsen, Aromatic, Carmel Malt II, Cara-Munich 40, 60L Crystal
Hops: Perle
OG: 1.073 TG: 1.023 ABV: 7.22 IBU: 25 SRM: 24
Locomotivator
McMenamins Roseburg Brewery
Roseburg, Oregon
Tom Johnson
This German Lager style was considered liquid bread by the monks of Saint Francis of Paula, who were the first to brew Doppelbock in Munich in 1634. Locomotivator is a dark brown Doppelbock that features a rich malty flavor that dominates the subtle continental hop character. Fermented cool with Bohemian Lager Yeast, it is smooth and strong, somewhat sweet and full-bodied. Slightly toasty with a hint of chocolate, Locomotivator is a meal in a glass.
Malts: Munich, Pilsen, Crystal 135-165L, Chocolate, Blackprinz
Hops: Nugget, Tettnanger, Sterling
OG: 1.080 TG: 1.020 ABV: 7.74% IBU: 18 SRM: 25
Baltic Porter
Bend Brewing Company
Bend, Oregon
Ian Larkin
This traditional Imperial Porter is unique in that it is fermented with lager yeast, then aged for over a year. This complex beer has a rich malty flavor, with hints of toffee, chocolate, and dried fruit, followed by the slow warmth of alcohol. Truly a High Gravity winter sipper.
ABV: 10.2 IBU: 35
Pistol Pete Porter
McMenamins on the Columbia
Vancouver, WA
Matt Freeland
This is the big, the bold and the malty. It is filled with a variety of caramel and dark malts to give hints of dark chocolate, toffee and sweet bread; Pistol Pete is a complex hombre. The highlight to this heavy hitter is the addition of Indian Sarsaparilla root. It gives a sweet aroma and a unique flavor that accents the porter. You need to be quick on the draw to get this limited seasonal release.
Malts: Vienna, Amber, Brown, Honey, Chocolate, Midnight Wheat, Special Roast, Oat, Corn, Dark Chocolate
Hops: Chinook
OG: 1.086 TG: 1.020 ABV: 8.51 IBU: 19 SRM: 51
Ten-Pine Double Chocolate Porter
Three Creeks Brewing Company
Sisters, Oregon
Zach Beckwith
A chocoholics dream! This amped-up version of our popular Fivepine Chocolate Porter features double the chocolate malt, double the Belgian dark chocolate in the boil and is then aged on organic cacao nibs in the brite tank. It's a true dessert beer with a full body and intense chocolate flavor.
ABV: 8.4 IBU: 25
Navy Strength Barleywine
Worthy Brewing Company
Bend, Oregon
Chad Kennedy
A strong ale with a bold but balanced hop bitterness. It's a solid biscuity malt character with hints of pitted fruit and vanilla from time spent on French oak. Features citrus and floral hop notes from late kettle addition of new variety Buzz Bullets.
ABV: 9.5 IBU: 80
Trainwreck Barleywine
Silver Moon Brewing
Bend, Oregon
Old Trainwreck Barleywine is a big beer packed with complex alcohol notes, a rich malty sweetness and balanced by assertive hop bitterness and flavor. Using massive quantities of Pale, Munich, Dark Crystal Malts, and an extensive boil time, Old Trainwreck is finished off with a heavy-handed dose of Bravo, Chinook and Cascade hops--sure to make you jump on the train!
OG: 22.3 P ABV: 10.9 IBU: 95
13th Avenue Barleywine
McMenamins Crystal Brewery
Portland, OR
Dan Black, Drew Phillips
To commemorate the brewing of our 5,000th batch here at the Crystal Brewery, we made a massive Barleywine. Big and boozy, this ale highlights the classic breadiness of British Maris Otter malt with underlying notes of toffee and caramel. We plan to run a very limited release of this ale while it's young, squirreling the rest away for a year or more to lager. Hope to see you again in another 5,000 brews!
Malts: Maris Otter, Carastan, Wheat, 40L, 65L & 120L Crystal, Rolled Oats
Hops: Nugget, Crystal, Sterling, Tettnanger
OG: 1.121 TG: 1.022 ABV: 12.77 IBU: 45 SRM: 22
♦
About Mark Ransom and the Mostest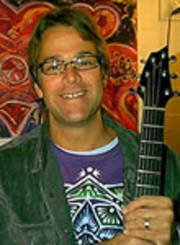 Bend songwriter Mark Ransom is joined by bassist Tyler Mason and drummer Pete Sussmann to form this dynamic trio. The group performs an eclectic mix of original groovers marked by funk overtones from the rhythm section, and an even balance of acoustic and electric guitar sounds.
There is a '70s folk-pop vibe here, but the songwriting is crafted from outside a pop-song mold. Influences include: Joni Mitchell, 70's funk, Paul Simon and The Band.
Map & Directions
Tags for this Event:
Events:
McMenamins Celebrations
Beer, Wine, and Spirits
Property > Old St. Francis School
Related content (tags):