at Crystal Hotel
303 S.W. 12th Ave.
Portland, OR 97205
Local: (503) 972-2670
Elsewhere: (855) 205-3930
Contact Us
Trevor Reichman
with John Elliott (San Francisco)
Thursday, August 14, 2014
7 p.m. |
Free |
21 and over
About Trevor Reichman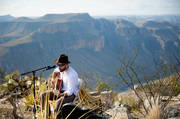 Trevor Reichman spent several years on the fringe of the Portland music scene under the moniker TR? but now finds himself living off-grid, building a solar powered studio in one of the most remote regions of the country, in Far West Texas by Big Bend National Park. It is in there in the Chihuahua Desert, on the outskirts of a tiny town named Terlingua, where he positions himself for most of the year. During the summer, when temperatures can get close to 120 degrees, Reichman is persuaded to migrate with his music. Reichman has a catalog of well over 100 keepers, but only a small percentage has been recorded, which is the impetus for building an off-grid hand built studio in the middle of the desert. It is part of the mission to do this without incurring any financial or ecological debt.
Trevor Reichman demonstrates that touring doesn't have to have a heavy environmental footprint. With a guitar and a backpack, and gas prices hovering around $4 a gallon, Reichman has completed a few national tours by railroad. He has also toured in a van powered by Natural Gas. And his his current road dog, Ruby the Red Volvo, can be found with a rideshare passenger or two and also a solar panel on the roof to harvest energy to power an on board refrigerator and other helpful utilities of frugality.
But mostly it is about the Music. And the incentive to trek around the country is share the music with new listeners.
While some of the songs are environmentally themed, most are about life and its nuances. Some are light and quirky, such as "The Story of the Giant" , which is the giant's version of what happened in the Jack and the Beanstalk, or "Bulaweyo", which is about the time Reichman lost his favorite hat in Bulaweyo, Zimbabwe. Others are bold and heavy, such as "The Voice of Johnny Cash", which is written from the point of few of a prisoner in Folsom Prison who's last hurrah was a Johnny Cash concert. Or "Dayjob", which is a song about working behind a computer in a 40 hour a week job during the one sunny day of the winter in Portland, Oregon. And others are comedic, such as "The Dollar Store Bible", which is a song about how a $4.99 bible from the dollar store saves his life one day, but not in the way that you might think.
Trevor encourages you to meet him at the shows by taking mass transit, carpooling, walking, or by bicycle if possible. But no Hummer drivers will be turned away.
In Others' Words:
"...a warm, intensely intimate kind of folk. Reichman writes songs of disarming simplicity. The directness of his lyrics and of his delivery can hit the listener with an unexpected force. The care, the humility and the quiet attention to building a home in the desert are also hallmarks of Reichman's songs." - The Cenizo Journal of Far West Texas
"A picture perfect snapshot of gothic country and Americana" - KAOS Radio - Austin, TX.
"A killer songwriter. A real one-of-a-kind, dark, funny, spot-on." -Jonathan Byrd
About with John Elliott (San Francisco)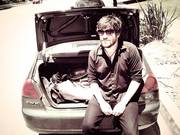 Born and raised in Minnesota and now living in California, John Elliott has been releasing albums and performing in every type of venue you can imagine since 2006. His Honda Civic currently has 252,120 miles on it and is named Glen. His songs have been prominently heard on "Grey's Anatomy," "One Tree Hill," and "Californication" (a co-write with Gregory Alan Isakov and J Wagner). He has been featured in PASTE Magazine, on NPR and on Neil Young's "Living With War" website. His music has a cult-like international following and artists worldwide cover his songs. You can hear his music anywhere and everywhere if you're in the right place at the right time: on the radio, TV, and internet; in cars and around campfires. John remains an independent, unsigned and unaffiliated artist and he is proud of that fact. He continues to make a living and build a dedicated following the old fashioned way: one new believer at a time.
Map & Directions
Tags for this Event:
Property > Crystal Hotel
Related content (tags):