Saloon & Hotel
836 N. Russell St.
Portland, OR 97227
Saloon: (503) 282-6810
Hotel: (503) 335-8900
Contact Us
Chuck Prophet and the Mission Express
Red Jacket Mine
8:30 p.m. |
$15 advance, $17 day of show |
21 and over
Buy Tickets
Tickets on sale now!
About Chuck Prophet and the Mission Express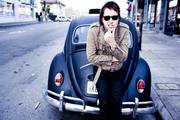 For most of his life, San Francisco has been Chuck Prophet's muse...or more accurately, his drug of choice. "It can suck you under. That first hit. It really does a whammy to you. And if you're like me you can find yourself chasing the San Francisco dragon for the rest of your life. That's what the record is about."
Named for the ill-fated rock club of the same name, Temple Beautiful was "made in San Francisco, by San Franciscans about San Francisco." Roy Loney, vocalist and wildman in legendary Bay Area band The Flamin' Groovies contributes guest vocals to the title track.
One of the driving forces behind cult heroes Green on Red and the influential L.A. Paisley Underground scene in the 1980s, Prophet's creative mold was actually cast in San Francisco. Recalls Prophet, "Temple Beautiful is the name of a long closed rock and roll club which was between Bill Graham's iconic Fillmore Ballroom and the tragic storefront church founded by the Reverend Jim Jones. It's where I saw my first gigs."
Inspired by current San Francisco artists, Prophet felt compelled to pay tribute to the history and weirdness that brought him to the city nearly 30 years ago. "There's a kind of rock and roll psych renaissance going on in this town at the moment with bands like Thee Oh Sees, Girls, The Fresh and Onlys, Kelley Stoltz and Sonny and the Sunset's. I'm very encouraged by all this stuff going on here."
Part love letter and part unsentimental tour, Temple Beautiful attempts to capture San Francisco in all its forms: romantic port-of-call, bohemian utopia, but even more so, an often unforgiving pioneer outpost filled with the freaks and characters not welcome in America's heartland. And musically, there is no doubt that San Francisco is one of the country's most enduring scenes, home to decade after decade of classic artists and albums. Temple Beautiful is at once a look back at the inspirations that spawned them and the next installment in its discography.
In addition to releasing two amazing albums in Soap & Water and ¡Let Freedom Ring! over the past several years, Chuck's music has been heard in hit television series True Blood (HBO), Californication (Showtime) and Sons of Anarchy (FX). Prophet also co-wrote all the songs on Alejandro Escovedo's critically-acclaimed album Real Animal.
Website:




Myspace Page:
About Red Jacket Mine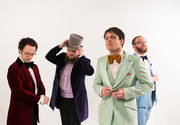 What is the Seattle sound? Truth is it changes. Frequently. Garage rock reigned in the mid-'60s. Grunge exploded out of the Emerald City in the early '90s and the world is still reeling. Today, hip-hop acts like Macklemore & Ryan Lewis, Shabazz Palaces, and Blue Scholars rule the roost.
Red Jacket Mine sounds like none of these. Led by songwriter Lincoln Barr, this quartet proudly calls Seattle home, but you'd be hard-pressed to pinpoint the guys' area code simply by spinning their superlative new album, Someone Else's Cake.
At first blush, this batch of eleven originals seems more like a product of England in the aftermath of punk, when angry young men such as Graham Parker, Joe Jackson, Elvis Costello, Nick Lowe, and Messrs. Difford and Tilbrook of Squeeze spilled out of the pubs and elbowed their way into the UK charts. (There's even a hint of graphic design innovator Barney Bubbles in Shawn Wolfe's cover art.) But pay closer attention. Trust me, it isn't hard. Someone Else's Cake brims with melodies and lyrics that reveal new, deeper charms with repeated spins.
Barr grew up in Memphis, TN. Soul music is in his DNA. Check out the horn sounds that plump up "Better to Be Broken Than Blind" and the smoldering organ that anchors "Novelty's Gone" if you doubt his River City bona fides. The songwriter and guitarist attended college near St. Louis, MO, a city with deep roots in jazz and blues tradition. Today, Barr also plays with Seattle quintet STAG, and while his own compositions eschew the sugar rush immediacy of that power pop combo for a somewhat subtler approach, they share an affinity for indelible hooks.
The follow-up to 2009′s sophomore full-length Lovers Lookout began taking shape in late 2010. In the wake of lineup changes-new bassist Matthew Cunningham had joined longtime drummer Andrew Salzman in the RJM rhythm section-the band cooked up a series of limited-edition, colored-vinyl 7-inch singles. "Listen Up (If the World Is Going to Hell)" and "Bellar & Bawl" distilled Barr's myriad influences into succinct gems designed to sit alongside any of the 45s he might stock in his own jukebox. As XTC once declared, this is pop-just not the kind that panders to the lowest common denominator.
As the singles garnered favorable press and airplay on KEXP 90.3 FM Seattle, Barr's confidence increased. This sound felt truer to his aesthetic than ever, especially after the addition of Oklahoma native Daniel Walker on keys fleshed out the arrangements. More songs flowed forth, accumulating over the course of a year. "Listen Up" was composed in a post-sinus surgery painkiller haze, when its author couldn't even sing the melody. Other compositions slyly reflected the headlines; economics and politics filtered into the lyrics of "Skint City" and "Ron Nasty." So did episodes from daily life. As the 2012 election dragged on, a ranting evangelist outside Barr's office exacerbated his exhaustion with hearing everyone's opinion, inspiring the classic country-tinged "Have You Got a Permit to Preach on This Corner?"
"I'm not writing message songs, but what's going on in the larger world makes its way into the music, even if I'm just trying to write a catchy little soul song," the songwriter admits. Therein lies the beauty of Someone Else's Cake. Something else is always brewing just below the surface of its catchy hooks and clever lyrics. How many times will a listener bop his or her head along to "Listen Up" before noticing its underlying message: when life gives you lemons, take your own life? Monetary terms pepper "Nickel and Dime," yet the losses Barr outlines in his charming drawl aren't the kind reflected in a bank statement.
Barr credits producer Johnny Sangster for helping Red Jacket Mine fully realize its new sound. "We couldn't have gone into this renaissance without his partnership," he says. While they shared points of intersection-Sangster's production and engineering credits include the Posies' album Success; Ken Stringfellow produced Red Jacket Mine's Lovers Lookout, and lends his distinctive pipes to Someone Else's Cake-the co-owner of Crackle & Pop! Studio also contributed a no-bullshit, punk rock attitude that favored brevity and eschewed getting too literal about referencing other musical eras and styles.
Red Jacket Mine isn't part of the latest wave from Seattle or anywhere else. Someone Else's Cake is timeless in its sensibilities, snagging the ear with endearing melodies and lyrical barbs, then engaging the heart and mind with ideas that run deeper. If the end result sounds like an album that's already withstood the test of time...well, that's because it undoubtedly will.
Recommended if you like: Joe Jackson, Elvis Costello & the Attractions, Nick Lowe, Alex Chilton, Garland Jeffreys, Graham Parker, Steve Forbert
Map & Directions
Tags for this Event:
Music > Rock
Property > White Eagle
Related content (tags):