Come have fun in school... for once...
5736 N.E. 33rd Ave.
Portland, OR 97211
Local: (503) 249-3983
Elsewhere: (888) 249-3983
Contact Us
QDoc Film Festival
The Circle
2:45 p.m. |
$10 per person; $8 students & seniors with ID; Free youth 23 & under; $75 festival pass |
All ages welcome
Buy Tickets
Tickets on sale now!
About QDoc Film Festival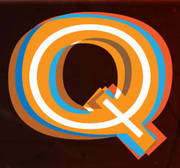 QDoc is the only festival in the United States, and only the second in the world, devoted exclusively to Queer Documentaries. More than a screening series – it is a fun, inspiring, and community-building event. Filmmaker attendance is a big part of the mix, with guests joining us from around the world to discuss their work. The Clinton Street neighborhood, with its numerous cafes and restaurants, becomes a mini queer district during the long weekend, enhancing the social aspects of the festival.
Founded in 2007, the Festival has been presented each year in cooperation with the Portland Q Center, whose mission is to increase the visibility of, and foster connection within, metropolitan Portland LGBTQ community.
Website:




Facebook:
About The Circle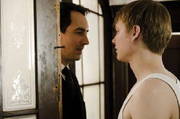 Winner of the Berlin International Film Festival Teddy Award for best documentary highlighting LGBT themes, The Circle brings documentary and narrative cinema together to tell the history of the first gay rights organization in Europe and the lives behind it. At the heart of this story is the marvelous romance of two men, Röbi and Ernst, who were not only at the political center of The Circle but went on to become the first gay men married in Zurich.
Spanning Switzerland's tumultuous period between the '50s and present day, The Circle sets intimate contemporary interviews against a lushly re-created, almost pulp tale of closeted teachers, cabaret cross dressers, murderous rent boys, police raids and the endurance of love and free expression. If this weren't enough, keep an eye on the subtle and poignant cameos by the wonderful Marianne Sägebrecht.
— Donal Mosher
Director: Stefan Haupt
Switzerland
2014
102 minutes
Community Partners:
Gay and Lesbian Archives of the Pacific Northwest
SAGE Metro Portland
Zeitgeist Northwest
SMYRC
imdb:




QDoc:




video:
Map & Directions
Tags for this Event:
Property > Kennedy School
Related content (tags):