Saloon & Hotel
836 N. Russell St.
Portland, OR 97227
Saloon: (503) 282-6810
Hotel: (503) 335-8900
Contact Us
Crown the Eagle Festival: A Polish Heritage Celebration
featuring
Live music by Chervona
and DoveDriver
also: Eric Stern on roving accordion
Agnieszka Laska Dancers & Polish School student dancers/singers
Kids' music & storytelling by Anna Antonia Giedwoyn & friends
plus specialty cocktails, Polish food specials, a history program and more...
and
Pavol The Collector Organic Baltic Porter
Special Beer Tasting
11 a.m. 'til late |
$10 per person, 21 & over after 8:30 p.m. |
Free and all ages until 8:30 p.m.
About Crown the Eagle Festival: A Polish Heritage Celebration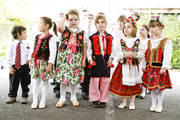 Taking its name from the symbol on the Polish national flag, the White Eagle saloon was established in 1905 by Polish immigrants primarily as a formal meeting place and aid station for Polish immigrants in Portland. Organizational meetings for two of the pillars of Portland's Polish community – St. Stanislaus Catholic Church and Polish Library – were held in the White Eagle in its early days.
Anna Giedwoyn
kids' musician & storyteller
To celebrate its rich and historically significant past, the White Eagle hosts a full-day of Polish and Polish-inspired fare, featuring members of Portland's Polish community, a lively history presentation, live music, sing-alongs and traditional food and drink specials. Featured evening festivities include tastings of vodkas and a great line-up of live music including Chervona, a band that brings the fire of Eastern European carnivals to North Portland.
** SCHEDULE **
Free and all ages until 8:30 p.m.
$10 per person, 21 & over after 8:30 p.m.
1–4 p.m.:Polish arts & crafts booths, kids' activities, face painter
1-1:30 p.m.: Polish School student dancers/singers
1:30-2p.m.: Eric Stern, roving accordion performance
2-2:30 p.m.: Agnieszka Laska Dancers
2:30-3 p.m.: Eric Stern, roving accordion performance
3-4 p.m.: Kids' music & storytelling by Anna Antonia Giedwoyn & friends
4-5 p.m.: History presentation, featuring Tim Hills
5-7 p.m.: Live music from Dovedriver
7-9 p.m.: Eric Stern, roving accordion performance
9 p.m. Live music from Chervona and other fine artists to be announced.
Plus specialty cocktails, Polish-inspired special beer, Polish food specials, Polish arts and crafts booths and history talks, featuring a discussion of the White Eagle's Polish roots as well as the experiences of elders of the Portland Polish community.
** FESTIVAL SPECIALS **
Pierogi Soup
Made with a chicken broth base and a bouquet of vegetables, with your choice of meat or potato pierogi
Grilled Polska Kielbasa
Choice of kielbasa & potato pierogi OR kielbasa & Polish mashers
Chicken Schnitzel
Served with your choice of creamy Polish mashers or potato pierogi
Pierogi
Choice of meat & potato pierogi OR meat pierogi
Paired with rich Polish mashers
All plates are served with a sweet and tangy Polish cabbage and option of grilled onions.
About Live music by Chervona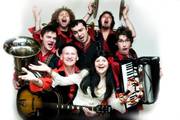 The band started practicing in Nov of 2006, and within first weeks of its existence they played at "Gypsymania" – gypsy dance discotheque created by Gogol Bordello's debaucher D.J. Dimon. After their first public appearances they rapidly gained popularity in their hometown. In 2007 Chervona played some special appearances with world famous Manu Chao and Gogol Bordello. By 2009 Chervona have shared stage with most exciting and famous Portland's bands including March Forth, 3 Leg Torso, Vagabond Opera, Portland Cello Project and many more.
In addition to countless street and club performances around pacific NW Chervona has played quite a few big stages, among them: Bite of Oregon, Northwest Folk Life festival in Seattle, Slavic Festival and Oregon Country Fair in Eugene, Red Marines festival in California, Under Volcano Festival in Vancouver (BC), Portland Polish Festival, Portland Pirate Festival, April Fool's Day Carnivals, Revolution Party in Portland and many others.
In 2008, Chervona appeared in Hale Mednick's locally produced, directed and shot independent film Messiah Complex. Two of their songs,"Chervona Wine"and "Girlfriends are a Pain", were featured on the soundtrack. "Messiah Complex" planned for screening at the 2009 Cannes Film Festival.
Chervona at its very first year playing City Repair benefit show 2007, opening for 3 Leg Torso.
During its first 4 years Chervona has played about 200 performances all over NW of America. Thousands of people from Vancouver, BC to Los Angeles watched, listened and danced to Chervona's music calling Chervona - Best NW Party Band!
Since 2008 Chervona is holding a monthly residency on every Last Thursday of the month at a legendary Portland venue, Alberta Public House with it's signature event Chervona Party!
In 2011, second monthly event was added to the calender - Chervona Secret Night on every second Saturday on a month at Secret Society Ballroom. Their second show in January 2011 at Secret Society was sold out and made a record for the clubs cocktail sales - the audience danced so hard that everyone got very thirsty.
As year 2011 is in progress, Chervona is focusing on producing new audio and video materials and establishing its e-net presence to gain more a solid fan base for the upcoming US and Europe tour and major label CD release.
Official Website:




Facebook Page:
About and DoveDriver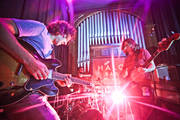 DoveDriver is the brainchild of guitarist/producer Teddy Presberg (www.teddypresberg.com). It is his go-to group to perform his original, experimental songs that mesh funk, soul, and rock. He has released records stateside on Ropeadope Records (Christian McBride, Snarky Puppy, Charlie Hunter and Medeski, Martin, and Wood) and also internationally with Timewarp Records. Presberg recently moved from Saint Louis back to Portland and can be seen performing in town and across the country with a handful of bands.
Twitter:




Website:




Blog:




Facebook:
About also: Eric Stern on roving accordion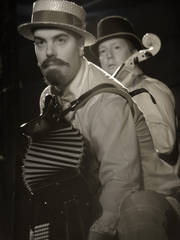 Eric Stern has appeared on NPR and performed at the Kennedy Center,The Great American Music Hall, Joe's Pub in NYC in San Francisco, throughout the Northwest, and internationally from Portland to Paris to Poland.
Eric Stern is best known for being the founder and artistic director of Vagabond Opera, an ensemble that has achieved worldwide success. Vagabond Opera was created in 2002 by U.S. and European-trained opera singer and composer Eric Stern. Then disillusioned with the classical opera world, Stern created a new context for opera: Performance on a more intimate scale incorporating not only opera but elements of Weimar Cabaret, Arabic and Balkan forms, and the original music that springs from the ensemble's fertile creative work.
Eric Stern is an active and prolific composer writing and arranging for the Vagabond Opera ensemble and other projects. In Portland he was commisioned in 2007 to compose the music for Tears Of Joy Puppet Theatre production of Pinocchio and most recently composed the full-length opera "Queen of Knives" which premiered in Portland.
Stern grew up wandering the aisles of The Wooden Shoe Books and Records (an anarchist collective bookstore that his parents helped found) listening to every record he could get his hands on, then went on to formal training in piano and opera.
He studied and performed opera in Philadelphia, New York and Paris and founded the Jewish Theater Project in New Mexico with Rabbi Lynn Gottlieb, where he helped produce Neshama, a Jewish arts festival. Eric Stern was the musical director for the show, writing several short musical pieces, one of the plays, and one full-length composition as well.
Prior to that, in the summer of 2000, he toured Canada where he, along with Mark Chavez and Shenoah Allen, performed Sabotage, a comedic tour-de-force that the trio wrote, to audiences in Albuquerque, New York City, Toronto, Winnipeg, Saskatoon, and Edmonton, garnering major critical acclaim. Stern composed and performed the music for Sabotage.
A fine opera singer, Eric Stern has appeared in over thirty operas, including lead roles in La Boheme (Schaunard), Die Fledermaus (Dr. Falke), Gianni Schicchi (Gerardo), Carmen (El Dancairo) and the American Premiere of The Beggar's Opera (Ben Lockitt). Eric is fluent in Jazz, Klezmer, Classical and Middle-Eastern idioms and his work has been enjoyed internationally
In the last several years he has studied the arabic and turkish repertoire receiving instruction from Souhail Kaspar (as well as performing onstage with the master percussionist), Omar Faruk Tekbilek, Elias and George Lammam and Souren Baronian which in turn led him to co-create The Flying Bokhara Orlestrah and to found Hazz Hazz Hulu.
He is passionate about Bulgarian accordion and has studied with Milen Slavov and Kalin Kirilov.
He has also returned to his Jewish roots and is a passionate lover and advocate of the Yiddish Language.
Stern is fluent in a variety of genres from jazz piano to Balkan accordion, to Opera. His compositions reflect his scope. Recently Stern was commissioned to compose for Portland's own Tears Of Joy Theater production of "Pinocchio".
Eric Stern appears on the Decemberist's album Her Majesty and also performs as a soloist or with the Eric Stern Trio.
Website:
About Agnieszka Laska Dancers & Polish School student dancers/singers
In May 2014, the ALDancers take a big step: a two-week tour of Poland, to perform three critically acclaimed shows! -- Broken Flowers, The Rite of Spring and The Chopin Project. They are performing in Zakopane, Warsaw, Polanica Zdroj and Krakow. They are also running workshops, master classes and participating in an international conference on choreographer/composer collaboration. Have a glimpse of the most beautiful excerpts from our Polish Program -- just a week before we board the plane!
Music by Frederic Chopin, Igor Stravinsky, Tomas Svoboda
Choreography by Agnieszka Laska
Dancers: Kelsey Adams, Sissy Dawson, Allie Fahsholz, Sharon Lane, Heidi Nelson, Lauren Richmond, Amelia Unsicker, Niqi Cavanaugh, Nicholas Petrich, Kentrel Wesson
More info: http://aldancers.org/
The Polish School children will perform:
"Gaiczek" -- dancing around a pole and waving their ribbons (welcoming the beginning of May)
"Jedzie pociag z daleka"/"A train is coming from far away" -- dancing using moving train movements and singing
"Miala baba Koguta"/"A lady had a rooster" -- funny folk song and dance
Krakowiak -- traditional Polish folk dance songs:
"Stokrotka" -- a song about a daisy and a scout (folk/scout song)
"Szczotka,pasta, kubek" -- kid's song about importance of brushing teeth
About Pavol The Collector Organic Baltic Porter
Edgefield Brewery
This dark, chocolaty, boozy lager bomb is named after our friend Pavol "Pali" Olsavsky who lives in Košice, Slovakia, and was hoping for some "promotional materials such as flags, etiquettes, and such to enrich his collection" of beer paraphernalia. We sent him some schwag and went to the next level by naming our submission to the North American Organic Brewers Fest after him. Now we just need to figure out what an etiquette is…
Malts: Organic 2-Row, Organic Rolled Oats, Organic Munich, Organic C60, Organic Roasted Barley, Organic Black, Crystal Wheat
Hops: Brewers Gold, Perle
OG: 1.080 TG: 1.020 ABV: 7.74 IBU: 39 SRM: 39
Buzz Words: dark, strong, organic lager
Map & Directions
Tags for this Event:
Events:
Beer, Wine, and Spirits
History
McMenamins Celebrations
Music:
Rock
World Music
Property > White Eagle
Related content (tags):