Saloon & Hotel
836 N. Russell St.
Portland, OR 97227
Saloon: (503) 282-6810
Hotel: (503) 335-8900
Contact Us
Nails Hide Metal
Chums
Rocket 3
9:30 p.m. |
$5 in advance, $5 day of show |
21 and over
About Nails Hide Metal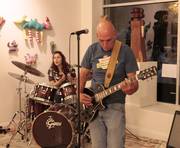 "Rock won't eliminate your problems, but it will let you sort of dance all over them." - Pete Townshend
"I just do what I do. I like to make music." - Neil Young
After discussing the music that they listened to and loved, MeLinda Dalton and Russ Quinn got together to write and play. The chemistry was perfect to develop the songs that came out of the union in 2009. In 2010, they recorded a six ...song EP titled 'Ghost' under the name The Ninas. In 2011, they recorded their second EP 'Where Are We Now' and changed their name to NAILS HIDE METAL (a line from their song 'Matter').
While the two recorded and produced 'Where Are We Now', an atmosphere of musical experimentation began to take place and their sound emerged.
During this time, the duo played clubs and venues throughout the Northeast while still living on the East Coast.
'Blood and Makeup' was their next self recorded release of 2012/2013 before their move to Portland Oregon.
The two began playing live throughout Portland and finished recording their latest release 'What's Left' at the end of 2013. 'What's Left' is the first group of songs recorded in Portland's Jackpot! Studio.
Shortly after, bass player Jon Carpenter joined the duo and the three continue playing live shows into 2014.
Described as Indie Rock but influences are... Rock... Alternative... Country... Singer/Songwriter ... Pub and Punk
Facebook:




Reverbnation:
Map & Directions
Tags for this Event:
Property > White Eagle
Related content (tags):