Cherry Royale
Funk Shui Five
6 p.m. doors, 7 p.m show |
$13 advance, $15 day of show |
All ages welcome
Buy Tickets
Tickets on sale now!
About Cherry Royale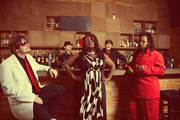 With Alvetta Newby-Jones on vocals, Bryan "Slappy" Goodman on guitar, Matt Jennings on keyboard, Solomon Wright on bass and Richard Jones on drums, Cherry Royale is a sonic blend of various musical backgrounds, tied together by a mutual, life-long love of music. In addition to years of cultivating their passion and craft, each member of the group brings to the table previous experience with widely respected, groundbreaking indie groups. With that experience also comes the courage to create boldly, as they forge through new ground in a musical landscape that hasn't gotten enough shine of late; knowing without a doubt that as a team, Cherry Royale is dedicated to the same goal: to craft an experience through their music. "Funk is about the chemistry between not only the people playing the music, but the people listening as well," points out Slappy. "Once you feel that chemistry, it's absolutely undeniable. You can't react against it."
Originally one of a three-part collective studio brainchild called The Axis, Cherry Royale emerged from those early sessions as the vessel through which this new psychedelic funk & soul music would be brought forth. With the final addition of MJ on keys in early 2011, CR began to tour heavily across the U.S., releasing early studio bootlegs and receiving critical acclaim for their high-energy live shows.
After spending about a year bringing their brand new brand of funk to the masses, and finding more than willing participants in their unique chemistry experiment at every turn, Cherry Royale took some time off from the road in late 2012 to give their growing fan base a way to bring the experience home. The group is currently putting the finishing touches on their debut EP "Say What?!," due out on Dirty Bomb Records in February 2013. The EP was recorded both in Atlanta, GA and Oakland, CA over a six month period from April to November 2012 at Dirty Bomb Studios (East & West Labs). The group took this time to refine and expand upon songs that had been brought forth from the previous year and a half of touring, as well as new material that various members had been working on collectively or solo.
"It's funk music..."
Cherry Royale has recently shared the stage with Soulive, Trombone Shorty, Mike Dillon's Go-Go Jungle, Lettuce, Orgone, Brownout, Euforquestra, Afrolicious and their good friends, Yo Momma's Big Fat Booty Band.
Website:
About Funk Shui Five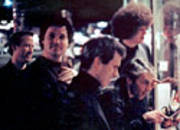 Funk Shui is the Portland-based six-piece funk & rock 'n' roll band comprised of the rhythm section of the once and future, humble but mighty Treefrogs plus many other superstar players, sit-in soloists and superhero special guests.
Funk Shui formed at an open funk jam at the famous Biddy McGraw's Irish Pub when it was still on southeast Hawthorne in Portland. Using ninja tactics and careful sedition, bassist Sean Nowland (a.k.a. The Shag) launched a bloodless coup with support from drummer Jeff Duffy and front man guitarist/vocalist John Henry Bourke. Using the power of the Bass-Drum-Bass, they dismissed the standing army of funk jammers and installed a new government of funk... the era of Funk Shui began.
website:




MySpace:
Map & Directions
Tags for this Event:
Property > Crystal Ballroom Property
Related content (tags):