A truly remarkable destination.
2126 S.W. Halsey St.
Troutdale, OR 97060
Local: (503) 669-8610
Elsewhere: (800) 669-8610
Contact Us
A Year Afar
7 p.m. til 9 p.m. |
Free |
21 and over
About A Year Afar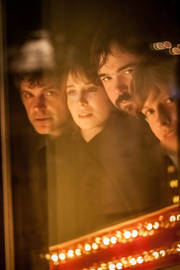 Suzanne Tufan had never been in a band before, but she's been singing and performing all of her life. Acapella with her sisters, on stage in musicals, acting in television shows (Grimm and Leverage), or just quietly singing and strumming her guitar. That's how Jim Brunberg first heard her, and he knew right away they had to start playing together. Suzanne's melodies, lyrics, and broadly unique musical sensibilities just begged to be fleshed out in a lush, carefully arranged pop format.
Jim Brunberg has played music and toured with a lot of people in his day- from Willie Nelson to Dave Matthews to Kristin Hersh - but he's never one to rest on past accomplishments. Always honing his musical craft and collaborating with a who's who of Portland's vibrant ever-evolving music community, Jim enlisted Dave Jorgensen (Blind Pilot) and Ben Landsverk (Alela Diane, Smokey Robinson, Holcombe Waller) to round out the new project that would come to be known as A Year Afar.
Since getting together in early 2013, A Year Afar has developed rapidly. Landsverk is an accomplished violist, arranger and choral conductor- talents that when added to his primary role of bass allow A Year Afar tremendous versatility. Likewise, Jorgensen brings horns and keys to the mix in addition to his visible role as drummer. As the band continues to write, develop and grow toward its first full length release, it tries to keep things simple. Brunberg: "We all write the songs together, like U2. Suzanne sings em, like... holy shit, like nobody else."
website:
Map & Directions
Tags for this Event:
Property > Edgefield
Related content (tags):