Saloon & Hotel
836 N. Russell St.
Portland, OR 97227
Saloon: (503) 282-6810
Hotel: (503) 335-8900
Contact Us
Bombadil
Maxwell Hughes (formerly of the Lumineers)
9:30 p.m. |
$8 in advance, $10 day of show |
21 and over
Buy Tickets
Tickets on sale now!
About Bombadil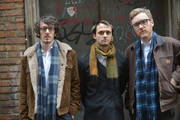 Bombadil, the quirky, sophisticated and obsessively creative North Carolina-based band whose music one reviewer called "obtuse but melodic indie folk pop with a flair for the fantastic," has headed out on the road for its first full-on tour in three years.
Bombadil - James Philips (drums), Stuart Robinson (piano, ukulele) and Daniel Michalak (bass, piano, harmonica) - have been sidelined for much of the past three years due to a debilitating nerve injury sustained by Michalak that affected the use of his hands. In 2009, Bombadil was gaining quite a bit of traction with the scheduled release of Tarpits and Canyonlands ("the album that should have made them famous," said one journalist), a quirky and dynamic live show, and slots on Bonnaroo, FloydFest, Shakori Hills, Pickathon and other festivals. But all that dissipated when Michalak's condition deteriorated to the point where he was unable to feed himself, much less play 200 shows a year. By the time Tarpits and Canyonlands was released, Bombadil was already off the road and unable to tour.
Michalak spent the last couple of years searching for a cure, trying everything from acupuncture to orthopedists to neurologists to Rolfing, and his hands have improved to the point where he's able to tour again. Bombadil, the band named after an obscure character in the Tolkien universe, whose music tells tales of loneliness, heartache, awkwardness, puppy love, suicide and murder-by-drowning, is back.
website:
About Maxwell Hughes (formerly of the Lumineers)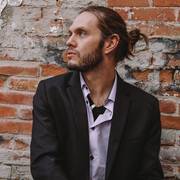 MAXWELL HUGHES RELEASES COVER OF "SMELLS LIKE TEEN SPIRIT" TO BENEFIT SUICIDE PREVENTION
FORT COLLINS/DENVER - Suicide is the 10th leading cause of death for Americans, according to the Centers for Disease Control and Prevention and the National Institute of Mental Health. The national suicide rate rose 16% from the year 2000 to 2010 peaking at over 38,000 deaths. Suicide is especially prevalent in Colorado, which has the 8th highest rate in the United States. Maxwell Hughes, NoCoast Artists and the Alliance for Suicide Prevention believe that every suicide is preventable and are making strides to help those in need.
Maxwell Hughes and NoCoast artists put on a fundraiser for The Alliance For Suicide Prevention of Larimer County by selling tickets to a music video of Maxwell covering Nirvana's "Smells Like Teen Spirit." The release raised almost $1800 for suicide prevention. April 5th, 2014 is the 20th anniversary of Kurt Cobain's suicide.
About Maxwell Hughes
Beginning in 2002, Maxwell Hughes taught himself to play the guitar and developed new innovative techniques. Since 2012 he has toured the world as a headliner and as support for Imagine Dragons, The Head and the Heart, Langhorn Slim, and Paperbird; he has received a Grammy nomination for his songwriting on The Lumineers' debut album; and won 3rd place in the International Fingerstyle Guitar Championship.
Maxwell Hughes continues to amaze his fans with his innovative style as he breaks down new musical barriers and delivers thrilling performances generally unheard of from a solo act.
About the Alliance for Suicide Prevention
The Alliance for Suicide Prevention of Larimer County was founded in 1989 to battle the high rate of suicide in Larimer County. They strive to educate the public about mental illness and suicide so that people can recognize when others are in danger and give them the support they need. The Alliance for Suicide Prevention also reaches out to people who have been affected, offering resources and support.
Links
Website: Maxwell Hughes
Website: Alliance for Suicide Prevention
Website: NoCoast Artists
Map & Directions
Tags for this Event:
Music > Alternative/Indie
Property > White Eagle
Related content (tags):