Back to school in Bend!
700 N.W. Bond Street
Bend, OR 97703
Local: (541) 382-5174
Elsewhere: (877) 661-4228
Contact Us
St. Patrick's Day Celebration at Old St. Francis School
with Live Music by
Jelly Bread (21 and over)
Five Pint Mary
Hopeless Jack & The Handsome Devil
Fiddle Play Music
Triúr Amadán
Bend Pipe & Drums
and
Special Release: St. Patrick's Day Whiskey
All Day! Music starts at 2 p.m. |
Free |
All ages welcome (unless otherwise noted)
About St. Patrick's Day Celebration at Old St. Francis School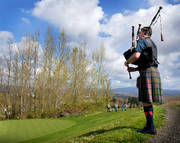 We do so love this particular holiday! At spots across "County McMenamins," we'll offer live music, bagpipers, McMenamins Irish Stout, Irish Coffee cocktails, leprechauns, Irish food specials and more.
Schedule
Events free & all ages unless otherwise indicated

2 p.m. 'til 3 p.m.
Bend Pipe & Drums
3 p.m. 'til 5 p.m.
Triúr Amadán · Irish/Celtic · O'Kanes Square
4 p.m. 'til 7 p.m.
Fiddle Play Music · Celtic and more · Roaming
4 p.m. 'til 7 p.m.
Hopeless Jack & The Handsome Devil · Fireside Court
5:30 p.m. 'til 8:30 p.m.
Five Pint Mary · Celtic rock · O'Kanes Square
8 p.m. 'til 11 p.m.
Jelly Bread · Rock · Father Luke's (21 and over only)

About Jelly Bread (21 and over)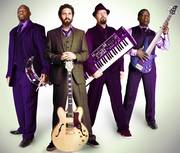 'NO DRESS CODE' - Voted Best Album 2012: Reno News & Review - Best of Northern Nevada 2012 (Aug 09, 2012)
Tahoe's Band of the Year 2012 - Lake Tahoe Action (Dec 6, 2012)
Jelly Bread, emerging out of Reno, NV, is a tour de force of full frontal funk, thoroughly steeped in a Rock-Americana style, with a dash of rollicking indie alt-rock radio appeal.
The band is fronted by award winning songwriter and lap steel player, Dave Berry, and vocalist and beast of drummer, Cliff Porter. The band's ability to meld the elements of a high desert twang and Oakland funk & rock through musical alchemy produces a chameleonic playlist highlighted by dual vocals that bounce between native chanting at a bluegrass barbeque and a gospel singer fronting a rock band at a Sunday morning service.
Dave and Cliff have known each other since childhood, growing up in the same neighborhood and attending the same schools, but only joined musical forces 4 years ago. Cliff brought his gospel band, rhythm section partner, Brady Carthen, and his bass slappin' dirty funk with him. Likewise, Dave brought in songwriting collaborator and keyboard player, Eric Matlock, resulting in the core group that has crafted a high energy calling card that is counter-balanced by exceptional songwriting and storytelling. This mix of in-the-pocket drum and bass grooves, swampy lap steel guitar, dirt under the fingernails guitar licks, and take-'em-to-church organ is downright appetizing-bright colors and sweet, funky flavors.
The band's influences range from the likes of Stevie Wonder, James Brown & Parlaiment Funkadelic to the reaches of modern contemporaries like Robert Randolph, Ivan Neville's Dumpstaphunk, Ben Harper and the John Butler Trio.
Having shared the stage with Soulive, Ivan Neville's Dumpstaphunk, G Love & Special Sauce, Robert Randolph & The Family Band, Roy Rogers & The Delta Rythm Kings, Rusted Root, and jamming with Jonny Lang, Jelly Bread has marked over 350 shows under its belts in its short 3 year history.
About Five Pint Mary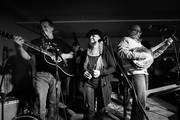 Upbeat, fun, & rollicking, Five Pint Mary plays a unique blend of Irish/Celtic/Eastern folk-rock with an edge of punk. Seven diverse and talented members collectively play guitar, mandolin, accordion, banjo, violin, bouzouki, Irish tin whistle, bass, and drums finished off with layers of tightly woven three part harmony vocals.
Five Pint Mary's influences include the Pogues, the Chieftains, Flogging Molly, and Gogol Bordello. Much of our original music is influenced by the traditional music styles of Ireland, Scotland, and the Eastern block, and is infused with a ripple of American bluegrass. Five Pint Mary is an accomplished pub-style band, who deliver an infectious, fun, and lively world sound that gets people into a rambunctious groove of dancing, drinking ale, and reveling!
About Fiddle Play Music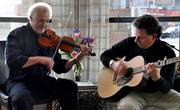 Fiddlplay Music • Featuring
Roland White Fiddle & Mark Barringer • Guitar
Roland White & Mark Barringer bring vitality, energy and heart to their music. From beautiful waltz's to fast paced American and Celtic tunes. The music is alive and engaging with steady rhythms and catchy fiddle melodies. They perform in Central Oregon for Pubs, Weddings, Parties, and Community events.
Roland White has been playing fiddle since 1976. Over the years he has collected 100's of fiddle tunes from different genres including American Old Time, Celtic and styles. He has demonstrated the music of the pioneers for the National Park Service at the Lewis and Clark National Memorial and performed at the North West Folk Life Festival in Seattle Washington.
He is a Two time Oregon State Senior Fiddling Champion and has placed Three times in the Top Ten of the National Fiddle Senior Division. He performs and teaches fiddle in the Central Oregon area and provides fiddlplay.com for local live music and fiddle player resources.
Mark Barringer hails from the San Francisco bay area and played music professionally there for over 20 years in bands and as a solo performer. He has played with some of the best touring and session players in the music business. Mark has been playing guitar since the age of 12 and has explored and performed many different genres including Rock, Blues, Rhythm & Blues, Jazz, Folk, Bluegrass, Celtic and Old Time music. Mark performs locally solo and with a Bluegrass group, Rare Boots.
About Triúr Amadán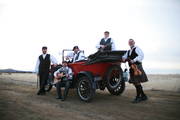 Triúr Amadán is an Irish/Celtic Band from Madras, Oregon. The group was formed when Jon Granby, Royce Schlenker and Michael McGinnis decided to start a strumstick band. (A strumstick is a three stringed instrument). The thought was, "This will be something different." Well, it was different; but it was also very limiting. So, out came the banjos, harmonicas, bass, guitar, concertina, fiddle, bodhrán, and penny whistles and to everyone's delight, the music started flowing. Still wanting to be different from most bands in Central Oregon they went with the Irish/Celtic theme. They were soon joined by Kent Wright, a guitarist and Joe Baumann, a recorder player looking for an Irish Band. They were now complete. (For you true Irish Folk a recorder is a penny whistle with extra holes). Although most of their music is traditional Irish/Celtic the players' diverse musical talents allowed them to add a little American Folk, audience participation and bluegrass songs.
Triúr Amadán's rowdy, fun, audience engaging style has built them a strong following who think little of travelling around the state to hear them. They are, as one person put it, "A band that could make a Banshee giggle." Fun may be the driving force but the quality of music is all important as well. Frank Harte, an Irish singer, once said, "Those in power write the history, while those who suffer write the songs." Whenever they perform Celtic ballads they keep in mind that the words are the things that make them wonderful. The music might be lilting and beautiful but it is the story told that truly entertains. Because of this, their goal is to play the ballads in a manner that keeps the emphasis on the words.
Triúr Amadán's resume includes such diverse venues as McMenamins at Edgefield's St. Patrick's Day Celebration, Bite of Bend, The High and Dry Bluegrass Festival, Maher's Irish Pub in Lake Oswego, The High Desert Celtic Festival, The St. Andrew's Day Scottish Festival, The Metolius City Bi-Centennial Celebration, The Central Oregon Air Show, Geno's Italian Grill, Great Earth Deli and Natural Food Store and the Desert Inn. Being community minded they have also played benefits for the Mountain View Hospital Foundation, the Children's Learning Center, the Madras Aquatic Center Foundation, Relay for Life, the United Methodist Men's Salmon Feed, St. Patrick's Church Fund- raiser, and the Week of the Young Child Festival.
About Special Release: St. Patrick's Day Whiskey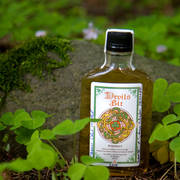 The highly coveted, limited-edition McMenamins Devils Bit Whiskey returns for its St. Patty's Day debut on Monday, March 17 at select locations!
With fewer than 1,000 bottles produced, this aged spirit is released on our favorite holiday – and when it's gone, it's gone! The 200-ml flask bottles can be purchased for $17 (two per person maximum) to-go at these McMenamins spots (which will all be festively celebrating the holiday as well!):
Edgefield Gift Shop Troutdale · opens 7 a.m.
Kennedy School Gift Shop Portland · opens 7 a.m.
Crystal Hotel Portland · opens 7 a.m.
Old Church & Pub Wilsonville · opens 11 a.m.
Old St. Francis School Bend · opens 7 a.m.
Cornelius Pass Roadhouse Hillsboro · opens 11 a.m.
Grand Lodge Forest Grove · opens 7 a.m.
North Bank Eugene · opens 11 a.m.
Roseburg Station Roseburg · opens 11 a.m.
Hotel Oregon McMinnville · opens 7 a.m.
Lighthouse Pub Lincoln City · opens 11 a.m.
Gearhart Hotel Gearhart · opens 7 a.m.
Devils Bit Details
They don't call it the well-traveled barrel for nothing! Handcrafted at the McMenamins Edgefield Distillery, this whiskey was double distilled from a mash of 100 percent two-row malted barley in 2006. From there it went into a new 53-gallon, charred American white oak barrel, where it aged for two years. Then it spent two years in a new 30-gallon American white oak barrel and three more years in a barrel previously used for McMenamins Port-style wines. Finally, it was finished for a year in a barrel previously used for making McMenamins wheat-based whiskey.
As a result, this year's Devils Bit is far more complex than expected of an eight-year-old whiskey. The aroma is balanced between the malt, the sweet new oak and the notes of Port wood. It tastes like a piece of chocolate cake with a cherry glaze. Sláinte!
Devils Bit Lore
We history lovers enjoy dreaming up fanciful identities for McMenamins hand-crafted products. Devils Bit Whiskey was named after a mountain in North Tipperary, Ireland. Legend has it that a small gap in the mountain is where the devil took a bite and spit out the rock. That spit-out piece became the Rock of Cashel, which was the traditional seat of the kings of Munster in Ireland for several hundred years; most of the buildings that remain on the site date from the 1100s and 1200s. According to legend, Cashel is also the site of the conversion of the King of Munster by St. Patrick in the 5th century.
Map & Directions
Tags for this Event:
Events:
Beer, Wine, and Spirits
Holidays
McMenamins Celebrations
Movie Types > All Ages
Music > Alternative/Indie
Property > Old St. Francis School
Related content (tags):