A truly remarkable destination.
2126 S.W. Halsey St.
Troutdale, OR 97060
Local: (503) 669-8610
Elsewhere: (800) 669-8610
Contact Us
St. Patrick's Day Celebration at Edgefield
with live music by
The Dolomites
The Desert Kind
The Moonshine
Raglan Road
Peter Pants
Whistlin' Rufus
Danny Boy O'Haley
Hanz Araki
Julie McCarl & Friends
River City Pipe Band
plus
St. Patrick's Day Golf Tourney
Special Release: St. Patrick's Day Whiskey
All Day! Music begins at 12 noon |
Free |
All ages (except Winery)
About St. Patrick's Day Celebration at Edgefield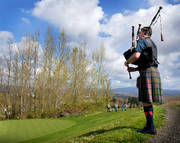 We do so love this particular holiday! At Edgefield we'll offer live music, bagpipers, McMenamins Irish Stout, Irish Coffee cocktails, leprechauns, Irish food specials, golf tournament, and more.
♦
Black Rabbit Food Specials
Toasted Barley & Green Apple Salad
aged Irish cheddar, grilled beer bread

Smoked Pork Belly Braised in Guinness
tender mustard greens, juniper berries, semolina dumplings

Slow-Cooked Beef Brisket
savoy cabbage, winter root vegetables, butter poached potatoes
Irish Soda Bread Pudding
orange zest, currants, hogshead whiskey caramel sauce, vanilla bean whipped cream
♦

Schedule
Events free & all ages unless noted
10 a.m. check-in; 11 a.m. start
St. Patrick's Day Golf Tourney
Check in at Hotel front desk · $25 · Sold Out

10 a.m. 'til 12 noon
McMenamins Irish Coffee Tasting · Lobby (21 & over)

Noon 'til 2 p.m.
Hanz Araki · Traditional Irish Music · Roving
3 p.m. 'til 5 p.m.
Spirits Tasting · Distillery (21 & over)
3 p.m. 'til 5 p.m.
Hanz Araki · Traditional Irish Music · Loading Dock
3:30 p.m. 'til 5 p.m.
Danny Boy O'Haley · Winery (21 & over)
4 p.m. 'til 7 p.m.
Balloon Bending and Face Painting · Roving
4 p.m. 'til 6 p.m.
Whistlin' Rufus · Bluegrass · Little Red Shed
4 p.m. 'til 6 p.m.
Julie McCarl & Friends · Eclectic World · Roving
5 p.m. 'til 5:30 p.m.
Irish Dancers · Loading Dock
5:30 p.m.
River City Pipe Band · Roving
5:30 p.m. 'til 7:30 p.m.
Peter Pants · Hillbilly Jazz · Loading Dock
6 p.m. 'til 9 p.m.
Raglan Road · Traditional Irish Music · Winery (21 & over)
6:30 p.m. 'til 8:30 p.m.
The Moonshine · Folk · Little Red Shed
8 p.m. 'til 10 p.m.
The Dolomites featuring The Desert Kind
· Global Folk Punk · Loading Dock
About The Dolomites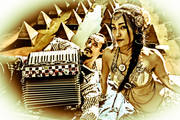 This reunion set features first generation Dolomites' members: co-founders Stevhen Iancu (vocals/accordion) and Max Skewes (vocals/banjo) plus original drummer Chris Slowik, along with guest tuba player Roman Tchamkin (Chervona). They will joyfully resurrect the drinking songs and folk punk roots of the Dolomites circa 1998 and beyond.
Before they were even out of their teens the Portland-based Dolomites became infamous for their outrageous Irish punk gypsy carnival delirium. The band was signed to an indie label, played SXSW, made a film of their 50-some-gig cross-country adventure and were banned from countless clubs for their infectious Dionysian misbehavior.
It's been 13 years since the original members have performed in Portland. Since then Iancu has travelled the world; from Europe to Japan to Mexico - touring with Gogol Bordello and Reverend Glasseye and his own interpretation of the Dolomites. Willamette Week wrote: "Iancu is an accomplished, captivating, thoroughly hypnotic showman, a shamanic huckster of vibrant, wild-eyed, thoroughly entrancing cartoon mayhem." Skewes has continued to perfect his accomplished banjo - just returning from studies with the great Pete Wernick of Hot Rize. His bands have included The Rag & Bone Men and The Desert Kind.
Sounds like: The Pogues, Manu Chao, Tom Waits, Gogol Bordello, Emir Kustarica and the No Smoking Orchestra
Tastes like: Garlic buttered shrimp with multi colored peppers
Website:




Soundcloud :
About The Moonshine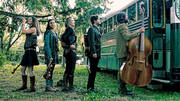 Started in the winter of 2012, The Moonshine began crafting a style all their own based on applying traditional stringband techniques to the unconventional, yet instantly familiar writing of Michael Gerard Levasseur. This is music born of the endless wonder of the open countryside, just as it is music meant to be heard blaring from brightly lit dance halls on crowded city streets. During a given performance one is as likely to hear a modernist take on a Carter Family song from the 20's, as an anti-GMO song written in 2012 with a distinctly old-time feel.
Website:




Facebook:




Reverb Nation:
About Peter Pants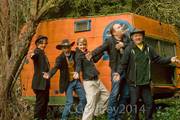 Local legends Turtle VanDemarr (Dan Hicks, Jim Kweskin Jug Band), David Reisch (Holy Modal Rounders, Michael Hurley), Jon Koonce (Johnny & The Distractions) and Dan Haley (Ed & The Boats), are joined by newcomer to the Portland music scene, Jazzy Lee VanDemarr.
Turtle (lead guitar-vocals) and David (bass-vocals) have played music together in different configurations in Portland for over 40 years. For the past 14 years these two respected and sought after Portland music veterans have been band mates with the wildly popular local band - The Freak Mountain Ramblers. Jon Koonce is a NW original who started out playing drums for the Sleazy Pieces. The singer songwriter took up the guitar in the 80's to form the legendary Johnny & The Distractions. Jon is back on the drums once again with the Peter Pants Band. Dan Haley has been a fixture of the Portland East Side Sound since the 80's. His mandolin playing, quirky personality and singing style are mesmerizing.
Jazzy has studied and been involved in musical theater, performing on stage for the past 15 years. She has also received vocal instructions through the years from two of Portland's favorite chanteuses, Mary Kadderly & Becky Kilgore. Jazzy's singing style is a little bit sassy with a lot of strong jazz influence.
This band is "too much fun," covering everything from Johnny & June to Ella & Louis, to Doris Day - with added hilarious stage banter. They are the foremost proponents of a new music genre - HILLBILLY JAZZ.
About Whistlin' Rufus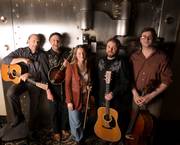 The Whistlin' Rufus musicians bring a lot of experience to the stage and have roots in Classical, Irish, Folk, Bluegrass, Rock and Roll and Jazz music. When you stir it all together combining their exciting knack for arrangements, their three and four part vocal harmonies, original ballads and toe tapping fiddle tunes, well, you end up with Whistlin' Rufus. The band has been together since 2003, celebrating their 10th anniversary this year.
Pat Connell- Mandolin, Guitar, Vocals - Founding member of Whistlin'Rufus, Pat also acts as the booking agent, web-guru, equipment manager, and press agent for the band. Pat has been performing in bluegrass and country rock bands for many years from Bend to Portland. Pat and Ritchie co-write much of the original compositions of Whistlin' Rufus.
Ritchie Wernick- Guitar, Harmonica, Vocals - Founding member of Whistlin' Rufus, Ritchie is the tunesmith, arranger, producer and resident happy face in the group. Ritchie learned his craft in numerous coffee houses on the East coast.
Natasha O'Neal - Fiddle, Vocals - Natasha hails from Wisconsin and her fiddle playing and high vocal harmonies are the highlight of a Whistlin' Rufus show. Nat stays fit by chasing around husband Seth and kids Finn and Eliza
Patrick Connell - Guitar, Vocals - Patrick joined Whistlin' Rufus last year after playing for several years with a Bluegrass band out of Ashland, "The Mighty Lonesomes". Patrick is the lead guitar player and his flat picking solo's are the centerpiece of the Whistlin' Rufus sound.
Zachary Banks - Cello, Vocals - Zach is the newest member of Whistlin' Rufus and completes the band with his amazing cello and high lonesome harmonies. A classically trained musician, Zach brings composure, youth and great good looks to the band.
Jon Meek - Banjo, Dobro - Jon is a multi-instrumentalist playing the banjo and the dobro for Whistlin' Rufus. Jon won the Rocky Mountain Dobro championship a few years ago and his banjo playing is awesome, He can do anything with a string instrument and we are thrilled to have him in Whistlin' Rufus.
website:




MySpace:




YouTube:




Sonicbids:




Twitter:




Facebook:
About Danny Boy O'Haley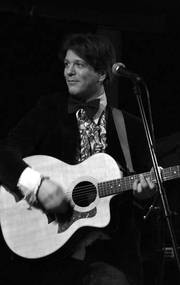 Dan Haley has been a fixture in the Portland "East Side Sound scene" since he formed Ed & The Boats in the 80's after attending Mt. Hood Community College's esteemed jazz program. Haley became an indispensable side man playing guitar, mandolin and singing harmony with local legends Jimmy Boyer, Little Sue, and the Belmont Street Octet. In the 90's He distinguished himself improvising on mandolin in rock, folk and jazz settings and began his career as a guitar teacher.
Dan traveled to Germany where he recorded two albums and co-founded the folk-rock trio The Rails, eventually landing in Vermont where he spent the next decade gigging and playing on dozens of Vermont artists' recordings such as Spencer Lewis, Susannah Blachly, and Mark LeGrand. Dan continued to study jazz as well as Celtic, Bluegrass, and Klezmer mandolin styles, and teach guitar, mandolin, and music theory. His classes were eventually picked up by the Summit School of Traditional Music & Culture where he taught group approaches to improvisation for any instrument based on observing the white keys of the piano. He has taught songwriting at Champlain College and has been featured along with Starfish Studios colleague Marilee Hord at Nashville's Music City Roots, home of the Grand Ole Opry. Dan is beloved in Vermont and Oregon for his "fab/rustic art-pop" original songs and instrumental virtuosity.
Recently re-established in Portland, Dan now teaches music instruction, showcases his songs in solo shows, and plays as a sideman with local artists like Billy Kennedy andTim Acott. His approach to teaching is student-centered and grounded in improving technique while making music accessible to all ages and abilities.
Dan Haley has had the pleasure of opening for The Pretenders, Dan Hicks, Townes Van Zandt and Camper Van Beethoven in his various incarnations.
website:
About Hanz Araki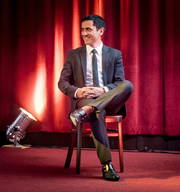 The path of a musician is often unpredictable. One wouldn't imagine that six generations of mastery of the Japanese shakuhachi would lead to a career in Celtic music, however that is exactly how it played out for accomplished flute player and traditional singer Hanz Araki. The son of Irish and Japanese parents guaranteed a household with a broad spectrum of musical influences.
His maternal grandmother, born in Clare, traveled with her mother (Mary Gallagher, also a Clare woman) across the Atlantic, landing first in Canada and making a second long journey across North America before arriving in Seattle, WA. There, she was joined by her husband Samuel (from Achill Isl. Co. Mayo) who had stayed behind to finish his post in the Irish Coast Guard. His maternal grandfather's family are Campbells who settled in the hills of Jackson Co., NC. from Co. Tyrone in the late-18th century after having been displaced from Glasgow, Scotland decades before.
Hanz's father is shakuhachi grandmaster Tatsuya Kodo Araki, the fifth generation to inherit the name Kodo, one of the most important names in the world of traditional Japanese music. "Hanz" is short for "Hanzaburo," the name of his great-great grandfather who developed the notation used in shakuhachi music even to this day.
In April of 1988, Hanz began his apprenticeship with his father, to make his professional debut in August of that same year. Colleagues of his father likened Hanz's playing to Kodo IV, despite the two never having met. Hanz continued studying under his father, and taught at his father's alma mater (the prestigious Keio University in Tokyo), as well as making concert appearances throughout Japan. In 2009, in a private ceremony in Tokyo, the title of Kodo VI was conferred on Hanz as is customary in the tradition.
Upon returning to his hometown of Seattle in 1992, Araki and a group of close friends with a shared love of Irish and Scottish music started a band called The Whyos. The discipline, techniques, and mechanics he learned on the shakuhachi translated very well to the penny whistle and the Irish flute. Seattle being home to respected stalwarts like uilleann piper Tom Creegan and fiddler Dale Russ gave Hanz no shortage of guidance in his exploration of traditional Irish music. Celtic music became a single-minded focus, turning songs and tunes of Scotland, Ireland, and England into a second language. His uncanny grasp of Celtic music, both instrumental and vocal, quickly led to opportunities for touring across the United States and Canada, the UK, Spain, Thailand, Mexico, Brazil, and an annual tour of Japan.
In a career spanning twenty-five years, Araki, now a resident of Portland, Oregon, amassed an impressive body of award-winning Celtic music albums, including a series of seasonally-themed albums released in 2012 with fiddle and guitar player and vocalist Kathryn Claire. A project to collect, remix, and remaster recordings of his father, grandfather, and great-grandfather is also currently in production in Japan.
Festival appearances include the Austin Celtic Festival, the Maine Celtic Celebration, the Missoula Celtic Festival, KVMR Grass Valley Celtic Festival, Milwaukee Irish Festival, Bumbershoot, Celtic Connections, and over 20 years of performances at the Northwest Folklife Festival. Hanz has also been invited to perform with the Seattle Symphony, at the Gates Estate, and for the Japanese Consul General.
Artist's Page:
About River City Pipe Band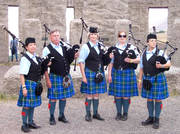 River City Pipe Band is a performance pipe and drum band. They exists to provide a supportive and constructive learning environment for its members to improve their craft through practice, performance, and individual and group competition.
Official Website:
About St. Patrick's Day Golf Tourney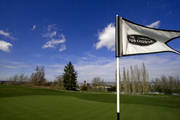 *** Golf Tournament ***
*** Sold Out ***
Golfers of all skill levels and ages are welcome to sign up for our friendly, individual-format, 20-hole tournament on Edgefield's par-3 Pub Course. Grab a beer (or a soda) and head to the Distillery Bar (i.e., the clubhouse) to begin your day on the fairways.
The tourney will have KP (closest to the pin) contests – prizes include McMenamins t-shirts, gift cards and more.
Prizes are awarded after the tourney at the Distillery Bar – you need not be present to win. We will hold the prize at the Distillery to be picked up at a later date.
About Special Release: St. Patrick's Day Whiskey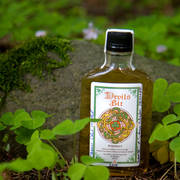 The highly coveted, limited-edition McMenamins Devils Bit Whiskey returns for its St. Patty's Day debut on Monday, March 17 at select locations!
With fewer than 1,000 bottles produced, this aged spirit is released on our favorite holiday – and when it's gone, it's gone! The 200-ML flask bottles can be purchased for $17 (two per person maximum) to-go at these McMenamins spots (which will all be festively celebrating the holiday as well!):
Edgefield Gift Shop Troutdale · opens 7 a.m.
Kennedy School Gift Shop Portland · opens 7 a.m.
Crystal Hotel Portland · opens 7 a.m.
Old Church & Pub Wilsonville · opens 11 a.m.
Old St. Francis School Bend · opens 7 a.m.
Cornelius Pass Roadhouse Hillsboro · opens 11 a.m.
Grand Lodge Forest Grove · opens 7 a.m.
North Bank Eugene · opens 11 a.m.
Roseburg Station Roseburg · opens 11 a.m.
Hotel Oregon McMinnville · opens 7 a.m.
Lighthouse Pub Lincoln City · opens 11 a.m.
Gearhart Hotel Gearhart · opens 7 a.m.
Devils Bit Details
They don't call it the well-traveled barrel for nothing! Handcrafted at the McMenamins Edgefield Distillery, this whiskey was double distilled from a mash of 100 percent two-row malted barley in 2006. From there it went into a new 53-gallon, charred American white oak barrel, where it aged for two years. Then it spent two years in a new 30-gallon American white oak barrel and three more years in a barrel previously used for McMenamins Port-style wines. Finally, it was finished for a year in a barrel previously used for making McMenamins wheat-based whiskey.
As a result, this year's Devils Bit is far more complex than expected of an eight-year-old whiskey. The aroma is balanced between the malt, the sweet new oak and the notes of Port wood. It tastes like a piece of chocolate cake with a cherry glaze. Sláinte!
Devils Bit Lore
We history lovers enjoy dreaming up fanciful identities for McMenamins hand-crafted products. Devils Bit Whiskey was named after a mountain in North Tipperary, Ireland. Legend has it that a small gap in the mountain is where the devil took a bite and spit out the rock. That spit-out piece became the Rock of Cashel, which was the traditional seat of the kings of Munster in Ireland for several hundred years; most of the buildings that remain on the site date from the 1100s and 1200s. According to legend, Cashel is also the site of the conversion of the King of Munster by St. Patrick in the 5th century.
Edgefield Distillery:
Map & Directions
Tags for this Event:
Events:
Beer, Wine, and Spirits
Golf
McMenamins Celebrations
Holidays
Movie Types > All Ages
Music:
Alternative/Indie
Americana
World Music
Property > Edgefield
Related content (tags):