A truly remarkable destination.
2126 S.W. Halsey St.
Troutdale, OR 97060
Local: (503) 669-8610
Elsewhere: (800) 669-8610
Contact Us
Halfway to St. Patrick's Day
Corner
Doogan Holler
Whitethorn
Ashleigh Flynn and the Back Porch Majority
Jamie Leopold and the Short Stories
The Moonshine
Celtic Curve
Geraldine Murray & the Retired Popes
The Stomptowners
Colleen Raney and Colm MacCarthaigh
Saturday, September 13, 2014
All day; Music begins at 11 a.m. |
Free |
All ages (except Winery)
About Halfway to St. Patrick's Day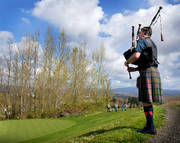 OK, we know, it's kind of a wacky idea – no one celebrates halfway to St. Valentine's Day, right? (Although, now that we think about it... nahhh...)
But, regardless, we love St. Patrick's Day and we love being halfway to it! So let's have some drinks, hear some music and have a full-on good time together. Because why not?
** SCHEDULE **
Free · All ages welcome (except winery, 21 & over)
11 a.m. 'til 1 p.m. · Colleen Raney and Colm MacCarthaigh · At the Loading Dock
1 p.m. 'til 3 p.m. · The Stomptowners · At the Little Red Shed
1:30 p.m. 'til 3 p.m. · Geraldine Murray & the Retired Popes · At the Loading Dock
3:30 p.m. 'til 5 p.m. · Celtic Curve · At the Loading Dock
3:30 p.m. 'til 5 p.m. · The Moonshine · At the Little Red Shed
5 p.m. 'til 6:30 p.m. · Jamie Leopold and the Short Stories · In the Winery
5:30 p.m. 'til 8 p.m. · Ashleigh Flynn and the Back Porch Majority · At the Little Red Shed
5:30 p.m. 'til 7:30 p.m. · Doogan Holler · At the Loading Dock
7 p.m. 'til 9 p.m. · Whitethorn · In the Winery
8 p.m. 'til 10 p.m. · Corner · At the Loading Dock
** SPECIALS **
Irish Fries Are Smiling
Our fresh-cut fries topped with melted cheddar cheese, crisp bacon, sour cream & green onions
Irish Reuben
Hot corned beef & swiss cheese with buttermilk coleslaw & sweet-hot mustard sauce on grilled rye bread with your side of choice
Iced Celtic Coffee
Irish Whiskey, sugar, cream and our own iced coffee
McMenamins Irish Stout
A coffee-like roasted barley bitterness, semi-sweet chocolate & a moderate hop bitterness balances with this hearty backbone
About Corner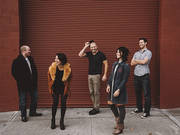 CORNER is a compilation of coworkers in the restaurant industry, where the band name originated from. Our group of five consists of Crystal and Angela Lariza, Grant Andersson, Ray Maestas, and Mike Cook. We all have come from different parts of the country and landed together in Portland, OR. Brought together by work, we started playing music together only a year and a half ago. With numerous live shows under our belt, we just finished recording our first studio EP, "Rude Awakening". The sound is a timeless mix of folk, rock, and indie, ranging from soft ballads to upbeat rock and dance. Led by the songwriting of both Crystal and Grant, we look forward to what the future will bring for CORNER.
About Doogan Holler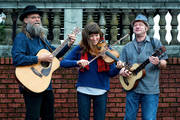 Doogan Holler is the collaboration of three Portland performing songwriters: Matt Meighan, Anna Tivel and Paul Kwitek. The band plays a mix of bluesy, up-tempo originals, covers and Americana, alternately fronted by each of the three members
Matt Meighan performs throughout the Pacific Northwest, solo and with the Matt Meighan trio, and tours the western US. He brings tradition-steeped, thought-provoking originals and a love of the folk tradition to the band, playing guitar, bass and djembe. His latest CD, Long Way Round, was released in June, 2012.
Anna Tivel performs widely with her band Anna and the Underbelly, plays fiddle with the Shook Twins and several other bands around Portland, and recently released her debut CD, Brimstone Lullaby. She plays fiddle, mandolin and guitar with Doogan Holler, and brings haunting poetic originals.
Paul Kwitek plays bass and banjo, and brings upbeat originals and a wide-ranging taste in cover tunes to the band.
About Whitethorn
Whitethorn is a Transformational Traditional Celtic band of musicians, singers and dancers led by Nancy Conescue and Geraldine Murray. The holiday of Samhain (Celtic New Year, pronounced sôw - an) is the perfect time to celebrate and dance with Whitethorn. The ensemble will transform you with songs and music from Pagan and Gaelic traditions through the modern era. Costumes encouraged!!
About Ashleigh Flynn and the Back Porch Majority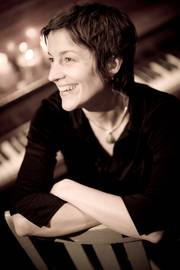 Ashleigh Flynn's finest album, American Dream, is alive with stories about down-and-outers, young and old, all still hopeful, as is Flynn, that they can achieve the American Dream.
From Kentucky, Ashleigh Flynn grew up foot stomping along the Ohio River as the steamboats and barges made their way to the muddy Mississippi. An electrifying performer blessed with unbridled charisma and the voice of angel, Flynn has released two previous full-length studio efforts, Chokecherry (2002) and Ashleigh Flynn, self-titled (1999). The Village Voice regards Ashleigh as "A darling of the NW Americana scene", writing: "Flynn adds a smoky soulful voice ... marrying styles such as bluegrass to pop."
Flynn has traveled near and far, touting her tunes, and amassing new fans in markets all over the US & Europe - including month long "up and comers" residencies at The Living Room and Pianos in New York City, and Toad in Cambridge, and a few trips across the pond.
About Jamie Leopold and the Short Stories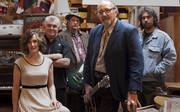 Life songs and folk tales from the original Dan Hicks & Hot Licks bass player, Jaime Leopold backed by his cracker-jack band, the Short Stories with Jennifer Smieja, vocals, Aaron Lowe, harp, Walter Cryderman, guitar & mandolin and Jim Miller on bass. American Quirk TM folk/country/acid memory.
About The Moonshine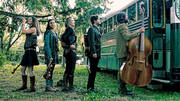 Started in the winter of 2012, The Moonshine began crafting a style all their own based on applying traditional stringband techniques to the unconventional, yet instantly familiar writing of Michael Gerard Levasseur. This is music born of the endless wonder of the open countryside, just as it is music meant to be heard blaring from brightly lit dance halls on crowded city streets. During a given performance one is as likely to hear a modernist take on a Carter Family song from the 20's, as an anti-GMO song written in 2012 with a distinctly old-time feel.
About Geraldine Murray & the Retired Popes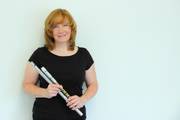 Irish Whistle player and trad virtuoso, Geraldine Murray weaves Irish melodies within a lifetime of influence from all over the world's music spectrum. Trans Trad is the result.
Geraldine's mother and paternal grandmother emigrated from County Donegal, Ireland. Similarly, she was fortunate enough to spend some time living in Ireland and has played Irish trad and pub music since childhood. She has also spent many years playing in Original Punk, Original Rock and African influenced bands.
She has opened for such diverse groups as Shawn Colvin to Steel Pulse, played for the President of Ireland and has performed on stage with The Chieftains, Johnny Cunningham, Stick Against Stone Orchestra to name a few. She currently performs extensively throughout the Pacific Northwest and last January performed with The Stick Against Stone Orchestra at Joe's Pub in Manhattan, NYC.
About The Stomptowners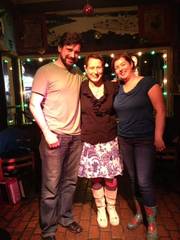 The Stomptowners are a dynamic act featuring traditional Irish voice and instrumentation accented by foot percussion. Expect to hear an exciting blend of foot stomping jigs, reels and hornpipes interlaced with melodic, soulful Celtic songs, feisty sea shanties and rollicking pub songs. Maldon Meehan, the act's distinctive percussive dancer, adds a key visual component which sets the act apart from other traditional Irish acts.
Be forewarned, The Stomptowner's audience does not just sit there passively. Wild is only too pleased to lead a rabble rousing chorus while Meehan has the crowd up on the floor in no time.
The Stomptowners showcase a number of talented Irish musicians to round out their sound. They dub the featured player "Irish Musician Du Jour" as the act delivers a unique stage rotation of top-notch authentic Irish musicians. Currently The Stomptowners feature international button accordion player, Felim Egan. Other guests might include multi-instrumentalist Bob Soper; Uilleann Piper Preston Howard; and Dublin-based banjo player Graham Nolan; as well as Meehan's Celtic dance troupe.
About Colleen Raney and Colm MacCarthaigh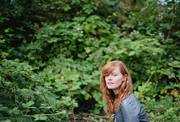 Musicians don't come with much more history in the craft than Irish singer Colleen Raney. She's been singing traditional music for more than two decades, and has been immersed in America's Celtic music and dance scene for over three. Rarely is an artist as deeply entrenched in a musical niche as Colleen Raney able to present centuries-old music with an eye toward current and future listeners outside of the genre. By adapting and developing her voice, at turns lullaby-soft and intensely powerful, and by surrounding herself with a constantly-evolving ensemble of the best musicians the Northwest has to offer, Colleen manages to credit her background and stake claim as a serious presence in contemporary Celtic music.
Map & Directions
Tags for this Event:
Events:
McMenamins Celebrations
Holidays
Music:
Singer/Songwriter
Americana
Property > Edgefield
Related content (tags):