Come have fun in school... for once...
5736 N.E. 33rd Ave.
Portland, OR 97211
Local: (503) 249-3983
Elsewhere: (888) 249-3983
Contact Us
May Day Celebration
Freak Mountain Ramblers
The Junebugs
Play Date
Joe Mishkin Balloons and Amanda's Face Painting
All Day! Music begins at 4 p.m. |
Free |
All ages welcome
About May Day Celebration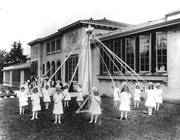 Watch elementary school kids continue the tradition of skipping around the Maypole, at 4:30 and 5:30 p.m. A balloon guy and facepainter will be roving from 4 'til 7 p.m., too. Groove to free live music for all in the Gym: Play Date at 4 p.m., June Bugs at 6 p.m., and Freak Mountain Ramblers at 8 p.m.
About Freak Mountain Ramblers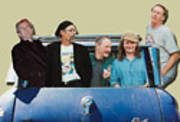 Portland's own Freak Mountain Ramblers bring a rollicking brand of rock 'n' roll, bluegrass, alternative country and country-blues to every show they play.
With a lineup including three members of the inimitable and notorious Holy Modal Rounders / Clamtones amalgamation of the '70s and '80s, Freak Mountain Ramblers has its roots in the underbelly of the alternative music scene that existed at that time, both in Portland and across the country. The Freaks have accumulated a loyal following in the Portland area by dependably creating beauty and bedlam at their live shows, and by producing CDs that successfully translate that energy and excitement to disc. Four lead singer/songwriters, each with a distinct character and approach to life and music, provide a dynamic show that packs the rooms with some of the most interesting music fans around.
The Freak Mountain Ramblers are veteran performers packing decades of experience. FMR members have been core musicians of the Holy Modal Rounders, Golden Delicious, the Clamtones, Richard Cranium and the Phoreheads, Prairie Dogs, Swingline Cubs, The Trail Band, and The Fly By Night Jass Band.
"... Freak Mountain Ramblers aren't your typical country western band. Not only have they chucked the slick yippie-ki-yay good looks of contemporary C&W singers for the haggard couture of mountain men, their lyrics have bizarrely warped the genre's storytelling. One song starts as a fable about two fighting neighbors and picks up speed until they have doused each other with gasoline. Strangely addictive and disturbingly fun, the song is sung in sweet tones and set to a galloping swing." - Portland Mercury
website:
About The Junebugs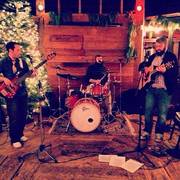 The Junebugs are high energy Pop Folk, ready to rock and/or roll until the cows come home. We play a lot of different instruments. Some of them well. If you like old timey music, but also like R. Kelly, you'll find a lot to like here.
About Play Date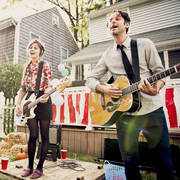 What in the world is that, way up in the sky? A Bird? A Plane? A Unicorn? A Unicorn-Pegasus! No... It's Play Date! Soaring through time and space to win the hearts of kids, parents and magical creatures everywhere! Greg Attonito (The Bouncing Souls) and Shanti Wintergate are bringing their love of music to kids at the speed of sound!
Play Date consists of husband-and-wife duo Greg Attonito, lead vocals and founding member of punk rock legends, The Bouncing Souls (1989-present BtnUKReview, NYTimes, YouTube) and singer/songwriter Shanti Wintergate. The duo released the children's book I Went for a Walk and toured the US doing readings and playing music for kids across the country (SFChronicle). This sprang the concept for Play Date. Inspired by their love of music, creativity and adventure, Greg and Shanti have created top-drawer music for the whole family with their new album, Imagination. "There's always been a strong sense of self-discovery and independence in good kids' music, and Play Date's album, Imagination has that for the punk rocker in training." -Stefan Shepherd, NPR. These upbeat, euphonious, well-crafted songs will delight your ears and have you singing and dancing with or without your kids in no time. Play Date enjoyed being Super Music Friends on 2013's Yo Gabba Gabba Live, "Get the Sillies Out!" tour and loved performing at Austin City Limits Festival in October of 2013. There's the esteem-boosting anthem Rad ("I'm Rad because I like to draw everything that I can see, I'm
RAD because I like ME!"); and the empowering messages in Anyone Can Sing and Imagination which encourage singing from the heart and tapping the limitless imagination that lives in all of our hearts. The playful, educational rock-steady rhythm of The Number Song tells the story of how "One, won the race of numbers." And Dance Like A Monster will inspire kids from six to 60 to... well... Dance like a monster! What ever the subject, tempo, rhythm or rhyme you'll be singing while you Dance Like a Monster in no time!
All of this and much more. So grab a friend, tune
Website:
Map & Directions
Tags for this Event:
Events:
McMenamins Celebrations
Holidays
Family
History
Movie Types > All Ages
Music:
Blues
Groove/Jam
Americana
Property > Kennedy School
Related content (tags):