Come have fun in school... for once...
5736 N.E. 33rd Ave.
Portland, OR 97211
Local: (503) 249-3983
Elsewhere: (888) 249-3983
Contact Us
St. Patrick's Day Celebration at Kennedy School
with
The Twangshifters
River City Pipe Band
Kathryn Claire
Irish Family Hooley with the Murray Irish Dancers
and
Special Release: St. Patrick's Day Whiskey
All Day! Music begins at 12 noon |
Free |
All ages welcome
About St. Patrick's Day Celebration at Kennedy School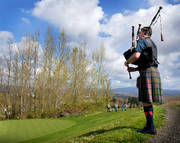 We do so love this particular holiday! At spots across "County McMenamins," we'll offer live music, bagpipers, McMenamins Irish Stout, Irish Coffee cocktails, Irish food specials including and more.
Schedule
Events free & all ages unless noted
12 noon 'til 1:30 p.m.
Kathryn Claire · Traditional Irish Music · Courtyard Restaurant
2:30 p.m.
River City Pipe Band · Traditional Bagpipers · Roving
3 p.m. 'til 4 p.m.
Irish Family Hooley with the Murray Irish Dancers · Gymnasium
4 p.m. 'til 7 p.m.
Balloon Guy and Face Painter · For the kids! · Roving
4:30 p.m. 'til 6:30 p.m.
Kathryn Claire · Traditional Irish Music · Gymnasium
7 p.m. 'til 9 p.m.
The Twangshifters · Rockabilly Tunes · Gymnasium
About The Twangshifters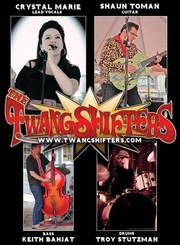 On a dark night in October of 2009, The Twangshifters played their first few notes together in a dark barn somewhere behind Hillsboro, Oregon. The barn promptly imploded, and once they climbed out of the wreckage, they realized that nothing could contain them. They've been rocking the Pacific Northwest ever since -- the show gets bigger and brighter every time. From Portland to Salem to Seattle -- not to mention the whole darned globe via a live internet broadcast for the "30 Hour Day" event from Portland's Pioneer Square, the Twangshifters have hit the Pacific Northwest scene with a mighty sound and fury, and are showing no signs of letting up.
Facebook:




Website:
About River City Pipe Band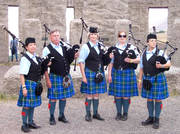 River City Pipe Band is a performance pipe and drum band. They exists to provide a supportive and constructive learning environment for its members to improve their craft through practice, performance, and individual and group competition.
Official Website:
About Kathryn Claire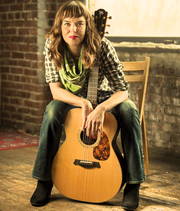 Kathryn Claire has asserted herself in a new generation of traditionally-inspired musicians. Her fiddle-playing exhibits a technical grace which is matched only by her truly captivating voice and she possesses the rare ability to move seamlessly across genres. Her deep love and respect for traditional music has long been a driving influence and those roots can be heard in her own original music.
Early classical training on the violin naturally gave way to her own creative inclinations. While still a teenager, Kathryn taught herself guitar in order to explore her own voice as a songwriter. She has since spent years cultivating her unique style and approach to music as a violinist, singer, and songwriter.
Performing is a truly joyful experience for Kathryn Claire, and her love of music is evident every time she takes the stage. Strong fundamentals from her classical background combined with an innate ability to improvise and a keen sense of harmony has made her a sought after collaborator and allowed her to work in a wide range of genres.
About Special Release: St. Patrick's Day Whiskey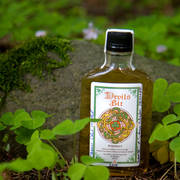 The highly coveted, limited-edition McMenamins Devils Bit Whiskey returns for its St. Patty's Day debut on Monday, March 17 at select locations!
With fewer than 1,000 bottles produced, this aged spirit is released on our favorite holiday – and when it's gone, it's gone! The 200-ML flask bottles can be purchased for $17 (two per person maximum) to-go at these McMenamins spots (which will all be festively celebrating the holiday as well!):
Edgefield Gift Shop Troutdale · opens 7 a.m.
Kennedy School Gift Shop Portland · opens 7 a.m.
Crystal Hotel Portland · opens 7 a.m.
Old Church & Pub Wilsonville · opens 11 a.m.
Old St. Francis School Bend · opens 7 a.m.
Cornelius Pass Roadhouse Hillsboro · opens 11 a.m.
Grand Lodge Forest Grove · opens 7 a.m.
North Bank Eugene · opens 11 a.m.
Roseburg Station Roseburg · opens 11 a.m.
Hotel Oregon McMinnville · opens 7 a.m.
Lighthouse Pub Lincoln City · opens 11 a.m.
Gearhart Hotel Gearhart · opens 7 a.m.
Devils Bit Details
They don't call it the well-traveled barrel for nothing! Handcrafted at the McMenamins Edgefield Distillery, this whiskey was double distilled from a mash of 100 percent two-row malted barley in 2006. From there it went into a new 53-gallon, charred American white oak barrel, where it aged for two years. Then it spent two years in a new 30-gallon American white oak barrel and three more years in a barrel previously used for McMenamins Port-style wines. Finally, it was finished for a year in a barrel previously used for making McMenamins wheat-based whiskey.
As a result, this year's Devils Bit is far more complex than expected of an eight-year-old whiskey. The aroma is balanced between the malt, the sweet new oak and the notes of Port wood. It tastes like a piece of chocolate cake with a cherry glaze. Sláinte!
Devils Bit Lore
We history lovers enjoy dreaming up fanciful identities for McMenamins hand-crafted products. Devils Bit Whiskey was named after a mountain in North Tipperary, Ireland. Legend has it that a small gap in the mountain is where the devil took a bite and spit out the rock. That spit-out piece became the Rock of Cashel, which was the traditional seat of the kings of Munster in Ireland for several hundred years; most of the buildings that remain on the site date from the 1100s and 1200s. According to legend, Cashel is also the site of the conversion of the King of Munster by St. Patrick in the 5th century.
Edgefield Distillery:
Map & Directions
Tags for this Event:
Events:
Beer, Wine, and Spirits
Holidays
McMenamins Celebrations
Movie Types > All Ages
Music > World Music
Property > Kennedy School
Related content (tags):