30340 SW Boones Ferry Rd
Wilsonville OR 97070
Phone: (503) 427-2500
Fax: (503) 427-2519
Contact Us
2nd Annual Boone's Ferry Autumn Ale Fest
with live music by
The Fashion Nuggets
KINKED
Saturday, November 8, 2014
2 p.m. 'til 10 p.m. | 2 p.m. 'til 6 p.m. History Talk | 6 p.m. Fashion Nuggets | 8 p.m. Kinked |
Free admission | $19 punch card & pint glass | $16 punch card only | $1.50 additional punches | $5 pint glass | (punch card = 12 four-ounce pours) |
All ages welcome; 21 & over to drink the ales
About 2nd Annual Boone's Ferry Autumn Ale Fest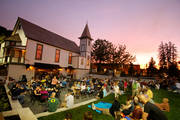 Get specialty stamps in your McMenamins Passport, too! The first 50 Cosmic Tripsters who purchase a punch card get a free pint glass.
♦

McMenamins has been brewing beers for nearly 30 years, and in that time we've had an amazing group of brewers who've mashed, boiled and created memorable beers. Over the years, some have taken their skills to other breweries, and some have even opened their own. This year, our Autumn Ale Fest combines past and present McMenamins Brewers. Fourteen fall seasonals will be pouring; eight beers from McMenamins' breweries and six beers from McMenamins' alumni brewers, which they've cooked up at the breweries they now call home. Chat with brewers, who will share their insights on their craft.
The beer samples will pair well with music by The Fashion Nuggets, a Cake tribute band, performing from 6 p.m. 'til 7:30 p.m. To top it off, the late set will be Kinked, a Kinks cover band, from 8 p.m. 'til 10 p.m.
You can also take a tour of the Old Church brewery in the afternoon, and listen to a History Talk at 2 p.m. by McMenamins Historian Tim Hills.
Boone's Best will be decided by you, the Boone's Ferry Autumn Ale Fest participants. The fest runs from 2 p.m. 'til 10 p.m., and we invite you to pair live music with your sampling from 6 p.m. 'til 10 p.m.
Schedule
2 p.m. 'til 3 p.m.
History Pub Talk: "Oregon's Pioneer Brewers"
with McMenamins Historian Tim Hills
Eligible for the Passport Experience stamp,
"Attend a History Pub"
2 p.m. 'til 6 p.m., every half hour
Brewery Tours
6 p.m. 'til 7:30 p.m.
The Fashion Nuggets
8 p.m. 'til 10 p.m.
Kinked
♦
McMenamins Breweries
Blood of the Beast DIRA
McMenamins Old Church Brewery
Wilsonville, Oregon
Brewer: Justin Azevedo
No hops were spared from this beast of a beer. Copious late kettle additions and overly generous dry hopping ensure a vibrant and ferociously hoppy beer. Beneath its beautiful sanguine hue, hop notes of grapefruit, pine and lemon interplay with a mild toasted malt character. Despite its high alcohol content, the beer finishes dry with a strong hop bitterness to wash it all down. This was unleashed just in time for this fest to take the Oar back home. If hops could bleed, they would taste like this!
Malts: Red X
Hops: Amarillo, Centennial, Chinook, Horizon, Meridian, Mosaic, Simcoe
OG: 1.085 TG: 1.012 ABV: 9.5 IBU: 100+ SRM: 17
Auld Hound Wee-Heavy
McMenamins Crystal Brewery
Portland, Oregon
Brewers: Dan Black, Drew Phillips
A strong beer for malt lovers, we aged our Wee Heavy on American Oak soaked in Islay Scotch. We included coffee, caramel, biscuit, milk chocolate and just a hint of hop bitterness for balance; this beer was built to fight the shortening days and growing cold.
Malts: Maris Otter, British Crystal C65, Oat, Roast, Pale Chocolate
Hops: Horizon, US Golding
OG: 1.082 TG: 1.015 ABV: 8.64 IBU: 26 SRM: 19
Dunkelweizen
McMenamins Concordia Brewery
Portland, Oregon
Brewers: Matt Carter, Dave Kosanke
This dark German wheat beer starts with a strong malt base. The rich, caramel malt flavor is accented by the banana and clove esters created by the German yeast strain we used. Prost!
Malts: Pilsen, Dark Wheat, Dark Caramel, Chocolate
Hops: Nugget, Perle, Brewers Gold
OG: 1.046 TG: 1.009 ABV: 4.77 IBU: 17 SRM: 13
Oak-Aged Redcap's Tooth Scotch Ale
McMenamins Edgefield Brewery
Troutdale, Oregon
Brewers: Nate Whitney, Bruce Loux, Will Gaither, Jesse Grover
This is a hearty, malt-forward Scotch Ale with a rich amber color and earthiness from peated malt that finishes with a subtle hint of smoked malt. Watch the fog roll in while imagining the sound of a lone bagpiper on the hill. This beer has been aged on a whiskey-soaked American oak spiral for 2 months, giving it hints of wood, vanilla, and a warming alcohol presence.
Malt: Premium Two-Row, Munich, Wheat, Smoked, Heavily Peated, Aromatic, Caramel Vienne, Black, Crystal Wheat
Hops: US Golding, Tettnanger
OG: 1.077 FG: 1.025 ABV: 6.71 IBU: 20 SRM: 8
Four Talons DIPA
McMenamins John Barleycorns
Tigard, Oregon
Brewer: Tim Proctor
You might need the pure power of a falcon's talon to grasp a pint of this intensely hopped Double IPA. It's medium-bodied with just enough malt profile to support a large cast of hop characteristics that range from a citrusy grapefruit to spicy floral notes.
Malts: Superior Pilsen, Vienna, Caramel Vienna
Hops: Centennial, Chinook, Citra, Falconers Flight
OG: 1.087 TG: 1.014 ABV: 9.4 IBU: 87 SRM: 6
Jack's Pumpkin Dunkelweizen
McMenamins Old St. Francis Brewery
Bend, Oregon
Brewer: Michael "Curly" White
The Dunkelweizen is a best described as a darker Weizen beer, popular in Germany for its nutritional value. Here at the Old St. Francis School Brewery we've decided to put a spin on this style with a plethora of roasted pumpkin added to the mash and kettle. A deep amber and orange hue give this beer a wonderful look. Aroma of cinnamon and clove heighten this festive drink, and an easy malt chewiness allows the beer to roll around your palate. Grab a pint of Jack's Pumpkin Dunkel and enjoy the coming of Autumn!
Malts: Pale, Pilsen, Carmel Munich 40L & 60L, Crystal 135/165, Chocolate
Hops: Horizon, US Golding
Special Ingredient: Roasted fresh pumpkin
Yeast: Bavarian Wheat
OG: 1.053 TG: 1.012 ABV: 5.28 IBU: 27 SRM: 14

Big Monster Pumpkin Stout
McMenamins Thompson Brewery
Salem, Oregon
Brewer: Jen Kent

The lovely mate to our Lil' Monster Pumpkin Ale, this big boy is sure to make for a lovely duo. Based with a softly semi-sweet stout body, then blended with the beautiful pumpkin, the palate swims with notes of chocolate, pumpkin, cinnamon and nutmeg. Cheers to the opening of the doors to our beautiful fall season in Oregon!
Malts: 2-row, Vienna, Flaked Barley, 135/165L Crystal, Kiln Coffee, Black
Hops: Nugget, Sterling
OG: 1.068 TG: 1.012 ABV: 7.22 SRM: 34 IBU: 34
Rum Flew Over The Coconut Porter
McMenamins West Linn Brewery
West Linn, Oregon
Brewer: Jacob Willson
This big porter has a lot going on: along with a nice, fat malt bill, including several darker roasted malts, 40 pounds of shredded coconut found its way inside. Then, American oak chips that were marinating in McMenamins own Three Rocks Spiced Rum for 6 months joined the party. What are you waiting for? An invitation from Nurse Ratched? Grab a cup and come on down.
Malts: Pale, 2-Row, Vienna, Brown, Chocolate, Roast, Flaked Barley, Rolled Oats, Chocolate
Hops: Chinook, Centennial, Cascade
OG: 1.079 TG: 1.016 ABV: 8.13 IBU: 26 SRM: 30
♦
Alumni Guest Breweries
Die Mannschaft Munich-Style Dunkel
Burnside Brewing Co.
Portland, Oregon
Brewer: Jason McAdam
Former brewer at Edgefield, Hillsdale & Crystal
This Munich-style dark lager was brewed as a tribute to "The Team" that won the 2014 World Cup in Brazil. An all-German roster of malts makes for a malt-forward beer with background notes of bread crust, caramel and chocolate. This dark brown lager was brewed using the Bohemian Lager strain. Raise your liter to Die Mannschaft.
Malts: Pilsner, Light & Dark Munich, Carafa Special
Hops: Hallertau Mittlefruh
ABV: 5.5% IBU: 22
Petite Amore
Cascade Brewing Barrel House
Portland, Oregon
Brewer: Mark Goodwin
Former brewer at Wilsonville, Crystal
This Northwest-style sour blond ale is a blend of beers from the cellar. Aromas of sweet candied cherries and toasted almond marzipan get you started. Candy and hints of cherries and marzipan on the palate lead to a sweet lingering flavor of citrus and cream.
ABV: 7.0%
Perihelion Crimson Saison
Ecliptic Brewery
Portland, Oregon
Brewer: John Harris
Former brewer at Hillsdale, Cornelius Pass Roadhouse
Perihelion is the closest approach of a planet to the sun. This Saison is brewed for summertime refreshment. A full malt flavor is accentuated by the spicy Belgian yeast flavors and hopped to balance with Sterling hops. Crimson refers to the Rhubarb used to add a tart character to the beer.
Malts: Pale, Wheat, Acidulated Malt
Hops: Sterling
OG: 1.050 ABV: 4.5 IBU: 28
Vladimir Gluten
Fort George Brewery
Astoria, Oregon
Brewer: Jack Harris
Former brewer at Cornelius Pass Roadhouse, Lighthouse
We roasted Brown Malt in the wood-fired oven and combined six other malts to brew a big, burly Baltic Porter. A healthy dose of Cascade finishing hops provides a mild citrus aroma, and the California Lager yeast leaves a clean finish that allows the complex malt flavor come to the forefront. Vladimir Gluten was the brain child of co-owner Jack Harris and moderately famous YouTube host Chad Graham of the THE HAPPY #BREWSHACK FUN TIME SHOW. It was brewed for the Willamette Week Pro/Am 2014 competition and is probably the best beer ever brewed!
Malts: Organic 2-row, Munich, Brown, Chocolate, 80L Crystal, Carafa III
Hops: Saaz, Cascade
OG: 1.085 TG: 1.021 ABV: 8.26
Saucy Goat Doppelbock
Fire on the Mountain Brewery
Portland, Oregon
Brewers: Ben Nehrling, Kevin Lee
Former brewers at Edgefield, Highland & Kennedy
From our arsenal of lagers, we are proud to offer this rich Doppelbock. We brewed this heavyweight of lagers at the beginning of the summer, then we employed the time-tested West Coast tradition of cold chill'n to ensure a smooth beer for your enjoyment. The Goat abides.
Malts: Munich, Dark Munich, Pilsner, Aromatic, Chocolate, Crystal
Hops: Santiam, Crystal
OG: 1.078 TG: 1.022 ABV: 7.22 SRM: 22
Cocoa Porter
Two Kilts Brewing Co.
Sherwood, OR
Brewer: Alex McGaw
Former brewer at Fulton, Crystal
This English-style brown porter has malty caramel and chocolate flavors accented by a creamy tan head, full of toffee and cocoa aromas. It's rich, smooth and surprisingly drinkable.
ABV: 6.5 IBU: 35
About The Fashion Nuggets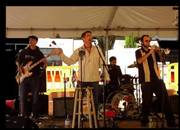 The Fashion Nuggets - a tribute to the music and rock 'n' roll lifestyles of the band CAKE. Every now and then, a band with actual personality sneaks onto the modern rock radio... and that band is Cake. This five-piece acoustic guitar, percussion and trumpet-based band delivers all the precision and energy of the real thing, and all located in the Pacific Northwest's very own Portland, Oregon. If you love the band Cake or just wanna come out to hear some danceable grooves, The Fashion Nuggets are the band to see.
Facebook page:




MySpace page:
About KINKED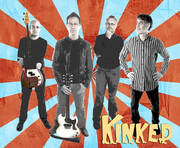 KINKED ( formerly The Carnabetian Army) is revamped and ready to usher in a new age of empire building! Queen Victoria herself will tremble in her secret unmentionables at the fervor of our devotion to the one and only KINKS! Sweet-ass harmonies and dandy outfits. None shall be spared.
Map & Directions
Tags for this Event:
Events:
Beer, Wine, and Spirits
McMenamins Celebrations
Music:
Rock
Alternative/Indie
Property > Wilsonville Old Church & Pub
Related content (tags):