30340 SW Boones Ferry Rd
Wilsonville OR 97070
Phone: (503) 427-2500
Fax: (503) 427-2519
wilsonville@mcmenamins.com
2nd Annual Boone's Ferry Autumn Ale Fest
with live music by
The Fashion Nuggets
KINKED
Saturday, November 8, 2014
2 p.m. 'til 10 p.m. | 2 p.m. History Talk | 6 p.m. Fashion Nuggets | 8 p.m. Kinked

|
Free admission | $19 punch & pint glass | $16 punch card only | $1.50 additional punches | $5 pint glass |
All ages welcome; 21 & over to drink the ales
About 2nd Annual Boone's Ferry Autumn Ale Fest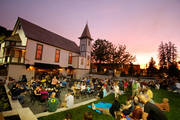 McMenamins has been brewing beers for nearly 30 years, and in that time we've had an amazing group of brewers who've mashed, boiled and created memorable beers. Over the years, some have taken their skills to other breweries, and some have even opened their own. This year, our Autumn Ale Fest combines past and present McMenamins Brewers. Fourteen fall seasonals will be pouring; eight beers from McMenamins' breweries and six beers from McMenamins' alumni brewers, which they've cooked up at the breweries they now call home. Chat with brewers, who will share their insights on their craft.
The beer samples will pair well with music by The Fashion Nuggets, a Cake tribute band, performing from 6 p.m. 'til 7:30 p.m. To top it off, the late set will be Kinked, a Kinks cover band, from 8 p.m. 'til 10 p.m.
You can also take a tour of the Old Church brewery in the afternoon, and listen to a History Talk at 2 p.m. by McMenamins Historian Tim Hills.
Boone's Best will be decided by you, the Boone's Ferry Autumn Ale Fest participants. The fest runs from 2 p.m. 'til 10 p.m., and we invite you to pair live music with your sampling from 6 p.m. 'til 10 p.m.
2 p.m.
History Talk
with McMenamins Historian Tim Hills
2 p.m. 'til 6 p.m., every half hour
Brewery Tours
6 p.m. 'til 7:30 p.m.
The Fashion Nuggets
8 p.m. 'til 10 p.m.
Kinked
♦
McMenamins Alumni Brewers
and where they brewed

Ecliptic Brewing
John Harris
Hillsdale, Cornelius Pass Roadhouse
Fort George Brewery
Jack Harris
Cornelius Pass Roadhouse, Lighthouse
Burnside Brewing Company
Jason McAdam
Edgefield, Hillsdale, Crystal
Two Kilts Brewing Company
Alex McGaw
Fulton, Crystal
Fire on the Mountain Brewing Company
Ben Nehrling, Kevin Lee
Edgefield, Highland, Kennedy
Cascade Brewing Barrel House
Mark R. Goodwin
Wilsonville, Crystal
♦
McMenamins Breweries
Wilsonville Old Church
Old St. Francis Hotel
West Linn Brewpub
Crystal Hotel & Ballroom
Edgefield Hotel
Kennedy School Hotel
John Barleycorns Brewpub
Thompson Brewpub
♦
About The Fashion Nuggets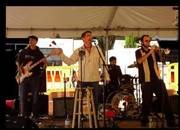 The Fashion Nuggets - a tribute to the music and rock 'n' roll lifestyles of the band CAKE. Every now and then, a band with actual personality sneaks onto the modern rock radio... and that band is Cake. This five-piece acoustic guitar, percussion and trumpet-based band delivers all the precision and energy of the real thing, and all located in the Pacific Northwest's very own Portland, Oregon. If you love the band Cake or just wanna come out to hear some danceable grooves, The Fashion Nuggets are the band to see.
Facebook page:




MySpace page:
About KINKED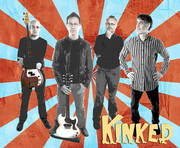 KINKED ( formerly The Carnabetian Army) is revamped and ready to usher in a new age of empire building! Queen Victoria herself will tremble in her secret unmentionables at the fervor of our devotion to the one and only KINKS! Sweet-ass harmonies and dandy outfits. None shall be spared.
Map & Directions
Tags for this Event:
Events:
Beer, Wine, and Spirits
McMenamins Celebrations
Music:
Rock
Alternative/Indie
Property > Wilsonville Old Church & Pub
Related content (tags):