IPA Invasion VI Brewfest
Saturday, October 4, 2014
11 a.m. 'til 1 a.m. |
Free admission |
All ages welcome; 21 & over to drink the ales
About IPA Invasion VI Brewfest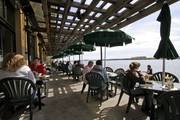 McMenamins brewers will lead tours of the onsite brewery from 12 noon 'til 6 p.m. on the hour, so see just how the IPA and other brewing magic happens.
♦
All hail, Mighty Columbia! We raise a pint (or four or five) of India Pale Ale to thee!
Set on the banks of the lovely river at the McMenamins on the Columbia pub, this beer gathering pays homage to IPAs hopped to the gill and sometimes quite high in alcohol content. Mmmm.... First brewed in England in the 18th century, IPA is a popular style of beer among American craft brewers, most notably here in the Pacific Northwest where our hops are abundant.
So settle in at one of the pub's outdoor tables (or indoors if it's a bit gloomy out), set yourself up with a selection of freshly brewed McMenamins IPAs handcrafted specifically for the occasion and just let the world float on by you...
We'll have six McMenamins IPAs for you to sample, handcrafted at our fellow McMenamins Washington breweries: East Vancouver, Queen Anne, Six Arms, and Mill Creek; and at our own McMenamins on the Columbia Brewery, as well as at McMenamins Edgefield Brewery.
We also welcome our three guest IPAs on tap for the occasion, from: Mt. Tabor Brewing, Loowit Brewing Company and 10 Barrel Brewing Company.
Order up taster trays of three of your choice of this array of beers within the hop-forward IPA style.
♦
Special Food Pairings
What The Duck?!
Fries, gravy and cheese curds topped with duck confit
MOTC Meat and Cheese Sampler
Cold cuts, cheese and veggies
Meaty Muffuletta
Prosciutto, salami and mortadella with an olive tapenade and provolone
Ale-Spiked Rootbeer Ribeye
Marinated 10-ounce ribeye served with seasoned potato wedges and seasonal veggies
♦

McMenamins Breweries
All-In IPA
McMenamins on the Columbia Brewery
Vancouver, Wash.
Brewer: Matt Freeland
Malts: Maris Otter, Superior Pilsen, 2row, Caramel 10L Flaked
Malts: Red Wheat, Rye, Barley, Yellow Corn
Hops: Chinook, Cascade, Golding, Meridian
OG: 1.061 TG: 1.010 ABV: 6.58 IBU: 93 SRM: 4
You got to know when to hold 'em, know when to fold 'em, and sometimes you got to know when to go all in. I put all my chips in with this complex IPA. Flaked wheat, rye, barley, and corn bring a complex balance of sweet and spicy characteristics blended with the crisp palate of the Superior Pilsen. A fun blend of some classic hops brings floral and fruity flavors. A dry-hopping of Meridian creates a unique and robust concoction of hop flavor. Don't play it safe, go All In.
Georgian Legend IPA
East Vancouver Brewery
Vancouver, Wash.
Brewer: Tega Chijavadze
Malts: Maris Otter, Munich, Honey Malt, C-40 and Wheat Flakes
Hops: Chinook, Brewer's Gold and Centennial
OG: 1.058 TG: 1.008 ABV: 6.5 IBU: 100 SRM: 7
The best legends are told in few words… Bold and full of attitude, with upfront notes of citrus and pine. Floral aroma is balanced with the natural sweetness of the grain, with hints of honey and caramel toward the finish. Cheers!
Hoppy Girl IPA
East Vancouver Brewery
Vancouver, Wash.
Brewer: Jeff Cooley
Malts: Premium 2row, Munich, C-60
Hops: Nugget, Golding, Chinook, Falconer's Flight
OG: 1.062 TG: 1.010 ABV: 6.71 IBU: 45 SRM: 6
This light-bodied, copper color IPA has a balanced bitterness and fresh citrus hop flavor developed to bring a smile to the hop-loving ladies of the world. A gentle malt backbone allows the floral and citrus hop flavors to brighten the palate and create a smooth, quaffable hop-forward beverage. Strong enough for a man yet made for a woman, this IPA is sure to please thirsty hopheads looking for those fresh hop aromas and flavors that make IPA the definitive style of the Pacific Northwest.
Billy Club IPA
Roy Street Brewery
Seattle, Wash.
Brewer: Brian Lawrence
Malts: Premium Two-Row, Munich, Crystal 30/37
Hops: Centennial, Chinook, Crystal
OG: 1.061 TG: 1.012 ABV: 6.32 IBU: 92 SRM: 6
This medium-bodied Northwest IPA is made with Chinook, Crystal and Centennial hops for a great flavor and mild citrus aroma.
Brain Freeze IPA
Mill Creek Brewery
Mill Creek, Wash.
Brewer: Charlton Fulton
Malts: Premium 2-Row, Crystal 60-L, Acidulated Malt
Hops: Nugget, Centennial, Chinook, Crystal
OG: 1.058 TG: 1.006 ABV: 6.71 IBU: 91 SRM: 6
Citrus flavor takes center stage with this refreshing IPA. Its high bitterness and hop flavor will satisfy any IPA fan, and its refreshing finish will bring new IPA fans to the show. Just don't drink it too fast!
Hill Top IPA
Six Arms Brewery
Seattle, Wash.
Brewer: Kyle Jungck
Malts: Pale, Malted Wheat and Crystal 40L
Hops: Nugget, Brewer's Gold, Crystal
OG: 1.058 TG: 1.009 ABV: 6.32 IBU: 75+ SRM: 6
This IPA was born in the heart of Seattle's Capitol Hill neighborhood featuring brewers' favorites – Nugget, Brewer's Gold and Crystal hops. With its smooth full-hop flavor, this is the perfect hoppy beer whether you're having a glass with a burger, or a pitcher on the beautiful Six Arms porch!
Mr. Hand IPA
Edgefield Brewery
Troutdale, Oregon
Brewers: Nathan Whitney, Bruce Loux, Will Gaither & Jesse Grover
Malts: Two-Row, Vienna, 40-L, Rolled Oats
Hops: Centennial, Chinook, Citra, Simcoe
OG: 1.058 TG: 1.009 ABV: 6.32 IBU: 100+ SRM: 6
Like the classroom, this IPA has balance and order. You'll discover malt up front and a nice piney aroma, and a pleasantly smooth bitterness in the finish. It's a hearty ale with a little something for everyone, not just the hopheads. "If I'm here and you're here, doesn't that make it our time? Clearly there's nothing wrong with an IPA on our time." — J. Spicoli
♦
Guest Breweries
Apocalypse IPA
10 Barrel Brewing
Bend, Oregon
ABV: 6.8 IBU: 70
This West Coast-style IPA is our flagship beer. We can talk about IPAs and hops all day but you better just give it a run for yourself.
Storm Shadow Imperial IPA
Loowitt Brewing Company
Vancouver, Wash.
Hops: Centennial, Chinook ABV: 9.0 IBU: 90+
Weak and uninspiring beers fall before this imperial master, striding forth with intense hops and full malt body deftly intertwined in a deadly dance. Disciplined, unwavering and focused, Storm Shadow will strike without warning and eviscerate your palate.
Bridge Lifter IPA
Mt. Tabor Brewing Company
Vancouver, Wash.
ABV: 7.0 IBU: 86
Nothing sucks more than sitting in traffic for a bridge lift on your way home from work. Loaded with Cascades, Zythos & Falconer's Flight hops, this Northwest-style IPA will make it all worthwhile.
♦
Map & Directions
Tags for this Event:
Events:
Beer, Wine, and Spirits
McMenamins Celebrations
Property > Vancouver on the Columbia
Related content (tags):