19th Annual Lighthouse Brewfest
Saturday, August 16, 2014
11 a.m. 'til late |
Free admission |
All ages welcome; 21 & over to drink the ales
About 19th Annual Lighthouse Brewfest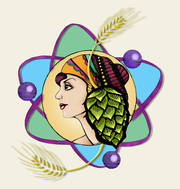 It's a party at the coast! Woooo-hooooo! At this summertime, near-the-beach, bring-your-sunblock brewfest, each McMenamins brewery creates its own distinct craft beer style while the Lighthouse serves up food and drink specials and brewery tours all day long. It's big fun.
As part of the annual tradition, the brewfest kicks off weeks earlier with the "Vallancing Act" (named for former Lighthouse brewer Rob Vallance) during which each participating McMenamins brewer picks a number. Then beer styles are pulled from a Portland Timbers hat to correspond to that number. The brewers are then required to brew an original recipe in that style.
Each participating brewery is also asked to submit a tiny image to represent their particular brew. This collection of "Tiny Brewer Art," always amusing if not befuddling, is displayed in the festival booklet provided to patrons, along with descriptions of the beers. McMenamins also designs a new Mighty Beer Atom each year - a mighty beer atom is, according to the brewers, "the fundamental building block that is the basis of life as we know it." (Duh.)
Cosmic Tripsters: Bring your keychain – the first 50 Tripsters get a free pint glass when buying a taster tray!
Here's the list of fantastic brews we will be pouring at this year's Lighthouse Brewfest!
Cornelius Pass Roadhouse Brewery
Hillsboro, OR
North by Northwest Lager
Brewers: Brady Romtvedt and Chris Oslin
2013 Production: 414,928 pints
Beer style: Lager
Malts: Gambrinus Pilsen Malt, Gambrinus Pale, Flaked Barley
Hops: Citra, Golding
OG: 1.048 TG: 1.008 ABV: 5.16 IBU: 33 SRM: 3
Conceived in the top left corner of Oregon, this lager has the bright hop presence characteristic of a Pilsner, but with more complex, citrus character, courtesy of a blend of U.S. Golding and Citra hops. Flavorful and balanced, we hope this lager reminds you just how good we have it here.
Words to Live By: Brady: "Beer-lubricant for life's cogs." Chris: "Danger! Danger Will Robison!"
---
Oak Hills Brewery
Portland, OR
Dream Girl Summer Ale
Brewer: Stephen Harper
2013 Production: 245,334 pints
Beer style: American Wheat
Malts: Premium Two-Row, Vienna, and Crystal 40L
Hops: Nugget, Brewers Gold
OG: 1.048 TG: 1.008 ABV: 4.9 IBU: 25 SRM: 3
The Dream Girl Summer Ale will put a smile on your face rain or shine. Brewed with Vienna and wheat malt, as well as orange peel and coriander, this American-style wheat ale has just the right amount of spice and flavor, which is sure to quench your summer thirst. This pairs well with pub menu items, but is also unique enough to stand alone.
Words to Live By: "Grip it and rip it!"
---
Edgefield Brewery
Troutdale, OR
Gaspard's Grove Peach Saison
Brewers: Matt Bergfield, Nathan Whitney, Bruce Loux, Will Gaither, Thomas Buttles, Jesse Grover and Karl Lorentson
2013 Production: 1,184,889 pints
Beer style: Fruit
Malts: Premium 2-Row, Wheat, CaraPils
Hops: Nugget, Mosaic
Fruit: Peach Puree, Bitter Orange Peel
OG: 1.047 TG: 1.003 ABV: 5.68 IBU: 39 SRM: 4
This funky, fruity, slightly tart beer is named for Gaspard "The 'D' is Silent" Bauhin, a Swiss botanist who classified thousands of different species of plants. Among them, you may have guessed, was the peach. We used more than 330 pounds of peach puree, five pounds of orange peel, and a big late addition of limited Mosaic hops to make this next-level fruit beer shine. This beer is best enjoyed with your trusty copy of Pinax theatri botanici and a solid understanding of binomial nomenclature.
Words to Live By: "Lo, in the sky I saw an illuminated peach that sang to me. Thus was my thirst quenched and my soul elevated."
---
High Street Brewery
Eugene, OR
Besties Amber
Brewer: Hanns Anderson
2013 Production: 179,056 pints
Beer style: Amber
Malts a.k.a. Best Malz: Pilsen, Vienna, Caramel 2, Aromatic
Hops: Centennial, Cascade
OG: 1.054 TG: 1.011 ABV: 5.55 IBU: 33 SRM: 13
Wash away the summer heat with this full-bodied, straightforward Amber. Made with the finest German Best Malz and delicately hopped with Cascades and Centennials.
Words to Live By: "Beeeeeeerrrrrrgggghhhh"
---
Hillsdale Brewery
Portland, OR
Dale's Scottish Ale
Brewer: Tyler Newton
2013 Production: 86,428 pints
Beer style: Scottish Ale
Malts: ESB Malt, Roasted Barley, and Heavy Peated Malt
Hops: Brewer's Gold
OG: 1.050 TG: 1.012 ABV: 4.9 IBU: 25 SRM: 10
Dale's Scottish Ale is a crisp and boggy brew with earthy aromas and a clean, malt flavor punctuated by hints of coffee and smoke. Accustomed to cool and damp weather? Surrounded by people in plaid and thick beards? Maybe this is Scotland, so belly up to the bar and order a Dale's. Cheers mates.
Words to Live By: "Stay golden pony boy."
---
Roseburg Station Brewery
Roseburg, OR
Hop Train India Session Red Ale
Brewer: Tom Johnson
2013 Production: 181,350 pints
Beer style: India Red Ale
Malts: Maris Otter Pale, Melanoidin, Crystal Rye, Black, Blackprinz
Hops: Nugget, Mosaic, Golding
OG: 1.048 TG: 1.010 ABV: 4.9% IBU: 57 SRM: 11
All aboard the Hop Train. This ale has pulled into the station hauling boxcars full of Mosaic and Golding hop flavors and aromas. Maris Otter Pale along with Crystal Rye, Melanoidin, Black and Blackprinz malts pull the load and add balance with flavors that complement those of the hops. Although Hop Train is packed with bold flavors, at 4.9% ABV, it is a session ale, and it won't leave you feeling like you got run over by a train. So hop on board--You won't want to miss this train.
Words to Live By: "Do not cease to drink beer, to eat, to intoxicate thyself, to make love and to celebrate the good days." -ancient Egyptian credo
---
Lighthouse Brewery
Lincoln City, OR
Phillip Toodatop English IPA
Brewer: Doug Ashley
2013 Production: 171,554 pints
Beer style: English Style India Pale Ale
Malts: Maris Otter, Light Crystal, Dark Crystal and Victory
Hops: Chinook, Cascade, U. S. Golding, Brewers Gold
OG: 1.073 TG: 1.010 ABV: 8.13 IBU: 80 SRM: 14
This IPA is inspired by the original makers of IPA. The malts are all UK grown & processed. The Maris Otter Malts used in this beer bring bready and nutty flavors. This is complemented with Light Crystal, Victory, and Dark Crystal Malts. The Brewers Gold, Chinook, Golding and Cascade hops in this beer support the malt with light bitterness and soft hop aromas that keep the malt flavors at bay and qualify as siblings to those used in the original English IPAs. So have a pint that commands a Nobleman or Fair Maiden to enjoy a brew to its fullest - artake and Phillip Toodatop.
Words to Live By: "Take a pitcher...... It lasts longer, chap." - Phillip Toodatop
---
Thompson Brewery
Salem, OR
Thirsty Thors' Belgian IPA
Brewer: Jen Kent
2013 Production: 160,245 pints
Beer style: Specialty India Pale Ale
Malts: Pale, Vienna and Flaked Barley
Hops: Nugget, Chinook and Cascade
OG: 1.062 TG: 1.012 ABV: 6.45 SRM: 5 IBU: 85
Inspired from the poem Hymiskvioa, where Thor must find a large enough cauldron to brew an ale for all the Gods, we present you with a Belgian-styled IPA. Based with a Belgian Ale yeast and specialty malts, hops to quench the palate of all, and pellet hops to add a strong muscle of flavor and aroma. Let's drink, shall we?
Words to Live By: "Good for the body is the work of the body, and good for the soul is the work of the soul, and good for either is the work of the other." - Henry David Thoreau
---
Highland Brewery
Gresham, OR
Shoulder the Sky Porter
Brewer: Tyler Staples
2013 Production: 189,038 pints
Beer style: Porter
Malts: Pale Malt, Wheat, Crystal Rye 80L, Brown Malt, Roasted Barley, Black Malt, Chocolate Malt
Hops: Horizon, Tettnanger
OG: 1.061 TG: 1.016 ABV: 5.55 IBU: 35 SRM: 33
Dark and plenty flavorful, this is just right for end-of-the-day ruminations, contemplations, or relaxation. Dwell on the roasted malt flavors, the subtle spice from the crystal rye, and the earthy, noble hop contribution. Maybe you can pretend you're an 18th century laborer-arguably the era of Porter's birth as a style-brooding with your chum at a local pub where you're finding solace in good company and a pint.
Words to Live By: "And malt does more than Milton can, to justify God's ways to man. Ale, man, ale's the stuff to drink..." - A.E. Housman
---
West Linn Brewery
West Linn, OR
Drago's Russian Imperial Stout
Brewer: Jacob Wilson
2013 Production: 199,206 pints
Beer style: Imperial Stout
Malts: Two-Row, Six-Row, Flaked Barley, Superior Pilsen, Smoked Malt, Brown, Chocolate, Black, Roast Barley, c60, Dark Caramel Malt, and Molasses
Hops: Nugget and Centennial
OG: 1.084 TG: 1.018 ABV: 8.5 IBU: 51 SRM: 47
This is one big, bad beer, named for one big, bad man--Ivan Drago, the Soviet Union's human weapon. Like Drago, this beer can be quite intimidating. With so much grain going through the mill, it almost seems unnecessary, like Ivan Drago. So find your inner Rocky Balboa, and take down this monster, before it takes you down. R.I.P. Apollo Creed. (Rocky I-IV)
Words to Live By: "I must break you."
---
Concordia Brewery
Portland, OR
Sommerzeit Kölsch
Brewers: Matt Carter and Dave Kosanke
2013 Production: 414,928 pints
Beer style:Golden
Malts: Premium 2-row malt, Munich Malt, 40L Crystal and Black Barley
Hops: Nuggets, Santiam
OG: 1.045 TG: 1.008 ABV: 4.77 IBU: 24 SRM: 3
This smooth and crisp ale was brewed to quench that summertime thirst. Kölsch is more than a beer style, it is a word for the German dialect spoken in Cologne, referring to anything having to do with Cologne. With that in mind, we attempted to keep this ale as traditional as possible, even using a Kölsch yeast strain. Sommerzeit Kölsch has a subdued maltiness throughout, leading to a pleasantly refreshing tang in the finish. Remember that Kölsch is the only language that one can also drink. Prost!
Words to live by: "What happens in Cologne stays in Cologne."
---
Mill Creek Brewery
Mill Creek, WA
Golf Star
Brewer: Brian Lawrence
2013 Production: 178,374 pints
Beer style: Session
Malts: Premium Two-Row, Munich
Hops: Centennial, Goldings
OG: 1.051 TG: 1.011 ABV: 5.16 IBU: 9 SRM: 4
You have lived a great life full of conquered challenges and you, friend, deserve a Gold Star! This winner was cold fermented for a crisp yet flavorful malt profile and direct fired with crisp and delightful hops from the Great Pacific Northwest river valleys. Life is a game and you're the player--come and get your Gold Star.
Words to Live By: "Winning isn't everything, it's more about the journey, but at the end of the day I just want to be sitting at the bar with my Gold Star."
---
Crystal Ballroom Brewery
Portland, OR
Antigoon's Ale
Brewers: Dan Black and Drew Phillips
2013 Production: 408,642 pints
Beer style: Wild Card
Malts: Pilsner, C-65, Rauchmalt, Carapils
Hops: Nugget, Goldings, Santiam<
Adjuncts: Cocoa nibs
OG: 1.066 TG: 1.010 ABV: 7.22 IBU: 27 SRM: 6
Our Belgian ale is named after Druon Antigoon, a one-handed giant whose myth gave the city of Antwerp its name. Malty and spicy with classic Belgian esters and notes of banana and cocoa, this smooth ale is strong enough for a giant. Finishing with hints of dark chocolate and smoke, you may be transported to the center of Antwerp, facing the statue of Brabo forever clutching the severed hand of an ancient giant.
Words to Live By: "Everyone you will ever meet knows something that you don't." - Bill Nye
---
Fulton Brewery
Portland, OR
International ESB
Brewer: Ryan Mott
2013 Production: 205,530 pints
Beer style: Bitter
Malts: CM Superior Pilsen, Flaked Barley, FB Cara-Munich, GW 40L, HB Brown, HB Chocolate
Hops: Goldings, Nugget, rbit
OG: 1.048 TG: 1.008 ABV: 5.16% IBU: 31 SRM: 10
This extra special bitter is brewed with malts from Canada, USA, France, and England. The hops are of the English Golding variety with dry-hopping via New Zealand Orbit hops. During the rolling boil, ceremonious offerings of beers from Belgium, Germany, Holland, Mexico, Australia and Ireland were added. At final count, that's 11 stamps on this beer's passport. How many do you have on yours?
Words to Live By: "Travel is intensified living . . . and one of the last great sources of legal adventure." - Rick Steves
---
Monroe Street Brewery
Corvallis, OR
Multiple Pale Grains
Brewer: Gary Nance
2013 Production: 170,004 pints
Beer style: Pale Ale
Malts: 2-Row, GoldPils Vienna, Rye, Brown Rice Flakes, and Midnight Wheat
Hops: Nugget and Crystal
OG: 1.053 TG: 1.011 ABV: 5.93 IBU: 30 SRM: 11
Multiple Pale Grains (M.P.G.) give this pale ale a broader flavor profile. This is a moderately bitter beer with a good malt base that has a clean finish. The Crystal hops impart a flowery, spicy aroma. The small addition of Midnight Wheat gives this brew its lovely color. This beer tips its hat back to a time when you did not have to be clubbed in the palate with a baseball bat of hops. Cheers!
Words to Live By: Whales are like people. Some are friendly, some are not.
---
McMenamins on the Columbia Brewery
Vancouver, WA
Five O'Hop Somewhere IPA
Brewer: Matt Freeland
2013 Production: 185,194 pints
Beer style: American India Pale Ale
From parrot-heads to hop-heads, this is Summer IPA will delight. Four additions of Horizon Hops and a dry-hop addition of Zythos pellets give the brew a bouquet of citrus, floral and tropical fruit notes. Hints of pineapple and passionfruit from the hops blend with the Munich and Marris Otter Pale malts to create a vacation in a glass. Kick your feet up, put a pint or two down, and drift off into a relaxing summer day.
Hops: Horizon, Zythos
OG: 1.065 TG: 1.004 ABV: 7.87 IBU: 94 SRM: 6
Words to Live By: "It takes no more time to see the good side of life than it takes to see the bad." - Jimmy Buffett
---
John Barleycorns Brewery
Tigard, OR
Four Talons DIPA
Brewer: Tim Proctor
2013 Production: 220,596 pints
Beer style: Double India Pale Ale
Malts: Superior Pilsen, Vienna, Caramel Vienna
Hops: Centennial, Chinook, Citra, Falconers Flight
OG: 1.087 TG: 1.014 ABV: 9.4 IBU: 87 SRM: 6
You might need the pure power of a falcon's talon to grasp a pint of this intensely hopped double IPA. It's medium-bodied with just enough malt profile to support a large cast of hop characteristics that range from a citrusy grapefruit to spicy floral notes.
Words to Live By: "Cook it until it's done."
---
Queen Anne Brewery
Seattle, WA
Old John Brown
Brewer: Brian Lawrence
2013 Brewery Production: 189,224 pints
Beer style: Brown Ale
Malts: NW Pale, Vienna, C-120, Rolled Oats, Chocolate, Roast
Hops: Chinook, Crystal
OG: 1.058 TG: 1.0012 ABV: 5.93 IBU: 14 SRM: 27
An easy-drinking Brown ale with a small dose of Crystal hops and a subtle hint of roast chocolate.
Words to Live By: "Enjoy when you can, endure when you must." - Johann Wolfgang von Goethe
---
Old St. Francis School Brewery
Bend, OR
Ojo Negro Foreign Extra Stout
Brewer: Mike "Curly" White
2013 Production: 280,773 pints
Beer style: Stout
Malts: GWM Pale, CaraMunich40, Crystal 70/80, Crystal 135/165, Baird's Chocolate and Bairds Roast
Hops: Galena and Sterling
OG: 1.067 TG: 1.013 ABV: 7.0 IBU: 44 SRM: 48
The Ojo Negro is a full-bodied, full-flavored black stout. Malt flavors dominate this beer with touches of molasses and robust roastiness. Low bitter hop flavors allow the malt complex to be the frontrunner. Though it's higher in alcohol than most stout beers, it goes down easy and smooth. Hopefully your tastebuds don't get a black eye from battling all the flavors of this stout! Cheers!
Words to Live By: "Wheresoever you go, go with all your heart." - Confucius
---
The Old Church Brewery
Wilsonville, OR
Dark Passions Barrel-Aged Raspberry Stout
Brewer: Justin Azevedo
2013 Production: 208,097 pints
Beer style: Nitro
Aged in an American oak whisky barrel for added complexity, this pint pours black as midnight. Wine notes, raspberry, boysenberry, and dark chocolate tantalize your nose from its silky head. Flavors of berry fruits, vanilla and oak are present throughout. A mild alcoholic warmth glides over your palate, fading to a dry finish. Dive into your darkest desires with Dark Passions.
Malts: Premium Two Row, Rolled Oats, Flaked Barley, Crystal 40, Crystal 120, Chocolate Malt, Pale Chocolate Malt, Black Malt
Hops: Cascade
Adjuncts: Raspberry Puree, Boysenberry Puree
OG: 1.077 TG: 1.008 ABV: 9.00 IBU: 32 SRM: 42
Words to live by: "He who has a why to live can bear almost any how." - Friedrich Nietzche
Map & Directions
Tags for this Event:
Events:
Beer, Wine, and Spirits
McMenamins Celebrations
Property > Lighthouse Brewpub
Related content (tags):