17th Annual Barley Cup Brewfest
with live music by
Faerabella
SDM
plus
McMenamins Spirits Tasting
Voting for Barley Cup winner!
Brewfest Passport Stamp
11 a.m. 'til close; Live music 2–4 p.m. & 7–10 p.m.; Spirits tasting 3–7 p.m. |
Free admission and music |
All ages until 10 p.m.; 21 & over to taste
About 17th Annual Barley Cup Brewfest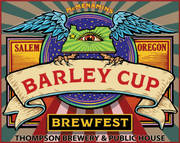 Collect your Brewfest Passport Stamp just by attending! And the first 50 Cosmic Tripsters will get a free pint glass with a purchase of a taster tray.
What could be better than a selection of distinctive and flavorful brews at the start of summer, all vying to be your favorite? Head to the Barley Cup to experience just this.
We've asked 7 McMenamins brewers and 3 Salem-area guest brewers to send one keg of whatever delicious and special beer they choose and we put them all on tap for the Barley Cup Brewfest. Every beer is something that brewers created themselves and are proud to contribute. Order up a taster tray with all 10 Barley Cup beers and try to determine which one is your favorite brew. Starting in 2014, the winner of the Barley Cup will be decided by a popular vote among all attendees of the Barley Cup Brewfest. The proud winner will have his or her name and beer name forever engraved on the coveted Barley Cup trophy. Brewers will be on hand to answer questions, give tours of the brewery and plead their cases for their own brews.
During the festival, feel free to explore the property. The Thompson house itself was built in 1905 by Spanish American War veteran Fred Thompson for his father Franklin, a Civil War veteran, and his mother Maria. It is rumored that some of the long-passed Thompsons still hang around, so keep an eye on your beer. Raise a pint of McMenamins ale to the Thompson family and all who came after them.
♦
Brewfest Food Specials
Famous Pizza Bread $5
ooey gooey cheesiness
Insane Pizza Bread $6
ooey gooey cheese and pepperoni
Tavern Pup $7
quarter-pound all-beef hot dog topped with homemade chili, cheese, and jalapeños served with Kettle chips
Barley Cup Burrito $8
black beans, cheddar cheese, tomatoes, onion, olives wrapped up in a warm flour tortilla and topped with sour cream and chipotle pico de gallo, served with tortilla chips
Newton's Third Law $9
Our BBQ pulled pork topped with smoked mozzarella, jalapeño and frizzled onions on a pub bun served with Kettle chips
♦
Brewfest Beers
Lagdad
McMenamins Monroe Brewery
Gary Nance
This beer uses true lager yeast. Four weeks of fermentation and four weeks of cold conditioning make this a very drinkable beer. I was attempting to clone our popular Bagdad Ale. German malts and Pilsner yeast were used instead of domestic malt and ale yeast. Please raise a glass and toast friends both near and far and the good times of summer. Cheers!
Malts: Pilsner, Vienna, Munich, Melanodin
Hops: Brewers Gold, Tettnanger
OG: 1.050 TG: 1.009 ABV: 5.29 IBU: 22 SRM: 5
White Rhino Wit
McMenamins Roseburg Brewery
Tom Johnson
Witbier (Dutch for "white beer") is a beer style that evolved in the Netherlands and Belgium more than 400 years ago. The name refers to its milky whitish-yellow appearance, which comes from suspended yeast and wheat proteins. The style is a descendant from medieval beers that were not brewed with hops, but were flavored and preserved with a blend of spices and other plants, called a "gruit." White Rhino Wit is medium light in body with aromas and flavors of coriander and orange, a moderate pleasant sweetness up front, and a crisp, dry, citrusy finish. And in case you didn't know it, White Rhinos do exist. They are rare and endangered due to poaching, but you can see them roaming the oak savannahs just outside of Roseburg, Oregon. Jack and Taryn are nearly inseparable and can be found frolicking amongst tourists and locals alike at Wildlife Safari in Winston. While the animal can weigh in at up to 8,000 pounds, you'll want to enjoy White Rhino Wit 16 ounces at a time.
Malts: Organic 2-Row Pale, Organic Unmalted Wheat, Organic Rolled Oats
Hops: Chinook, Mosaic
Other: Organic Coriander, Organic Orange Peel
OG: 1.041 TG: 1.008 ABV: 4.26 IBU: 22 SRM: 4
Buzz Words: Coriander, orange, crisp, refreshing
Slow Roller Raspberry Mint
Salem Ale Works
Justin Ego
Like a lazy day on the river, Slow Roller delivers the laconic charm of summers gone by. A little bit of mint mixed with raspberries and a generous dose of Cascade hops gives this tantalizing beverage all you could ask for on a hot Willamette Valley day.
Malts: 2-Row, Carapils, Crystal
Hops: Cascade
OG: 1.050 TG: 1.010 ABV: 5.2 IBU: 45 SRM: 14
Autobahn Hop
McMenamins Crystal Brewery
Dan Black and Mark Goodwin
This beer is to the style of a traditional German Marzen only it was brewed using a generous amount of Mosaic hops throughout the boil. Bohemian Lager yeast was used and it had a long, cold fermentation. It pours deep copper with an off white head. Aromas of guava, oranges, melon, and grain greet you on the nose. On the palate you notice some bread and biscuit notes alongside a pleasant hop character.
Malts: Pilsner, Munich, Caramunich 120L, Carapils
Hops: Mosaic
OG: 1.058 TG: 1.014 ABV: 5.7 IBU: 26 SRM: 13
Edelweiss Helles Bock
McMenamins Cornelius Pass Roadhouse Brewery
Chris Oslin and Brady Romtvedt
Helles Bock is a relatively recent addition to the Bock family and is lighter in color than a traditional Dark Bock. Brewed on the last day of January, this golden gem keeps tasting better and better as it continues to age. There exists a perfect balance between the big malt backbone and hop bitterness, which together masks the high alcohol content. This beer was inspired by a year studying abroad in Salzburg, Austria with the hills filled with the sound of Griswolds. Prost!
Malts: Pilsen, Vienna, Wheat
Hops: Nugget, Perle
OG: 1.067 TG: 1.007 ABV: 7.74 IBU: 14 SRM: 4
Eventide IPA
McMenamins Hillsdale Brewery
Tyler Newton
Pacific Northwest summers bring long days, warm nights and an extended twilight as the sun's rays bend and linger in the atmosphere. This IPA was made for the hot days and nights sitting on the patio or around the firepit with friends. Loads of hops were added late in the boil to create bursting citrus and pine flavors and Amber malt to give a golden hue to match the evening sky. Swirl, sniff, sip and enjoy!
Malts: Pale, Amber Malt, Flaked Oats
Hops: Centennial, Cascade, Chinook, Amarillo, Simcoe
OG: 1.063 TG: 1.010 ABV: 6.8 IBU: 80 SRM: 8
Noche Cigano (Dark Gypsy)
McMenamins Thompson Brewery
Jen Kent
Inspired by dark summer nights where shadows are made amongst the firelight as dancers and musicians gather. The euphoria of the breeze as is stirs the warm air of grasses and flowers. Gypsy guitar, deep cello and accordion play as a large ceramic carafe of this ale is passed around. Palates embrace the warm notes of black currant and dark, sweet cherry that lay over the body of a shadowy stout. Notes play over the mouthfeel of Cabernet wine as this blended beauty warms all on an evening that will forever live in memories.
Malts: Pale, Maris Otter, Optic, Flaked Barley, Black, Melanoidin, C120
Hops: Chinook, Cascade
OG: 1.076 TG: 1.014 ABV: 8.00 SRM: 32 IBU: 46
Adjuncts: Black Currant, Dark Sweet Cherry, aged in an Edgefield Winery Cabernet Barrel
Black Cherry Stout
Santiam Brewing
Jerome Goodrow and Ian Croxall
Black Cherry Stout starts out as a sweet Tropical Export Stout, with the expected complexities of roasted barley, debittered black malt and chocolate malt. The finished beer is aged in real, used Rum Barrels from the Rogue Distillery, with black cherries added into the mix.
Malts: 2-Row, Black, Chocolate, Roast
Hops: Tomahawk, Cascade
OG: 1.069 TG: 1.014 ABV: 7.3 SRM: 38 IBU: 59
Adjuncts: Black Cherry, aged in a Rum barrel
Control Burn CDA
Vagabond Brewing
James Cardwell and Ryan Fineran
Our smoky take on a Cascadian Dark Ale, this beer starts with an onyx black body and a lasting velvety brown head. Bursting aromas of pine, citrus and spice combined with beech-smoked malt jump from the glass, while large amounts of Cascade and Willamette hops are used in kettle and dry hop additions to give this beer a hoppy/bitter/smoke finish.
Malts: 2-Row, Beech Wood Smoked Malt, C60, Chocolate Wheat
Hops: Centennial, Cascade, Willamette
OG: 1.088 TG: 1.020 ABV: 8.77 IBU: 94 SRM: 36
Old Crowenfagen Barleywine 2013
McMenamins High Street Brewery
Hanns Anderson
Brewed with copious amounts of Maris Otter, Melanoidin and Crystal malts, this beast is rounded out with spicy Chinook and floral Cascade hops, before being aged in bourbon-soaked American oak.
Malts: 2-Row, Maris Otter, Melanoidin, Crystal 135/165
Hops: Chinook, Cascade
OG: 1.094 TG: 1.013 ABV: 10.45 IBU: 81 SRM: 18
♦
Map & Directions
Tags for this Event:
Events:
Beer, Wine, and Spirits
McMenamins Celebrations
Property > Thompson Brewery & Public House
Related content (tags):