4045 N.W. Cornelius Pass Rd.
Hillsboro, OR 97124
(503) 640-6174
Contact Us
Strong Ales
Special Beer Tasting
• Winter Warlock
• Pile Driver Imperial Porter
• SST (Three Mugs Brewing Company)
Wednesday, March 26, 2014
6 p.m. 'til the beer is gone |
Limited-edition beer at happy hour pricing all night |
All ages welcome
About Special Beer Tasting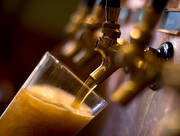 Join us once a month to sample a new, small-batch beer, handcrafted by one of our brewers.
Talk to the brewers, ask beery questions, enjoy happy hour pricing all night long on these limited-edition pints and more.
And when the beer is gone, it's gone.
About • Winter Warlock
CPR Brewery
Chris Oslin and Brady Romtvedt
The Winter Warlock became somewhat tolerable after Kris Kringle gave him a toy train. We still feel his icy grip on occasion yet we have a defense mechanism in place which should be right in front of you. This elixir has some barleywine type notes but stands alone while boasting a dark crimson color.
Malts: Pale, Wheat, Flaked Barley, 135/165 Crystal, Brown, Roast
Hops: Nugget, Sterling
OG: 1.083 TG: 1.019 ABV: 8.26% IBU: 26 SRM: 26
Buzz Words: Silky, Malty, Slight Citrus
About • Pile Driver Imperial Porter
CPR Brewery
Chris Oslin and Brady Romtvedt
A mechanical device used to drive piles (poles) into the soil to create a solid foundation. This "strong ale" is big and malty, forcefully pleasant, with a striking finish.
Malts: Marris Otter, Baird's Pale, Crystal Rye, Black Malt, Melanoidin, Pale Chocolate Malt.
Hops: Sterling Golding
OG: 1.074 TG: 1.015 ABV: 7.61% IBU: 19 SRM: 37
Buzz Words: Rich, Smooth, Striking
About • SST (Three Mugs Brewing Company)
Three Mugs Brewing Company
Christopher & Jay Jennings
Hillsboro, Oregon
Light in color and high in alcohol, malty and warming, this all around classic Belgian Tripel is a Super Sonic Transport back to the old country… fasten your seat belts; seatbacks and tray tables in their upright and locked positions; ready to take quaff!
Malts: Belgian Pilsner Malt, Belgian Caramel Vienne, Clear Belgian Candi Sugar
Hops: Fuggle
OG: 1.095 TG: 1.020 ABV: 10.0% IBU: 26 SRM: 8.7
Three Mugs Brewing Company on Facebook
Map & Directions
Tags for this Event:
Events > Beer, Wine, and Spirits
Property > Cornelius Pass Roadhouse
Related content (tags):