4045 N.W. Cornelius Pass Rd.
Hillsboro, OR 97124
(503) 640-6174
Contact Us
CPR Fall Invitational: Winter Warmers
• Rum Barrel-Aged Dark Star
• Highlander Strong Scottish Ale
• Lord Snow Imperial Stout
• Sybil's Strong Ale
from the breweries at
CPR, Lighthouse, Edgefield, and Hillsdale
Special Beer Tasting
Wednesday, November 26, 2014
6 p.m. 'til the beer is gone |
Limited-edition beer at happy hour pricing all night |
All ages welcome
About CPR Fall Invitational: Winter Warmers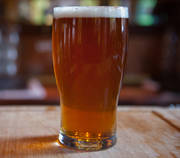 Anything goes, but it better warm you up on a cold and rainy winter day!
Rum-Barrel Aged Dark Star
CPR Brewery
Chris Oslin and Brady Romtvedt
This limited batch of Dark Star was born last January to be enjoyed this winter. Three months in a second-run Rum barrel contributed a light oakiness while avoiding any sweet, boozy character. With plenty of spirit to warm your bones and enough bitterness to quench your thirst, think of this as the best bittersweet hopped-chocolate we could concoct. ?
Malts: 2-Row Malt, Munich Malt, 75L Crystal Malt, 120L Crystal Malt, Carafa Special II
Hops: Centennial, Simcoe
OG: 1.074 TG: 1.014 ABV: 7.74% IBU: 93 SRM: 30
Sibyl's Strong Ale
Hillsdale Brewery
Tyler Newton
It is said that a prophet (or prophetess) is never accepted in their hometown regardless of the truths they tell and the dreams they dream. You don't need the spirit of divination to enjoy a pint of this strong ale; malty-sweet caramel flavors are balanced with rye and roasted grains to create a full-bodied brew. Listen for the voice in the desert, the daughter of Apollo calling from the mountain top: drink and be merry
Malts: Maris Otter, Munich, Rye, Roasted Barley, C-75, C-40 and Brown
Hops: Horizon
Special Ingredients: Cinnamon, Orange, Anise and Coffee
OG: 1.079 TG: 1.021 ABV: 7.5% IBU: 48 SRM: 13
Lord Snow Imperial Stout
Edgefield Brewery
Nathan Whitney, Bruce Loux, Will Gaither, Jesse Grover
Black as a crow, this strong, dark beer was brewed with wintergreen and peppermint candies to give it a hint of the chill of winter, but its massive, thick body and warming strength help to ward that chill off. A huge supporting cast of dark malts- including a hundred and fifty pounds of rolled oats to add a smooth mouthfeel- provide a great depth and complexity of flavor accentuated by the herbal, faintly sweet undertones of wintergreen and peppermint. Grab a pint and bundle up. Winter is coming…
Malts: Premium 2 Row, Vienna, Rolled Oats, Crystal 120, Extra Special, Roast, Chocolate, and Black malts
Hops: Goldings
OG: 1.083 TG: 1.023 ABV: 8.26% IBU: 39 SRM: 39
Highlander Strong Scottish Ale
Lighthouse Brewery
Doug Ashley
The Highlander Strong Scottish Ale is a great beer to enjoy in the cold fall and winter months. It is made from six different malts to produce a beer that is complex yet smooth. The malts are the star ingredient that warms the body and fills the pallet with various malt flavors. The hops in the Highland were added to keep the balance in the beer without playing a part in the flavor of the beer. So enjoy a pint and have good cheers.
Malts: Munich, Wheat, Light Crystal, Dark Crystal, Flaked Barley, Brown Malt, Chocolate Malt
Hops: Horizon, Cascade
OG: 1.085 TG: 1.016 ABV: 8.9% IBU: 29 SRM: 45
About Special Beer Tasting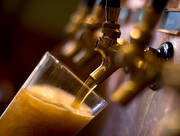 Join us once a month to sample a new, small-batch beer, handcrafted by one of our brewers.
Talk to the brewers, ask beery questions, enjoy happy hour pricing all night long on these limited-edition pints and more.
And when the beer is gone, it's gone.
Map & Directions
Tags for this Event:
Events > Beer, Wine, and Spirits
Property > Cornelius Pass Roadhouse
Related content (tags):