Saloon & Hotel
836 N. Russell St.
Portland, OR 97227
Saloon: (503) 282-6810
Hotel: (503) 335-8900
Contact Us
The Moondoggies
Ark Life
Saturday, February 15, 2014
9:30 p.m. |
$12 in advance, $12 day of show |
21 and over
Buy Tickets
Tickets on sale now!
About The Moondoggies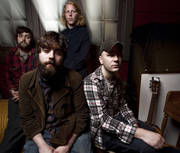 The Moondoggies are a four-piece band from Seattle that plays timeless American music. Warm three-part harmonies, gothic Rhodes organ, and wanderlust guitar mark a sound rooted in boogie blues and cosmic country; whip-smart songwriting leads to hook-heavy tunes that bristle with originality. Led by 22-year-old singer/guitarist Kevin Murphy, the Moondoggies are intent on artistic balance. They're a serious band with a silly name. They play music that speaks of travel but is strongly connected to its place of origin.
They're young musicians continuing a legacy that goes back generations. Songs that unravel over seven sinuous minutes are somehow catchy and compact.As witnessed on Don't Be A Stranger, the Moondoggies' debut, the bands sound displays shades of gospel, blues, rock, and country; wall-of-sound harmonies radiate joy and passion; songs remain in the mind long after the record ends. The influence of the Band, the Byrds, and especially early Grateful Dead is evident, though the Moondoggies lyrical economy and compositional sensibility render these 13 tracks fresh and unique. "I don't think sitting down and playing guitar is an old-time thing," Murphy recently told The Seattle Times. "Our sound is what seems to happen when we sit around and sing and play. It's never going to get old. People will always do that."
Official website:




Myspace page:




Facebook page:
About Ark Life
From 2007 to 2012, songwriter Jesse Elliott led rock&roll band These United States through 5 studio albums and nearly 1,000 live performances in the U.S., Canada, and Europe, appearing everywhere from Glastonbury to SXSW, Daytrotter to Lollapalooza, and garnering praise from NPR, The New York Times, SPIN, KEXP, and others.
In early 2013, Elliott was stopping over for a month in Denver on his way to a new life in New York. But as the members of Ark Life met each other, journeyed into the mountains, and started playing music together, it became clear he'd have to stick around a little longer. The 3-part harmonies of pianist Lindsay Giles, bassist Anna Morsett (also of TUS), and guitarist Natalie Tate blended too perfectly with veteran Denver drummer Ben Desoto (Nathaniel Rateliff, The Czars). Elliott was smitten, and the result is a mile high ocean of uplift, equal parts mischief and heartthrob, that pulls as much from contemporaries like The Mynabirds, Cotton Jones, and Sallie Ford as from the band's enduring loves for CCR, Motown, Tom Petty, and the classic campfire singalong.
Now 10 months old and 90 shows in, Ark Life has shared coast-to-coast stages with Ryan Bingham, PHOX, The Moondoggies, Gregory Alan Isakov, The Head & the Heart, Mount Moriah, Ivan & Alyosha, and more. The band spent fall 2013 recording its debut album with Eric D. Johnson of Fruit Bats in the producer's seat, with an eye towards spring 2014 release.
"On a hiatus from These United States -- one of the hardest working bands of recent times -- Elliott has relocated to Denver, Colorado, and cooked up a band to present stories...indebted to years and years of foraging, or drifting around, of sleeping on floors, of missing out, of living it up, of feeling shitty and exhilarated all in the same day/same hour, of wasting time, of finding love, losing love and not recognizing it. They are stories that have come out of him after all of these years of exhausted eyes, all of the dancing on the blade of a knife (as he refers to it)...and more than enough reasons to do it all over again." --DAYTROTTER--
"Ark Life draws its biggest comparison to the Band ... endlessly listenable folk-rock that would even make Bob Dylan proud. Fused with a little bit of soul, the group has a classic rock sensibility, but the taste of modern musicians." --THE DENVER POST--
"Electric guitarist Natalie Tate, bassist Anna Morsett, and pianist Lindsay Giles made no secret of their weapon ... the lush harmonies filled the room in moments that a lesser band would leave empty. Perhaps the vocal timbre of the gang could be likened to Fleet Foxes but with female dynamism ...This is inception time, people. Think of all the bands you listen to and know. Did you catch them in the earliest days when that electricity was so palpable? That's what I love about having witnessed Ark Life now. Later might be great, too, but now is now. " --STUBBORN SOUNDS--
"I like the rambly, literate way Elliott always lets his heart and words bleed all over everything ... His new Denver-based band Ark Life blends together a crew of good musicians to make some fine open-air/open-highway music, all tied up with three-part female harmonies." --FUEL/FRIENDS--
"...sounds like a dusty classic, the kind you happen upon as you dig through a record collection or hear over the speakers at a BBQ that's playing the local classic rock station." --SONGS FOR THE DAY--
"Elliott sounds delightful with female songbirds sighing along with his melodically delivered big ideas, and this band -- Lindsay Giles, Anna Morsett, Natalie Tate, and Ben Desoto -- already gives off the air of a family thing, where the meals and miles are readily shared with any fellow travelers they might encounter." --DIRTY IMPOUND--
" ... the palpable excitement that surrounds this quintet is a touch surprising and may well be a harbinger of big things to come ... A deceptively mature and confident sounding band ... amidst dense layers of rich swirling harmonies and ringing guitars, Elliott's brilliantly penned lyrics paint rustic pictures ... As his slightly brittle voice spins the tales, the band effortlessly blends elements of Detroit's Motown and Nashville's country into driving rock and roll that conjures the feeling of tearing through the dustbowls of the Midwest with the top down and the sun disappearing into a golden haze." --MARQUEE MAGAZINE--
Map & Directions
Tags for this Event:
Music:
Singer/Songwriter
Rock
Blues
Americana
Property > White Eagle
Related content (tags):