& Gearhart Hotel
1157 N. Marion Ave.
P.O. Box 2299
Gearhart, OR 97138
Pub: (503) 717-8150
sandtrap@mcmenamins.com
Hotel: (503) 717-8159
(855) 846-7583
gearharthotel@mcmenamins.com
"Sittin' Seagulls – McMenamins Golf Championship"
12 noon trick shot demo; 1 p.m. shotgun start

|
$75 in advance — all-inclusive! |
21 and over
About "Sittin' Seagulls – McMenamins Golf Championship"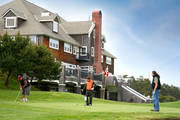 In the spirit of Caddyshack, enjoy antics and prizes. Friday at noon is a trick shot demo, followed by shotgun start at 1 p.m., then dinner and live music to top off the day!
This will be an 18-hole team event, with surprise formats on each hole (1 Net Best Ball, 2 Net Best Balls, 1 Gross Best Ball, Alternate Shot, etc.). As is tradition for "Sittin' Seagulls", the tournament has a theme, and this year it's Caddyshack! Will you dress as Danny Noonan or Ty Webb? Are you a Dr. Beeper or Spalding Smails? Compliance with the theme is encouraged, or penalties may apply! The movie will run on a loop in the Livingstone Room throughout the tournament.
Other highlights for 2014 include:
• Bigger prizes; more clubs, rounds of golf and gift cards
• Egads the Mule will be dragging a keg around the course
• Bonus discounted golf for those who stay overnight at Gearhart Hotel Friday night and play again Saturday (Please call the hotel at (503) 717-8159 for details & to book.)
Gearhart Golf Links and McMenamins Gearhart Hotel and Sand Trap Pub are steeped with history, and an important part of that history was this tournament. Read about it here...
"Those Sittin' Seagulls tournaments were the craziest things....In fact, growing up in Gearhart, at the Gearhart Course.....it was just unbelievable!" — Sally Herron Valade
Enjoy the historic Gearhart Golf Links during one of many golf tournaments to come this year. Afterwards, have a round of ales or whiskeys at the Pot Bunker Bar or the pub while you discuss your play. Golfers are welcome to sign up in the Gearhart Golf Links pro shop or give them a call for more information: (503) 738-3538. Carts are available, and we'll have prizes at every hole!
Want to plan ahead? We have tourneys scheduled every 3rd Friday.
Tourney rules (subject to change)
Format: 4 person scramble – enter as a team, or any portion of and we will find you partners
Price is per player, carts are an additional $15 per player
Reservation required. Sign up at gearhartgolflinks.com
Fees include golf, prizes and 2 drinks
Prizes on every hole!
Tourneys are played rain, or shine, wind or sleet... even if it's sunny & warm!
website:
Map & Directions
Tags for this Event:
Events > Golf
Property > Gearhart Hotel & Sand Trap Pub
Related content (tags):