Back to school in Bend!
700 N.W. Bond Street
Bend, OR 97703
Local: (541) 382-5174
Elsewhere: (877) 661-4228
Contact Us
Oak-Aged McMenamins Irish Stout
Firkin Cask
O'Kanes Cask Series Release
Wednesday, September 24, 2014
5 p.m. 'til beer is gone |
Limited-edition beer tasting at happy hour pricing all night |
All ages welcome
About Oak-Aged McMenamins Irish Stout
McMenamins Irish Stout is our interpretation of the internationally renowned beer style that originated in Ireland. McMenamins Irish Stout is made as traditionally as possible with our own little twist. It is a very dark, ebony-colored stout with a thick, creamy and long-lasting head. The flavor is a fantastic fusion of coffee-like roasted barley bitterness and semi-sweet chocolate. A moderate hop bitterness balances pleasingly with this hearty backbone. Putting an OSF spin on it all, we've thrown in some American Oak chips that were soaked in whiskey for about two months, resulting in a bit of dry woody finish and sweeter tones. Lower cabornation from the cask-like serving style allows the bold flavors to really show their stuff and dance a little jig on your taste buds!
Malts: Pale Ale, Flaked Barley, Brown, Chocolate, Roast
Hops: Chinook, US Golding
OG: 1.045 TG: 1.007 ABV: 4.9% IBU: 38 SRM: 32
Buzz Words: Dry, creamy, robust
About O'Kanes Cask Series Release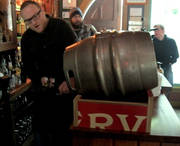 Join us once a month as Mike 'Curly' White unveils another of his firkin handcrafted ales.
Tags for this Event:
Events > Beer, Wine, and Spirits
Property > Old St. Francis School
Related content (tags):