Back to school in Bend!
700 N.W. Bond Street
Bend, OR 97703
Local: (541) 382-5174
Elsewhere: (877) 661-4228
Contact Us
Red Rise Up IRA
American Oak Spirals infused with Pot Still Brandy
O'Kanes Cask Series Release
Wednesday, February 26, 2014
5 p.m. 'til beer is gone |
Limited-edition beer tasting at happy hour pricing all night |
All ages welcome
About Red Rise Up IRA
To celebrate the late winter months, McMenamins brewers have hand-crafted a delightful India Red Ale. At the time of year when it can be cold and bleak outside, Red Riser IRA peeks over the mountain tops to bring warmth and remind us that Spring is just around the corner. While waiting for Spring to arrive, Red Riser IRA will warm your soul and invigorate your taste buds.
Made from the finest malted barley, along with some rye malt, this red giant is generously hopped with a heavenly blend of aromatic hop varieties. The glorious garnet hue illuminates the way to a wonderfully complex blend of malt flavors. The citrusy floral hop notes hit the nose in a prophetic burst of awareness that something wonderful is to follow. And with that here at OSF we have incorporated this ale into our Firkin keg for a special night! Stuffed with American Oak chips that were soaked in our Pot Still Brandy we hope that this subtle dry ending to such a wonderful ale will inspire all to Rise Up and enjoy life!!
Malts: Pilsner Malt, Marris Otter Pale Malt, Crystal Rye, Caramel Munich 40, Melanoidin, Roast
Hops: Nugget, Chinook, Centennial, Cascade
Special Ingredients: Oak Chips infused with Pot Still Brandy
OG: 1.069 TG: 1.015 ABV: 6.97% IBU: 97 SRM: 14
About O'Kanes Cask Series Release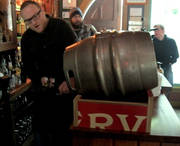 Join us once a month as Mike 'Curly' White unveils another of his firkin handcrafted ales.
Tags for this Event:
Events > Beer, Wine, and Spirits
Property > Old St. Francis School
Related content (tags):