Back to school in Bend!
700 N.W. Bond Street
Bend, OR 97703
Local: (541) 382-5174
Elsewhere: (877) 661-4228
Contact Us
Grandma's Vanilla Oatmeal Porter
O'Kanes Cask Series Release
Wednesday, January 29, 2014
5 p.m. 'til beer is gone |
Limited-edition beer tasting at happy hour pricing all night |
All ages welcome
About Grandma's Vanilla Oatmeal Porter
If your grandma was anything like my grandma she could cook up a storm. Usually all from scratch too. One of my favorite baked goods my grandma made was oatmeal cookies with chocolate chips. This special Firkin version has an added kick of vanilla bean to enhance your flavor experience. Made with dark crystal malts which gives a hint of chocolate and raisin. A plethora of rolled oats were also added for a chewy mouth feel as well as a smooth, melt in your mouth concession. The Firkin doesn't always last long and with a tribute to Grandma's cooking it may be gone fast. Cheers to Grandmas everywhere!
Malts: GWM Pale, Rolled Oats, Briess Victory, Briess 135/165, Baird's Chocolate and Briess Blackprinz Special Ingredients: Vanilla Bean
Hops: Chinook, Perle and Willamette
OG: 1.057 TG: 1.010 ABV: 6.05% IBU: 29 SRM: 33
About O'Kanes Cask Series Release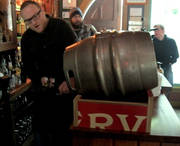 Join us once a month as Mike 'Curly' White unveils another of his firkin handcrafted ales.
Tags for this Event:
Events > Beer, Wine, and Spirits
Property > Old St. Francis School
Related content (tags):