Saloon & Hotel
836 N. Russell St.
Portland, OR 97227
Saloon: (503) 282-6810
Hotel: (503) 335-8900
Contact Us
The Local Strangers
Strangled Darlings
Moody Little Sister
Saturday, January 11, 2014
9:30 p.m. |
$8 in advance, $8 day of show |
21 and over
Buy Tickets
Tickets on sale now!
About The Local Strangers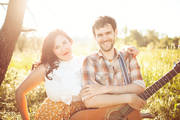 The Local Strangers is a Seattle soulful-Americana band featuring Midwestern transplants Aubrey Zoli and Matt Hart. With powerful vocals and intricate harmonies, their poignant, honest, and relatable songwriting has distinguished them in the Americana/alt-country scene. They thrive on stage in an energetic display of passion – whether backed by their 6-piece band or as an acoustic duo – creating an unmistakable connection with every audience.
Since releasing their debut EP in June, The Local Strangers have logged over 6,000 miles of touring on the West Coast and Midwest. They have built a strong following in Seattle, playing to big crowds at The Triple Door, The Tractor Tavern, Columbia City Theater, The Crocodile, and Doe Bay Fest. They recently began work on a full length album with producer Kevin Alan Matley, whose production work includes Bryan John Appleby and The Head and The Heart.
Official website:




Facebook Page:
About Strangled Darlings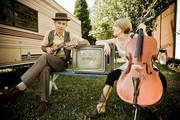 Strangled Darlings brings a punk intensity to their work. Taking a cello and making it a hip hop bass. Taking mandolin and slapping it like a stubborn mule. The Portland based duo has been creating original tunes since 2009 and breaking the mold for what hipsters consider indie music. The bring a lyrical intelligence and political punch to songs that otherwise might have just been another break up song. Their song material focuses more on witchcraft in the Civil War, the morality of Somali piracy and the curse of Anna Nicole Smith's breast implants. They've released three studio albums and a fourth is under construction. Their live show mixes technical mastery with deadpan humor and a little something to shake your rumpus
website:
About Moody Little Sister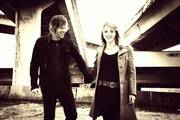 Naomi Hooley IS Moody Little Sister.
Some things are just meant to be. When Naomi Hooley moved 3000 miles, from a small town in Alaska, the chances meeting Rob Stroup, from a small town in Oregon, were pretty slim. But it happened... and from the moment they met it was clear they were destined to combine their abundant musical talents. Rob is the perfect producer, co-writer and band mate for Naomi's melodic, energetic and thoughtful keyboard driven power pop. Naomi is a prolific song writer with a unique style and vocal signature. The local press has called her voice "cool and powerful" and her songwriting "masterful".
Take the melodic sensibilities of the great folk writers of the 70's like Jim Croce, Gordon Lightfoot, and James Taylor - and combine that with vocal power of Adele or Annie Lennox, and you might begin to understand the talent of Naomi Hooley.
Rob's musical background brings a whole other set of sounds and influences. A founding member of Portland's beloved roots rock combo The Baseboard Heaters - Rob draws on 60's rock and classic country influences. Also informed by the "Oklahoma sound" of JJ Cale and the bluesy sides of Dylan. Together - they cover a lot of ground and meld together in a very cohesive and polished act.
Singing songs from Naomi's solo record "It was a Great October", songs from Rob's bands and former bands (Rob Stroup & The Blame, Imprints, Baseboard Heaters), and a good selection of songs from their new powerful Rock band "Moody Little Sister" - there is something for everyone.
And all of that delivered with a powerful piano and acoustic guitar combination and amazing harmonies, with a side of story telling. Naomi and Rob have taken this act all up and down the West Coast and continue to be very well received by a very diverse group of audiences.
Map & Directions
Tags for this Event:
Music > Americana
Property > White Eagle
Related content (tags):