Back to school in Bend!
700 N.W. Bond Street
Bend, OR 97703
Local: (541) 382-5174
Elsewhere: (877) 661-4228
Contact Us
Trixy & the Nasties
Saturday, January 18, 2014
3 p.m. til 6 p.m. |
Free |
All ages welcome
About Trixy & the Nasties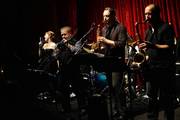 Trixy and the Nasties is a Motown infused Portland band with a little slice of funk. The seven members are comprised of a female lead vocalist backed by a six-piece horn and rhythm section and is quickly building a loyal and devoted following of fans. This band is just looking to have a good time with music that is fun, danceable, and high energy. Trixy, Angelene Green, captivates the audience with a honeyed stage presence combined with assertive vocals she delivers with a fiery unrestraint. With influences ranging from jazz and funk to rock and roll the members have played in such bands as Wheels in the Sky, Motet, Intervision, Joey Porter Funk Tributes, Supraphonics, Adult Education, Heavy Brothers, Philly's Phunkestra, Steely Dawn, Trio Subtonic, Dan Balmer, Superjazzers, Ben Darwish Quartet, Echo Helstrom.
T&TN are: Angelene Green a.k.a Trixy (vocals), Joshua Cliburn (alto/tenor saxophone), Marc Hutchinson (tenor/bari saxophone), Bruce Green (trombone), Randy Rollofson (drums), Bill Athens (bass), Dave Iula (guitar)
Map & Directions
Tags for this Event:
Property > Old St. Francis School
Related content (tags):