A truly remarkable destination.
2126 S.W. Halsey St.
Troutdale, OR 97060
Local: (503) 669-8610
Elsewhere: (800) 669-8610
edge@mcmenamins.com
"Abraham Lincoln and the Oregon Country"
Oregon Encyclopedia History Night
at Edgefield
A presentation by
Richard W. Etulain
5 p.m. doors, 6:30 p.m. event |
Free |
All ages welcome
About "Abraham Lincoln and the Oregon Country"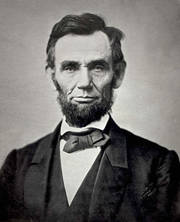 Oregonians of the Civil War Era, by and large, strongly aligned themselves with Abraham Lincoln on various political issues – Indian relations, military policies, civil and legal rights, and North-South ideological conflicts.
Etulain, in his latest book, refutes the argument that Pacific Northwest residents were mere "spectators of disunion," revealing instead that men and women of the Oregon Country were personally and emotionally involved in the controversial ideas and events that inflamed the United States during the fractious era.
More than 16,000 books have been published about Abraham Lincoln, many more than on any other American. Unfortunately, none deals thoroughly with Lincoln and the Oregon Country. Richard Etulain, professor emeritus at the University of New Mexico, has published extensively on Abraham Lincoln. He is the author of Lincoln Looks West (2010), and the new study, Lincoln and Oregon Country Politics in the Civil War Era (2013).
For this History Night presentation, Etulain will discuss how even though Lincoln spent little time west of the Mississippi, he was, as president, closely connected to the West and the Oregon Country. Several of Lincoln's close friends moved to the Pacific Northwest and acquainted him with the course of regional politics. The transcontinental railroad, a homestead act, and a college land-grant act – all of which Lincoln supported – also clearly affected the West. But it was in politics where we find Lincoln's clearest and strongest connections
to the West and Oregon. In several ways, Abraham Lincoln was one of the Oregon County's political founding fathers.
About the Speaker
Richard W. Etulain specializes in the history and cultures of the American West and on the life of Abraham Lincoln. Most of his 50 books and hundreds of essays and reviews deal with the West, but recently he has devoted increasing attention to Lincoln's links with the American West. From 1979 to 2001, Etulain was a professor of history and director of the Center for the American West at the University of New Mexico. He now is a full-time researcher and writer residing in Portland, Oregon.
About Oregon Encyclopedia History Night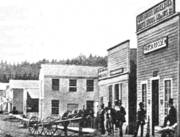 The Oregon Encyclopedia hosts a series of History Nights in collaboration with McMenamins pubs. Come join us for an enlightening evening of history, served up with food and a pint or two of good beer, and find out more about the history and culture of our state from OE authors. Bring your encyclopedia-worthy Oregon stories to share with the OE Editors-in-Chief.
Oregon Encyclopedia website:
Map & Directions
Tags for this Event:
Events > History
Property > Edgefield
Related content (tags):