"A Hollow, a Creek, and a War About Geese": Historic Goose Hollow
Oregon Encyclopedia History Night at the Mission
presented by
Tracy J. Prince, Ph.D.
6 p.m. doors, 7 p.m. presentation |
Free |
Minor with parent or guardian
"A Hollow, a Creek, and a War About Geese": Historic Goose Hollow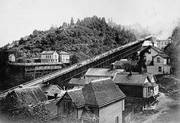 Dr. Tracy J. Prince will present a slideshow of historic photos that show the earliest days of Goose Hollow. She will tell stories of famous residents such as Daniel Lownsdale, C.E.S. Wood, Dr. Marie Equi, John Reed, and Bud Clark and historic institutions such as Civic Stadium, Multnomah Athletic Club, Lincoln High School, and Washington Park.
About the speaker
Tracy J. Prince, Ph.D., is a Scholar-in-Residence at PSU's Portland Center for Public Humanities. Dr. Prince loves to uncover forgotten or overlooked historical moments by digging through archives and interviewing folks who like to talk about the good ol' days. She has taught in or spent extensive research time in Turkey, Australia, England, Canada, and throughout the US. She is the author of Portland's Goose Hollow and Culture Wars in British Literature and co-author of Portland's Slabtown.
Oregon Encyclopedia History Night at the Mission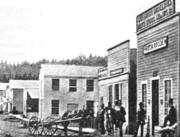 The Oregon Encyclopedia hosts a series of History Nights in collaboration with McMenamins pubs. Come join us for an enlightening evening of history, served up with food and a pint or two of good beer, and find out more about the history and culture of our state from OE authors. Bring your encyclopedia-worthy Oregon stories to share with the OE Editors-in-Chief.
Oregon Encyclopedia website: