Come have fun in school... for once...
5736 N.E. 33rd Ave.
Portland, OR 97211
Local: (503) 249-3983
Elsewhere: (888) 249-3983
Contact Us
Homegrown Christmas w/Michelle Van Kleef, Naomi Violette, and Christina Cooper
Monday, December 23, 2013
7 p.m til 9 p.m. |
$5 suggested donation |
All ages welcome
About Homegrown Christmas w/Michelle Van Kleef, Naomi Violette, and Christina Cooper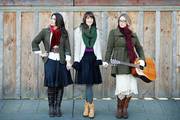 Local performers Michele Van Kleef, Naomi LaViolette and Christina Cooper announce their 4th annual Christmas shows, entitled "Homegrown Christmas". The concert will feature winter and holiday songs written and arranged by the performers, with special guest dancers and a children's chorus from Innovative Dance Studios. The shows will benefit the Oregon Food Bank. Van Kleef, LaViolette, and Cooper met in 2009 at their children's pre-school and discovered many similarities: they all were singers, juggling family life with performing, and lived in the small town of Wilsonville. This spawned instant friendships and has led to numerous professional collaborations. By their initiative, they created the "Homegrown Christmas" concert. Throughout the year these ladies are busy performing their own shows, making records, and writing songs. Their individual styles range from country to jazz, classical to rock, and many things in-between. Van Kleef's groove rock, featuring a classically trained, yet soulful voice, ranges from the reminiscent sounds of Janis Joplin to the compelling melodies and pure tones of Joni Mitchell. LaViolette's retro-pop vocals span the sultry blues of Norah Jones to the ambience of Sarah McLachlan, and her classical keyboard chops are reminiscent of both the funky rhythms of Billy Preston and folk-rock of Carole King. Cooper?s sweet yet powerful vocals find their home between the country rock of Wynonna Judd and the classic warmth of Ann Wilson. When all three perform together in "Homegrown Christmas", their styles complement each other in a unique and interesting blend of artistry.
Map & Directions
Tags for this Event:
Events > Holidays
Property > Kennedy School
Related content (tags):